Home
 > 
 >  
F2P/Casual Guide to Void Drifter (Valkyrie Ranger Augment)
back
Author:Nothis
Submission Date:2019-08-17
Views:0
Table o

f Contents

(Click to go to the desired section)
1 - Introduction
2 - Overview
3 - Skills
4 - Loadout
5 - Lineup
6 - Gameplay
---
Intro

duction
You wanna use Void Drifter, but couldn't be bothered reading/watching long guides? Are you too poor to spare the cash for Void Drifter or just not much of a hardcore competitive climber in MA/Abyss to afford stuffs? Then this guide is might be what you are looking for! Written by a true & pure F2P/Casual player, I will show you the tl, dr version of Void Drifter guide, as well as what you should be farming for (that doesn't cost you a dime, only time) and how to make a team with her.
---
Over

view
The anticipated augment for Valkyrie Ranger is finally here. As such, she has received a lot of improvements to her kit making her vastly different from before. Now she is viable as a burst physical damage dealer while retaining her previous role as a support (which she does even better now). Regardless of your playstyle, if you want a mecha type physical damage dealer then Void Drifter will be a fine option to .
Pros (rework obviously gonna bring improvements otherwise it wouldn't be called a rework or in this case "augment"):
Greatly increased damage output, mobility and usability (she can be either a support or a damage dealer).
Gears are fairly cheap to farm.
New bad ass costume to go along with the augment.
Cons (perfectly balanced like all things should be...........maybe):
Heavy time and resource investment (requires SSS rank to reach full potential, which is 380 fragments if not unlocked is roughly 126 days worth of farming if the average fragment income is 3 frags/day).
Expensive augment materials (requires Smelted Core and Augment Core, which costs Asterite and can only be purchased in shop for a limited number per week)
Damage output scales greatly with good gears.
Damage comes mostly from Combo Attack (which has a hard limit, refer to

Passive

&

Combo Attack

).
---
Ski

lls
Although this guide only explains briefly about Void Drifter, it is still important to understand what a battlesuit has to offer by reading skill descriptions. Do your best to read through them to get a grip of her abilities or simply read my summary of each skill.
I - Basic Attack
Description: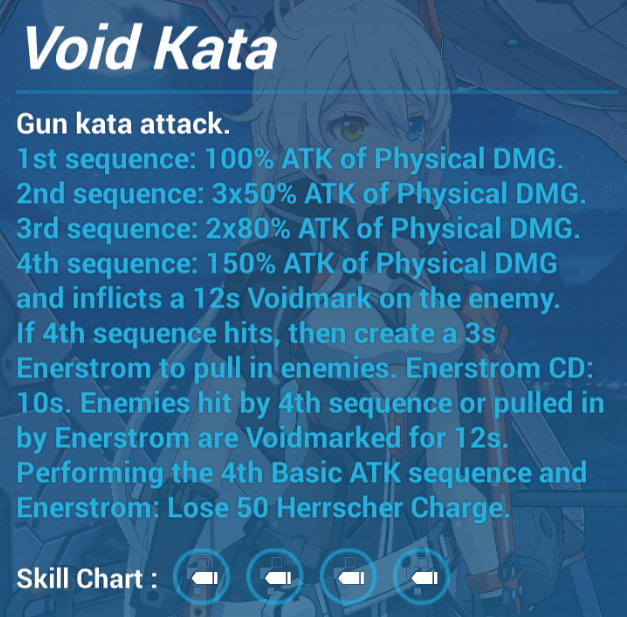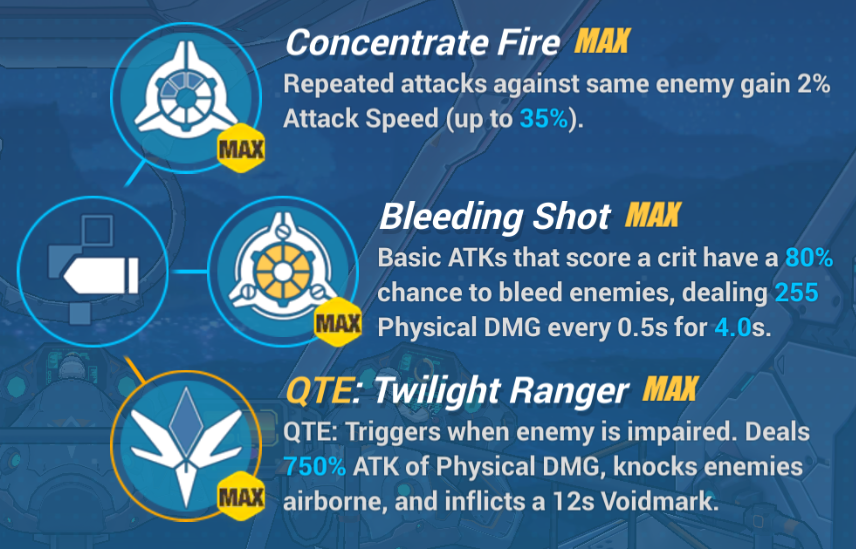 Animation: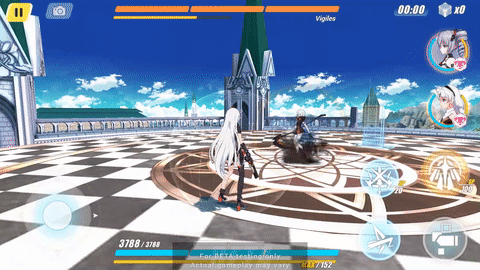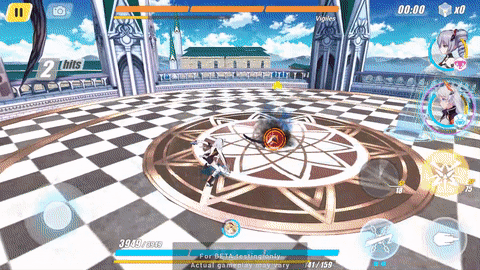 Summary:
Basic attack is a 4 hits sequence. Each hit on the same enemy increases Void Drifter attack speed.
Each hit in the 4 hits sequence has a chance to bleed enemy.
Basic attack now creates a black hole at the end of the sequence if 4th attack hit an enemy.
The black hole sucks nearby enemies and inflicts Void Mark (refer to

Combo Attack

).
Both 4th hit of the sequence and the black hole reduces Herrscher Charge (refer to

Passive

).
QTE has massive damage. Combined with its trigger condition (impair, which reduces enemy's defense), makes it a powerful opening move (assuming you can trigger impair before switching in Void Drifter).
II - Combo Attack
Description: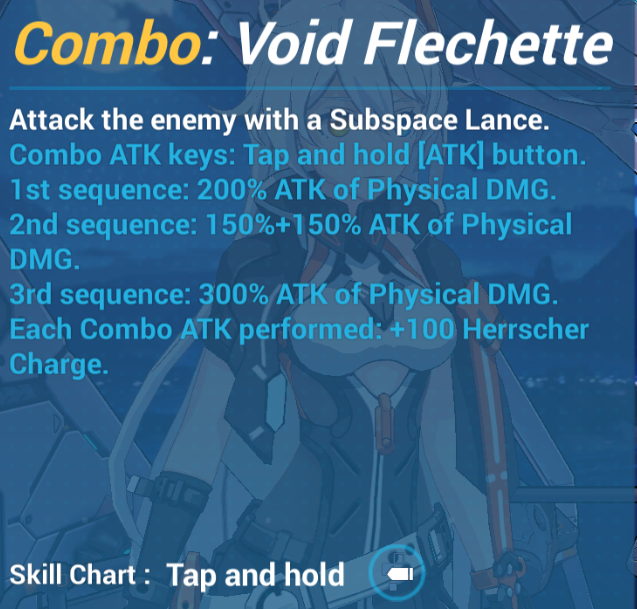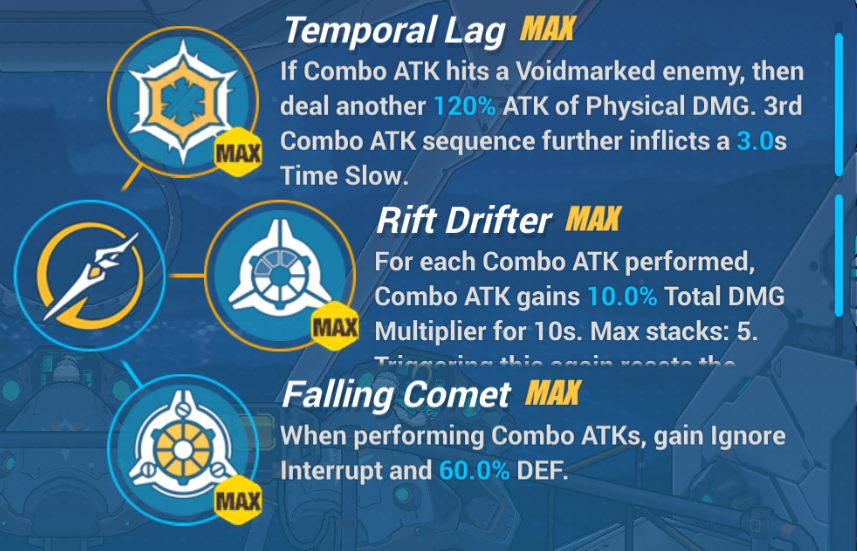 Animation: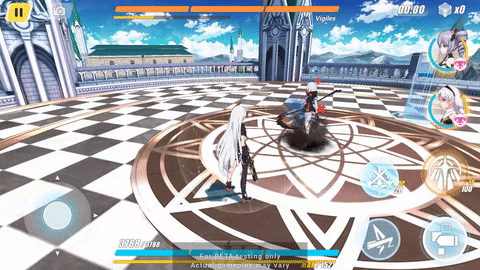 Summary:
The main source of Void Drifter damage output.
Combo attacks on Void Marked enemies deal extra damage.
Void Drifter can apply Void Mark via black hole created by

4th attack in basic attack sequence

or ultimate evasion

and

ultimate

.
Each combo attack gain total damage multiplier for itself.
While performing combo attacks, Void Drifter has increased Ignore Interrupt (reduces chance of flinching from enemy attacks) and defense.
Combo attack increases Herrscher Charge. At max charge, Void Drifter will enter Inner Turmoil status (refer to

Passive

). As such, the maximum limit for Combo Attack is 2 sequences.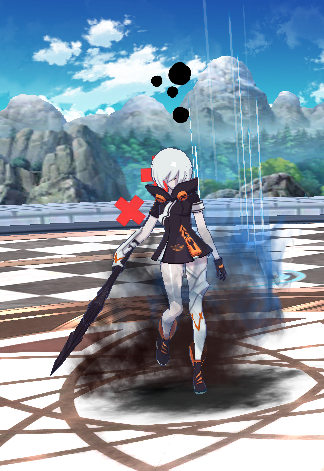 III - Passive
Description: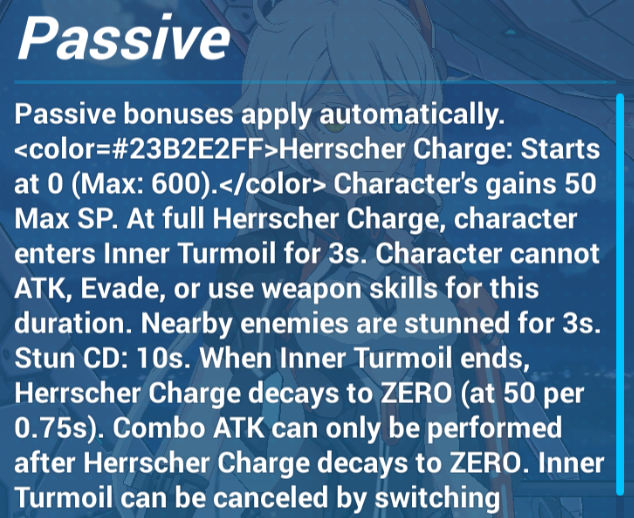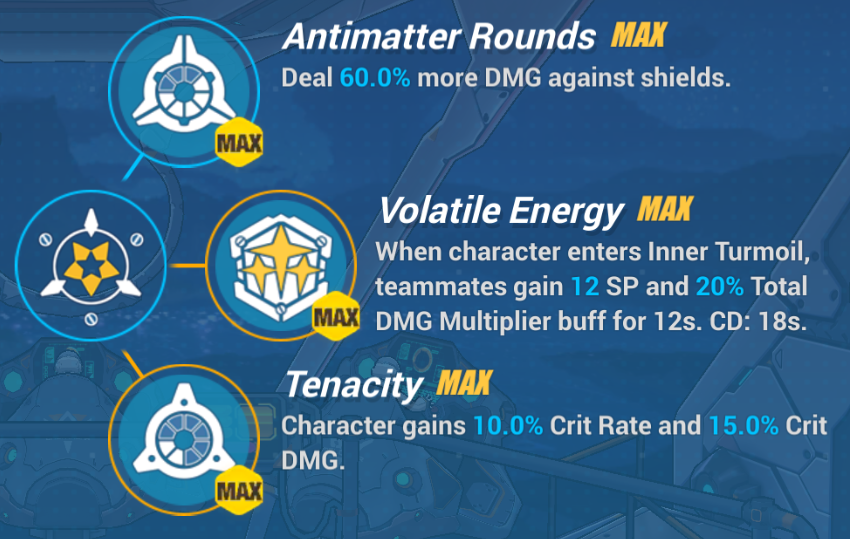 Animation: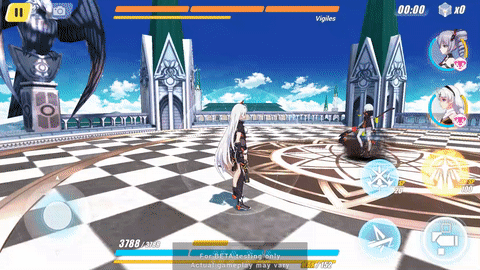 Summary:
Passively gain increased crit rate, crit damage, max SP and damage against shields.
Void Drifter has Herrscher Charge. Combo Attacks can only be used if Charge is not maxed.
Inner Turmoil status: Stun Void Drifter and enemies nearby. Combo Attacks cannot be used after Inner Turmoil status ends till it is at 0 charge.
Charge can be reduced by performing the

4th attack in basic attack sequence

,

create a black hole via basic attack sequence

or ultimate evasion

and

ultimate

.
It is recommended switching in other battlesuits rather than wait for the status to end as it leaves Void Drifter vulnerable to enemy attacks.
Switched in battlesuit gains bonus SP and total damage multiplier.
IV - Ultimate
Description: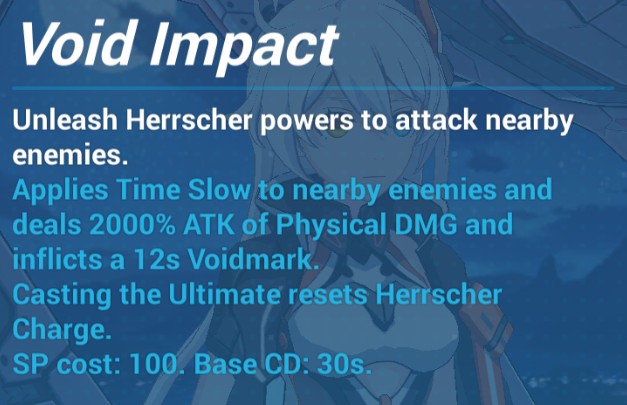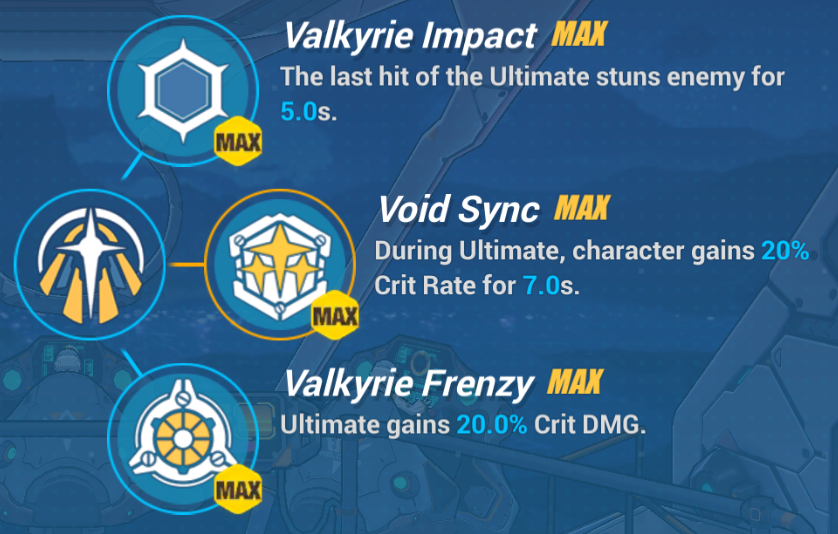 Animation:
Summary:
Ultimate briefly time slow enemies and stun them at the end.
During ultimate and few seconds after, Void Drifter gains increased crit rate.
Combo Attack can be extended to 4 sequences by chaining Ultimate before Inner Turmoil status is applied. However, the time window for this is small so be quick!
V - Evasion
Description: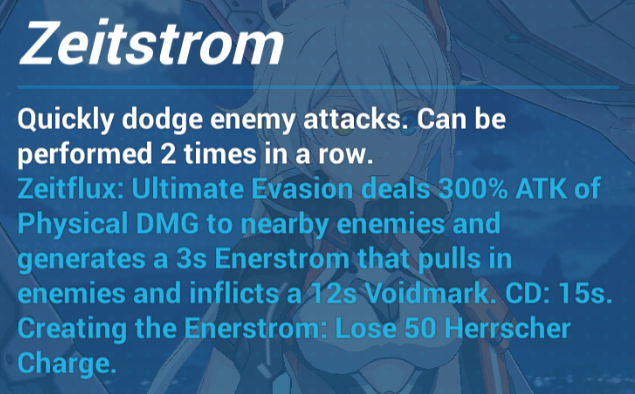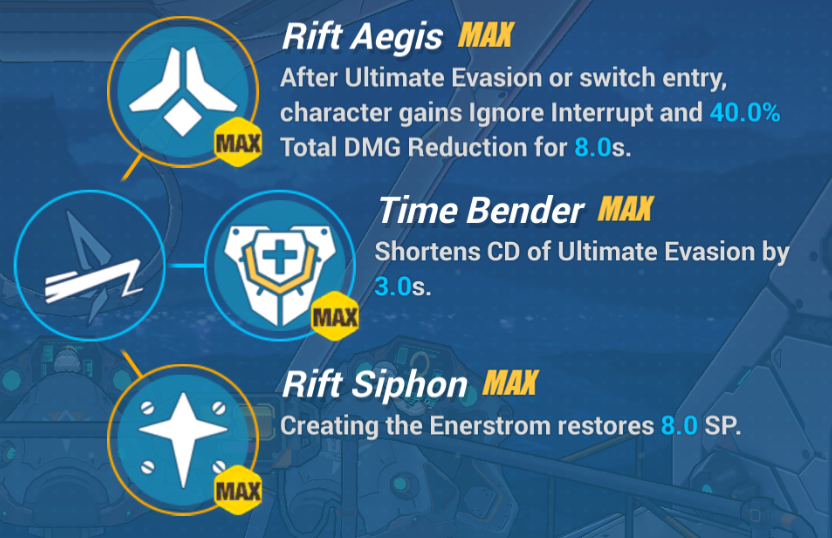 Animation: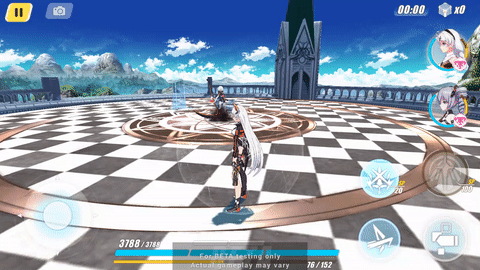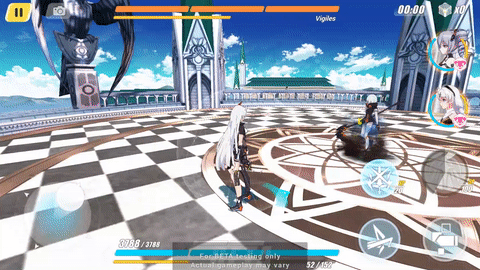 Summary:
Evasion is now either is a dash or a back flip depends on direction input.
Ultimate Evasion creates a black hole (sucks in nearby enemies and inflict Void Mark), give bonus SP and reduces Herrscher Charge (from creating black hole).
Void Drifter gains bonus Ignore Interrupt and total damage reduction from Ultimate Evasion or switch entry.
---
Load

out
Now that you are done reading on her skills, let work on the loadout. Any battlesuit need proper weapon and stigma set to deal damage effectively. However, since there are many weapons and stigmas that anyone can come up with and use, I will only list the ones that I'm familiar with.You are free to come up with different weapon and stigma combinations or simply read another more detailed guide than this one.
I - 3 stars:
Weapons:

Stigmas:

II - 4 stars:
Weapons:

Stigmas: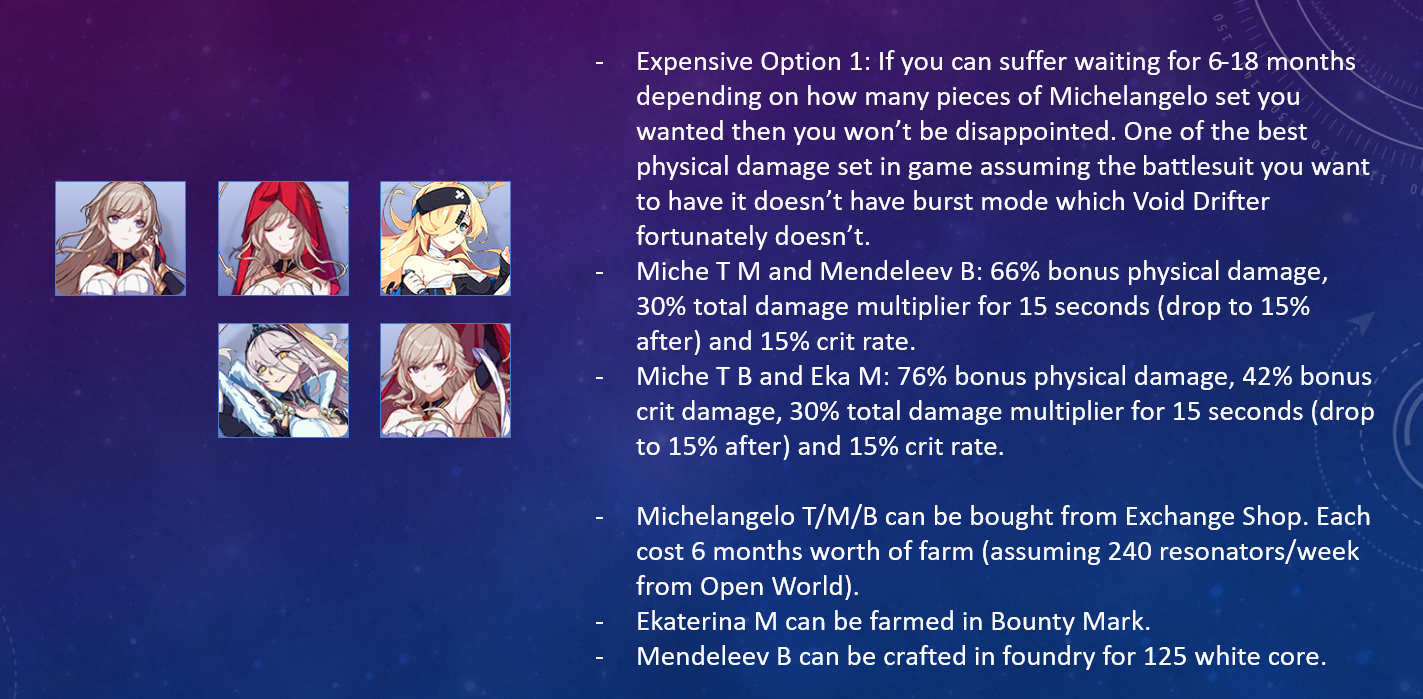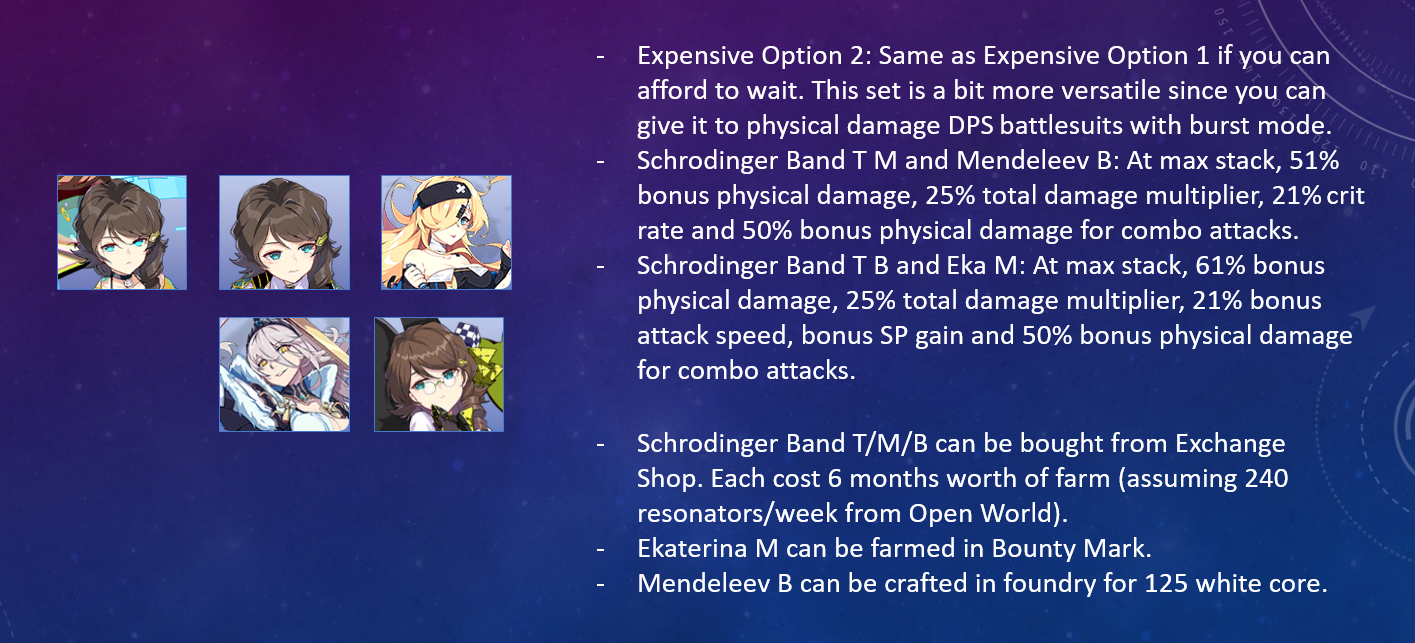 ---
Line

up
Finish choosing weapon/stigmas you needed? Well only one thing left to go to finally put Void Drifter on stage and that is a team. No matter what damage dealer you use, supports will always be needed. Similar to weapon/stigmas combination, unfarmable battlesuit (aka most base S rank) will not be included.

Extra Note 1: YA should be set as Leader for her Leader Skill (provides team with increased crit rate). Can be replaced for Wolf Dawn (YA's awakened version) as WD the same leader skill but team gains an elemental damage shield instead of a physical one.
Extra Note 2: Usable for most contents (including Abyss and MA). Does not guarantee very high score in Memorial Arena, but works fairly well in Abyss (mostly Dirac Sea, alright in Q-Singularis)
---
Game

play
Sample Gameplay with team lineup in Lineup section.
Team: Drive Kometa (DK) (Leader) + Void Drifter (VD) + Divine Prayer (DP).
Attack Sequence:
Apply weaken field.
Use Briareus PRI's active skill to create a time bubble.
Use DK's ultimate to gather enemies into the time bubble.
Switch in DP and apply Mjolnir's active skill (impair enemies in large Area of Effect).
Activate DP's ultimate to prolong impair duration (Mjolnir's active skill has low duration).
Switch in VD via QTE (deals massive damage).
Hold Attack button to use Combo Attack.
At max charge, quickly use Ultimate to prevent VD from going into Inner Turmoil status (self stun).
Continue attacking with combo attack till max charge.
Switch out VD.