Author:MARISΔ
Submission Date:2020-10-29
Views:0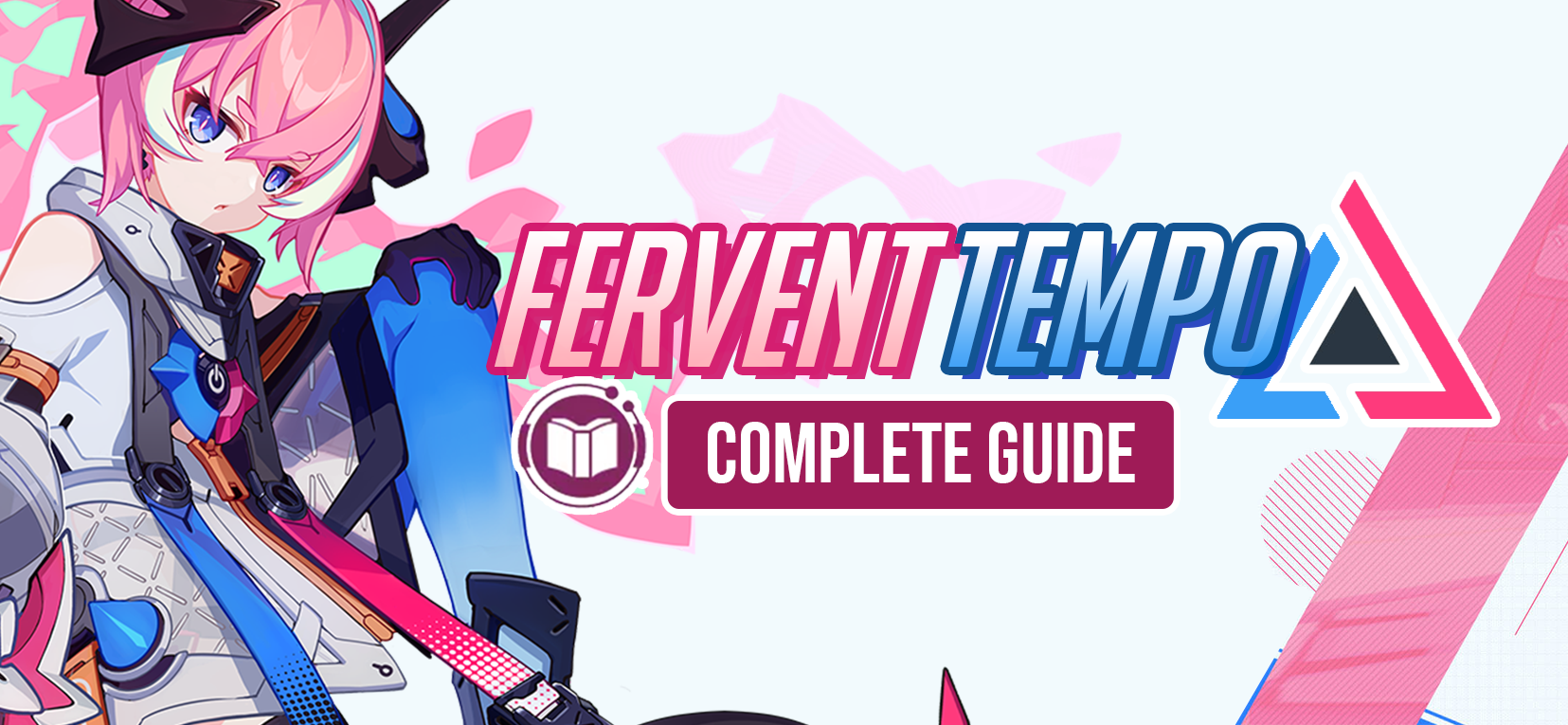 FERVENT TEMPO Δ is the augment battlesuit of Molotov Cherry. She is IDIOTKA STRONG and FARMABLE. On top of that, we'll be getting free Molotov Cherry card just from logging in during v4.3. This is the best gift from Ai-chan!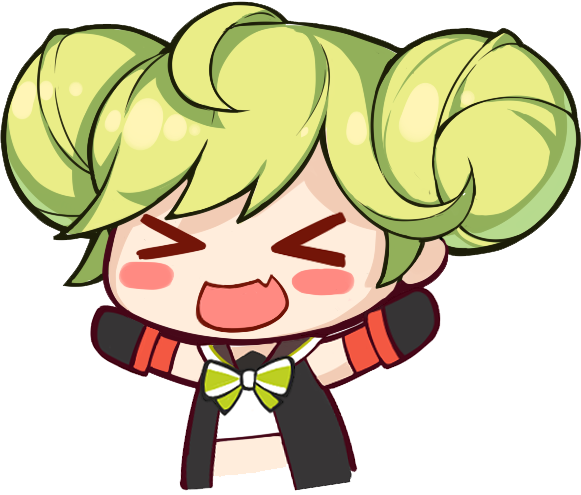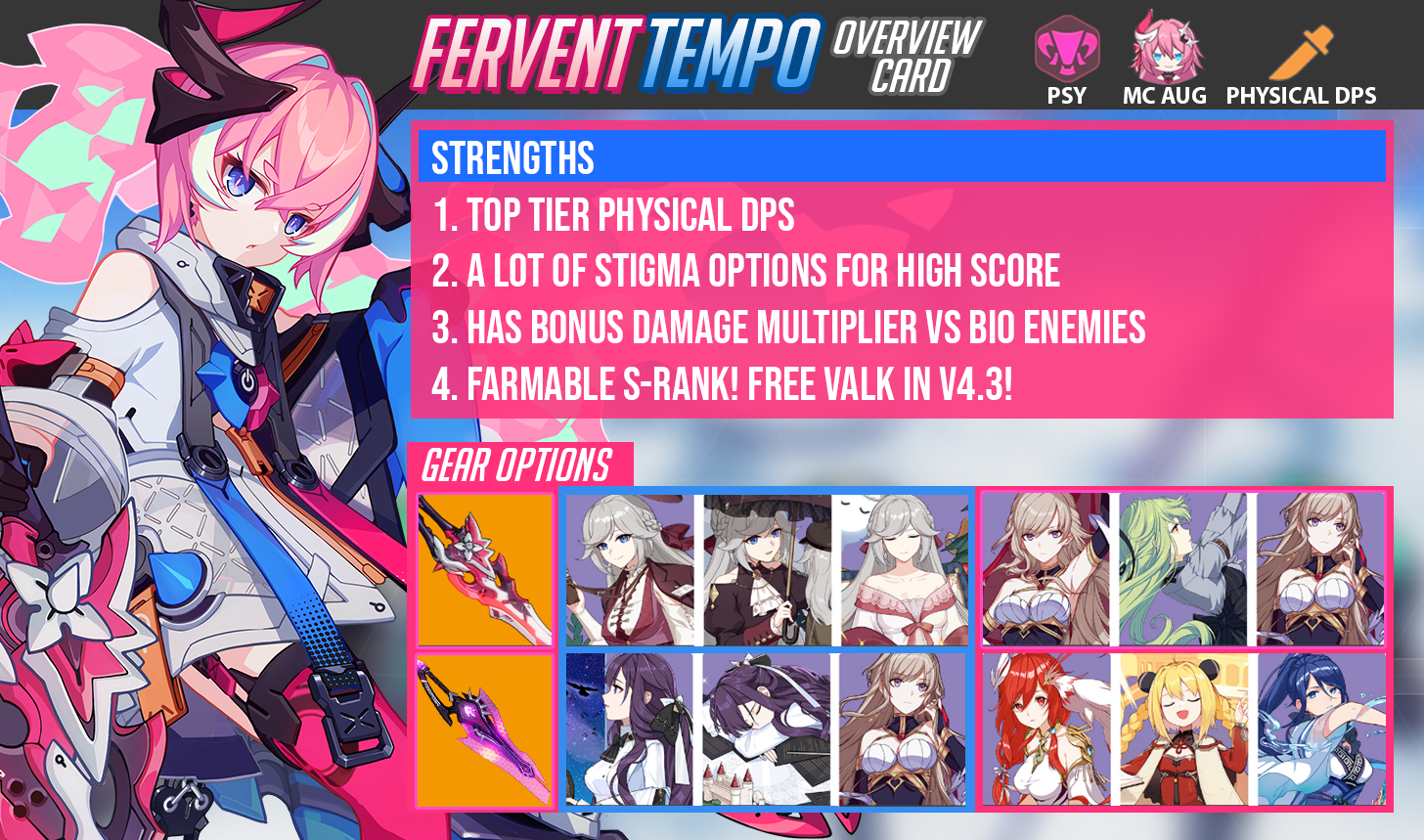 FT is a fairly easy battlesuit, so this guide is a simple guide on her playstyle, builds and her best match-ups.

This is a basic run-down of her skills. If you already know about her kits, then you may move to HOW-TO-PLAY section.
BECOMING FERVENT
FT gameplay revolves around FERVENT MODE, which makes her BasicATK insanely strong and fast. She can access Fervent Mode from
ChargedATK

(Requires full CYAN AND PINK JUICE)
Ultimate Attack (50 SP)
Let's take a look at these two mechanics first.
DUAL METER - CYAN AND PINK JUICE

FT has a dual meter called CYAN AND PINK JUICE (1200 each). At full Juice, you can use ChargedATK, consuming all Juice and enter the powerful FERVENT MODE
You can gain CYAN AND PINK JUICE with:

As you can see, QTE instantly fills half the juice! Always try to switch in via QTE.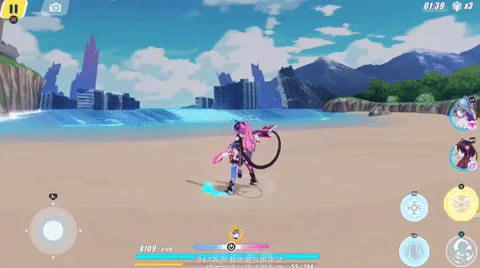 At full Juice, use Charged ATK, recover SP, deal Physical DMG and enter Fervent Mode
ULTIMATE - RETALIATION (50 SP)
FT ultimate is similar to Liliya. You enter a defensive stance for 0.7s.
If FT is attacked during this 0.7s, FT will counter with a Perfect Retaliation. Triggers time fracture and gains crit rate and physical DMG buff for 9s.
Otherwise, FT will unleash a weaker Retaliation after 0.7s
Sleeper's Beauty - The weapon active skill allows FT to get Perfect Retaliation on demand. Get the weapon!
After Ultimate, FT enters Fervent Mode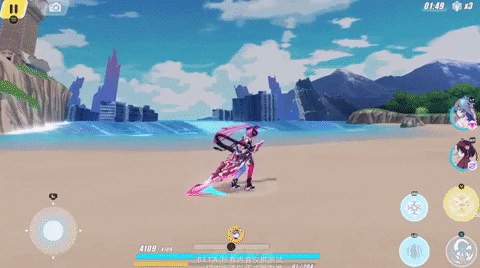 Gif shows using Sleeper's Beauty active to get Perfect Retaliation
FERVENT MODE
After Charged ATK (full juice) or Ultimate (50 SP), FT enters Fervent Mode which makes her BasicATK insanely strong and fast.
FERVENT METER
Upon entering Fervent Mode, FT gains 2400 Fervent Meter.

If you perform ChargedATK, and then use Ultimate during that Fervent Mode, you get another 2400 Fervent Meter (Max 4800)

Meter depletes over time, and Fervent Mode ends when you're out of meter.
FERVENT MODE BUFFS
BasicATK becomes much stronger and faster.

Enemies take 18% more Physical DMG from FT

FT gain 50% TDM against BIO enemies, which kinda balances out damage reduction from type disadvantage.

OTHER NOTABLE SKILLS
BasicATK (NonFervent):
Deal Physical DMG and 4th-6th sequence recovers 1 SP
During 4th-6th sequence, you can evade and press atk button to chain back to 4th sequence
Leader: Team Physical DMG +40% (SSS)
Evasion Skill: Triggers time fracture, pauses Fervent meter depletion, immobilizes enemies and gains a shield that gives Crit Rate +25%
QTE (Weaken/Ally get hit): Trigger Time Fracture, deal Physical DMG, gathers and stuns enemies.

FT gameplay is pretty simple. Let's take an example of DK CH FT generic rotation.
LET'S GET SOME JUICE!
First, farm some JUICE (for ChargedATK) or SP (for ULT).
DK blocks enemy attack to trigger Time Fracture. Use BasicATK to weaken the enemy
CH QTE in and drop cross (and Ultimate whenever necessary)
FT QTE in
GET A LOAD OF THE JUICE!
Use Charged ATK or Ultimate, and enter Fervent Mode.
If you have her signature weapon Sleeper's Beauty, use weapon skill before Ultimate. You will trigger Perfect Retaliation.
HIT IT TILL IT DIES!
ROZAIDIOTKA, THE ENEMY IS STILL ALIVE
If the enemy have some HP left, just use BasicATK until it dies.
Otherwise, prepare for another rotation.

Here's the power difference between core 4,5 and 6
CORE 4 (S) 50% - Unlocks most of FT fundamental skills. This is pretty strong for most players.
CORE 5 (SS) 80% - Ult becomes stronger. Overall damage improvement.
Recommended rank for competitive use.
CORE 6 (SSS) 100% - Perfect Retaliation gains more Critrate and CritDMG. The end-game Roza upgrade!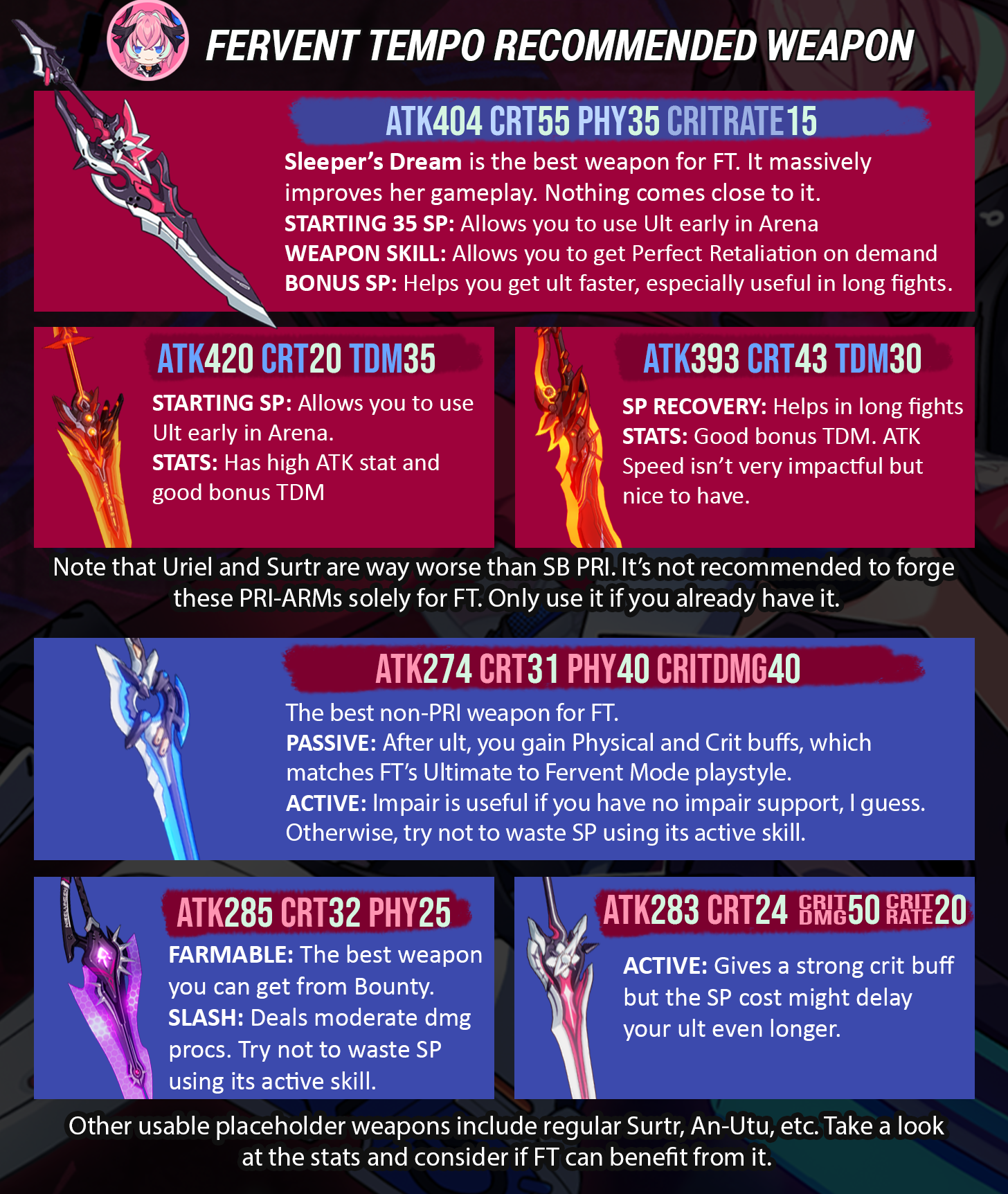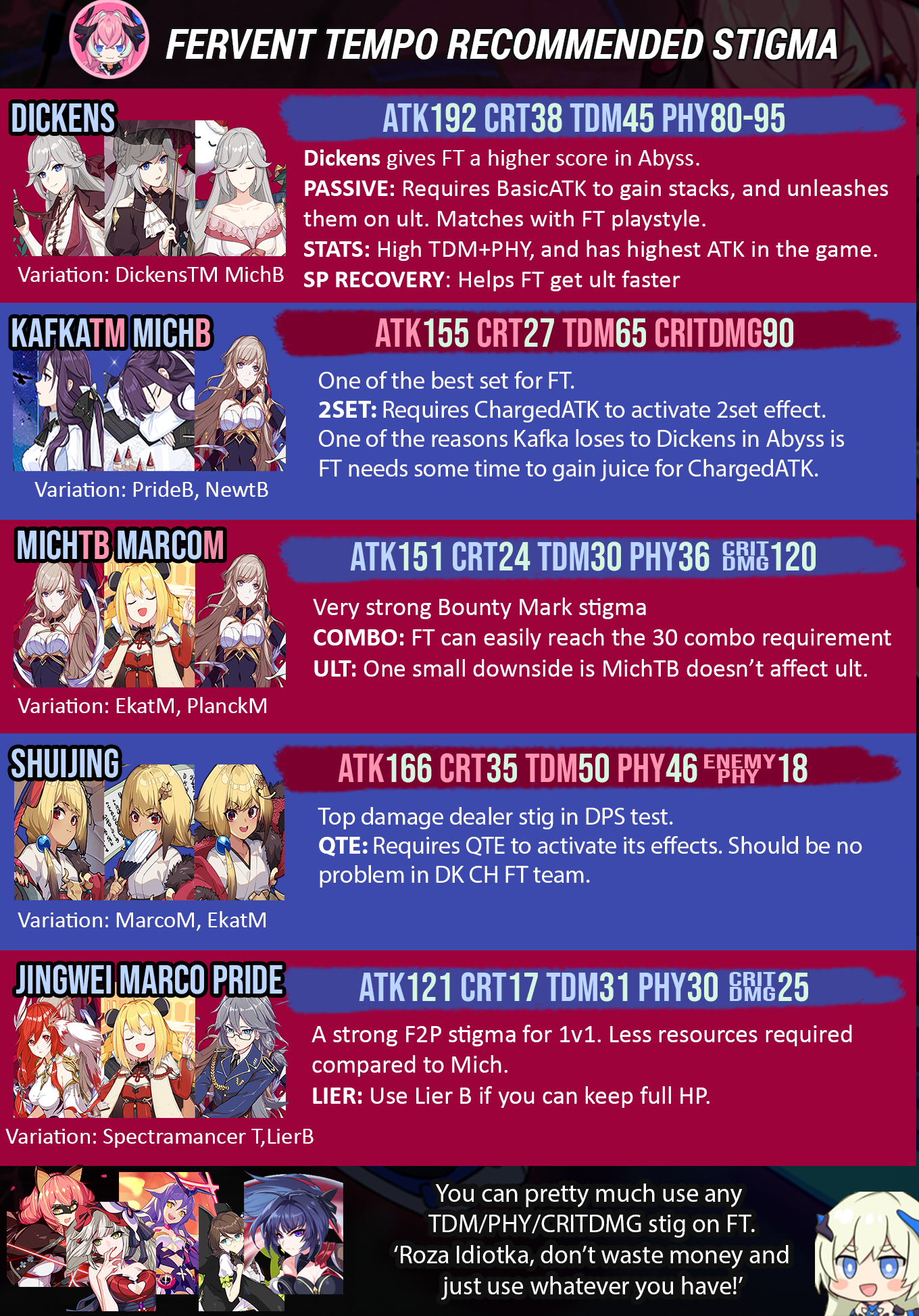 DK: Trigger QTE, provide crit rate and dmg buff, etc.
CH: Impair and/or gather enemies.
DK or FT lead? FT lead has higher Physical DMG buff, but lacks any crit rate. You can put FT lead if your total lineup provides near 100% crit rate.
Downside: In Arena, you might need either DK or CH in another team

ALTERNATIVE ARENA TEAM
KMB: Trigger time fracture and apply physical vulnerability (Positron)
QTE: CH can use

Otto M

or

Silver Reaper

to weaken the enemy, triggering FT's QTE *Not really necessary for most players.

DA BEST TEAM but with IMPOSTOR CH
SA: Provides team buff, time fracture, gathers enemies, and deal moderate sideline damage
DK: Needs Briareus EX to impair enemies.
Score won't be as high as DK CH FT team

LAST RESORT 1V1
You'll probably use this lineup if you have no BriEX or CH
DP: Impairs the enemy.
DK: You can still use BriEX to apply Picasso and Newton B
.

So, which enemies can our brand new Rozaliya tackle?
MEMORIAL ARENA

EXALTED ABYSS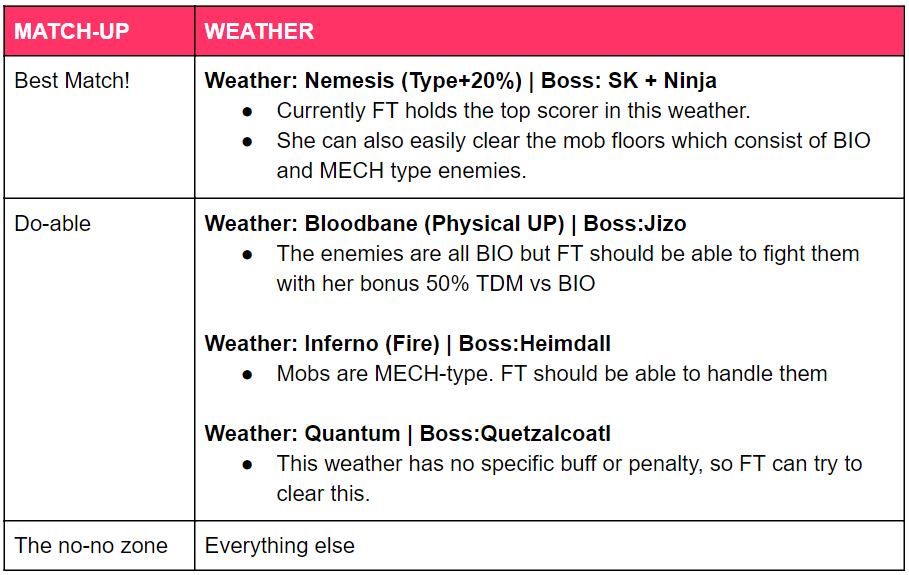 Here are some gameplay examples of Fervent Tempo Delta!

FERVENT TEMPO with different gears vs ARENA BK
S-rank FT JingweiMarcoLier 31626 vs EX MA Shadow Knight
S-RANK FT vs EX ABYSS Shadow Knight

​

​
- END OF GUIDE. HAPPY 3RD ANNIVERSARY TO ALL SEA CAPTAINS! -

​
- FROM CAPTAIN MARISΔ