Home
 > 
 >  
Ai-chan's Arsenal: Undine's Tale
back
Author:Ai-Chan
Submission Date:2019-07-05
Views:4172
Hey, Captains! Welcome to Ai-chan's Arsenal! Today we're featuring the new scythe released in v3.2: Undine's Tale.
Weapon Intro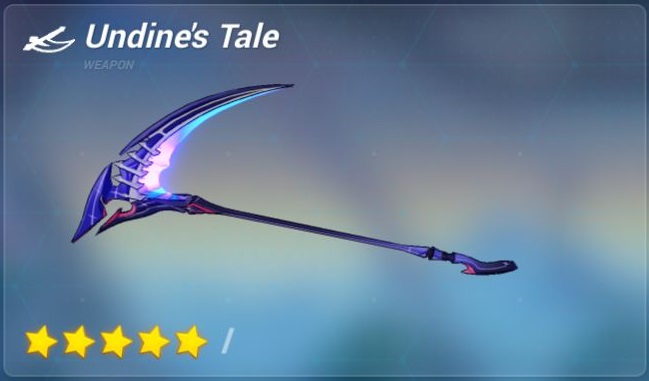 5★ ATK: 275; CRIT: 31
A scythe that appeared when Seele activated the powers of her stigma. This razor sharp weapon of terror is a stark contrast to the quiet and shy little girl. Perhaps the weapon is a secret side of her true nature or an embodiment of her wish to protect someone special.
Weapon Skills
★ Stats below are all Lv.50 figures.
Dark Flood
[SP: 4] [CD: 18s] Attacks enemies in front to deal 550% ATK of Physical DMG, apply powerful Time Slow for 2.5s, and reduce their Ignore Interrupt for 8s. Used during Burst: Deals another 300% ATK of Physical DMG.
Swallowtail Phantasm equip bonus: Entering Burst gives 250 Veil. If not in Burst mode, then enter Warp State.
Songs of the Deep
Wielder gains 20% faster ATK Speed. Backside hits on the enemy gives a 15% Total DMG Multiplier buff to the wielder for 6s. Triggering this skill again resets the duration.
Skill Review
Dark Flood
An assault skill which deals high AOE physical DMG, generates a brief Time Slow and reduces enemy Ignore Interrupt for a long time. A handy tool to create a comfortable DMG dealing environment.
Casting this active in burst mode further amplifies its DMG. For Swallowtail Phantasm, using this active in burst mode immediately restores a generous amount of Veil for her burst mode to stay much longer. Even when not in burst mode, this active can still trigger Warp State to boost her with total DMG reduction and free movement. This active works well in multiple situations and doesn't cost much SP.
Songs of the Deep
The passive offers bonus attack speed, which makes it easier for Swallowtail Phantasm to stack up SP and Veil quickly. Attacking enemies from behind grants nice bonus total DMG, making it a perfect fit for Scythe-wielders with a flexible combat style. The passive of Undine's Tale makes it a strong generic choice which can benefit anyone who wields it.
Recommended For


Swallowtail Phantasm is Seele's 1st battlesuit and fights with high flexibility. Undine's Tale's active boosts her physical DMG and making her more comfy while dealing DMG. In burst mode, the active restores massive Veil to prolong her burst mode and the assault effect also help her stick to the enemies. The attack speed boost from its passive means faster SP & Veil regen, while Swallowtail Phantasm's flexible combat style also positions her well to make the best of the passive's bonus total DMG.


Undine's Tale's passive works well for Argent Knight: Artemis too. The bonus attack speed enables her to stack SP and Hypothermia faster, while her agility and Ice Cell effects make it easy to proc the bonus total DMG of the weapon's passive. The assault effect and decent DMG of the weapon's active mean Argent Knight: Artemis can close in on distant enemies with ease.