Author:Marisa
Submission Date:2020-01-31
Views:0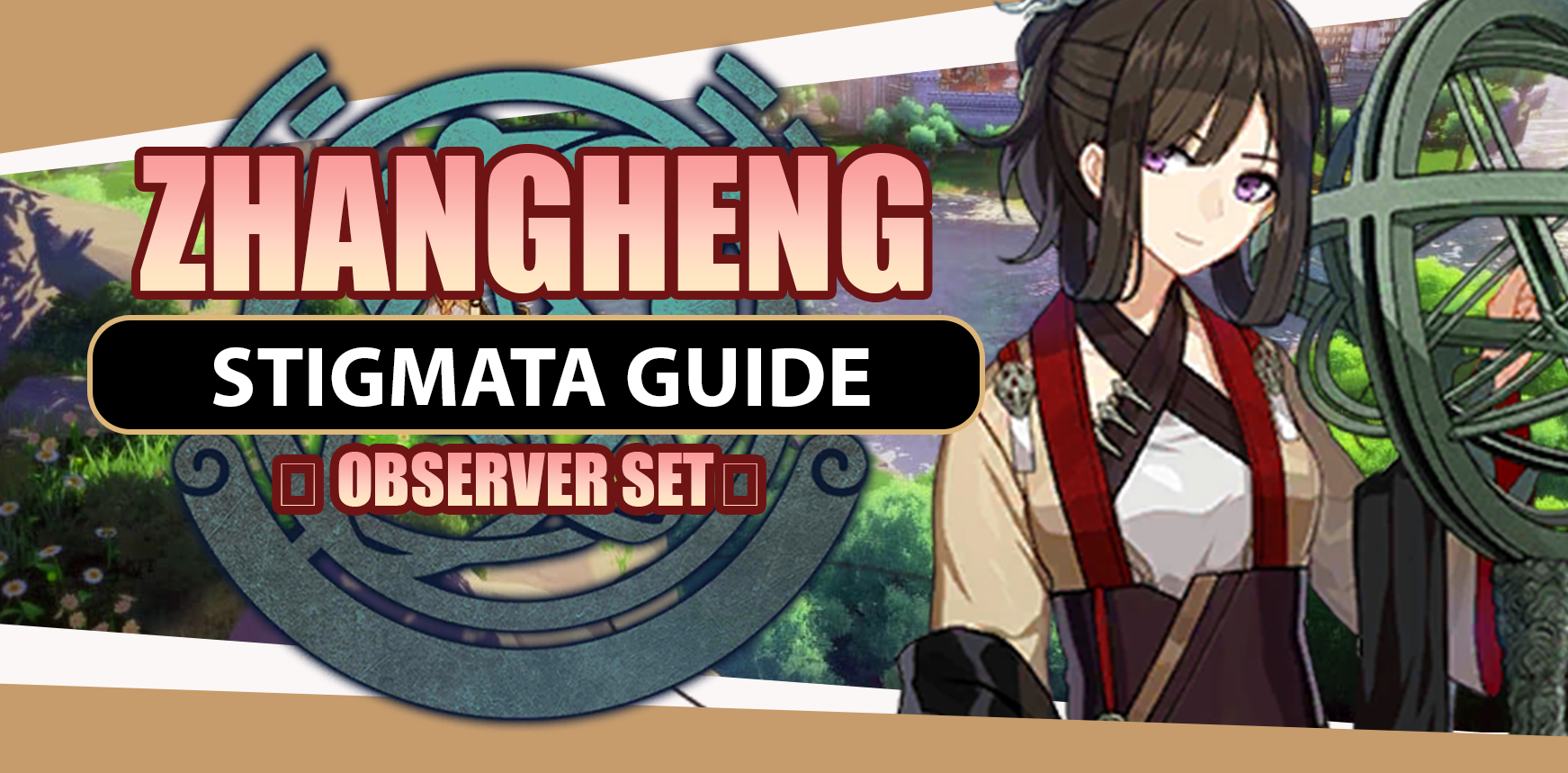 INTRODUCTION
Zhangheng - Observer Set is a forgeable stigmata set in Foundry. Since its debut, all the pieces are considered costly and mediocre. Most captains only forge Zhangheng M to get Ekaterina M in Bounty Mark.
That was… until Hawk of the Fog (HF) arrived, and was able to utilize the bottom piece to nuke bosses in both Arena and Abyss. In this article, I will discuss the strength of every Zhangheng piece, how they fare in current meta and how to use them.
STIGMATA ANALYSIS

Having 25% TDM is pretty good; it is the same bonus as Thales T.
However, it requires you to have Combo Hit Count below 20. So, only valks with low .Hit Count can use this. Eg: Vermillion Knight (VK) and Void Drifter (VD)
For single boss fights, Foundry stigmata Jingwei T provides a higher bonus - 31% TDM.

Physical DMG Reduction is insignificant in our current all-out offensive meta.
Drive Kometa (DK) can provide better defensive support.
Mostly used as material to forge Ekaterina M in Bounty Mark.
Note: Starting from 3.7, you can craft Zhangheng M using SS Imaginons instead of buying Military Box for its frags.

The highlight of the whole set.
120% Lightning DMG is the highest bonus of all lightning dmg stigmata.
The requirement is very strict. So far, only

Hawk of the Fog (HF)

can take advantage of it.
HF is currently one of the best Valkyrie in the game. Go forge Zhangheng B for boss fights.
Nuada, Monet T, Mei Beach M, Zhangheng B is the most common setup.
Taixuan, Jingwei T, Anniversary M, Zhangheng B is a free-to-play option.
HF with Zhangheng B takes almost 50% of Heimdal's HP in just one Ult + Evadion
Other Examples:
1) HF vs Exalted Hellmaru 37248 http://www.bilibili.com/video/av84370698
2) HF vs Exalted Homu King 37312 http://www.bilibili.com/video/av85409153
2) HF vs Red Lotus Parvati 860 Score http://www.bilibili.com/video/av85409153

Emits shockwave every 5 sec.
Firstly, knockdown and stun aren't very useful status effects. At least, stun can trigger a few QTEs.
Secondly, it only works for enemies with low anti-interrupt.
Finally, 5s is a very long time….

Require 3 or more enemies, so only suitable for mob battles.
Can be substituted with a cheaper set without any ridiculous requirements - Fuhua Musician TM Ogier B, providing 5% Physical, 10% TDM bonus
RECOMMENDED VALKYRIE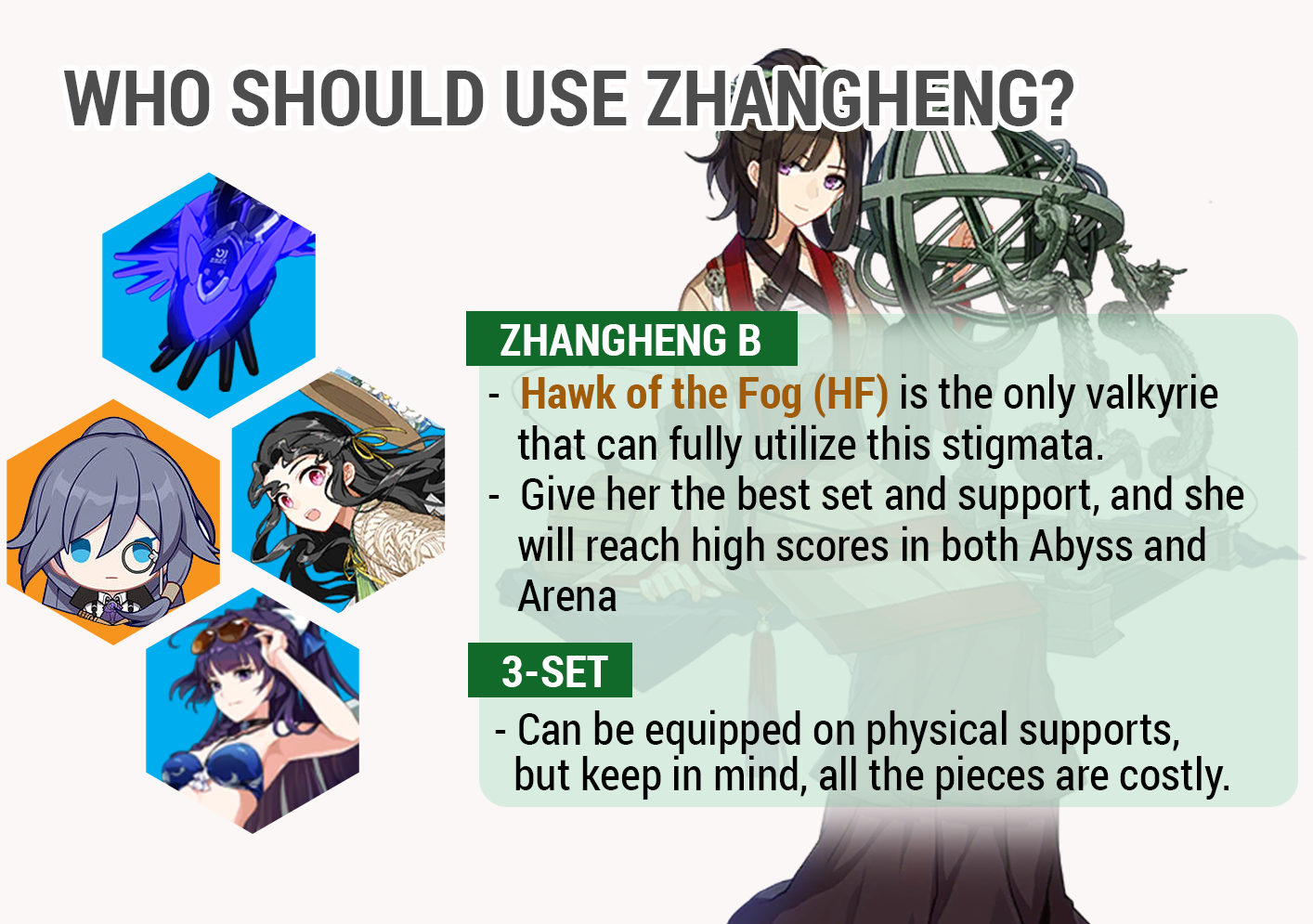 CONCLUSION
Zhangheng B is a great Lightning DMG stigmata for HF, while the others provide a bad or just decent effect with strict requirements.
I recommend getting Zhangheng B if you already have 6* HF and her support.
You can also consider forging Zhangheng M to get Ekaterina M.