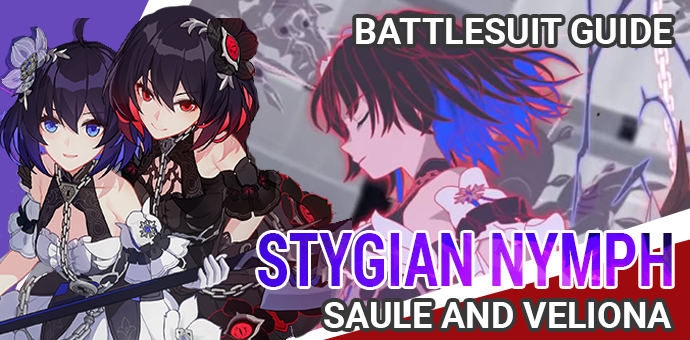 INTRODUCTION
Stygian Nymph (SN) is the new Quantum-type battlesuit of Seele Vollerei and her inner persona Veliona, each with her own fighting style. Saule Form uses scythe to attack, while Veliona Form tears enemies apart with her sharp claws and tentacles. They're two valks in one battlesuit!
S-rank SN is considered a Tier 1 DPS Valkyrie, because
Can handle both mobs and 1v1 situation with her two forms
No type disadvantage (for now)
Moderate investment - all her best gears are located in one Focused Supply
Lack of self DMG multipliers requires her to be fully geared to deal impressive damage.
High skill ceiling - Proper support and playstyle revolving around her mark mechanic will make her an absolute beast.
This guide aims to teach you how to play S-rank SN properly. Click these hyperlinks to jump to the subtopic: Special Mechanics, Skill Overview, Gameplay Breakdown, Equipment, Team Formation and Performance.
SPECIAL MECHANICS
Before we get into her basic attacks, let's get ourselves familiarized with SN's special mechanics.

Saule and Veliona
SN has two forms called Saule Form and Veliona Form, each with its own playstyle. Saule Form excels against mobs while Veliona Form aces in 1v1 situation. Saule can switch to Veliona during Ultimate, and vice versa. Both forms are not Burst Mode.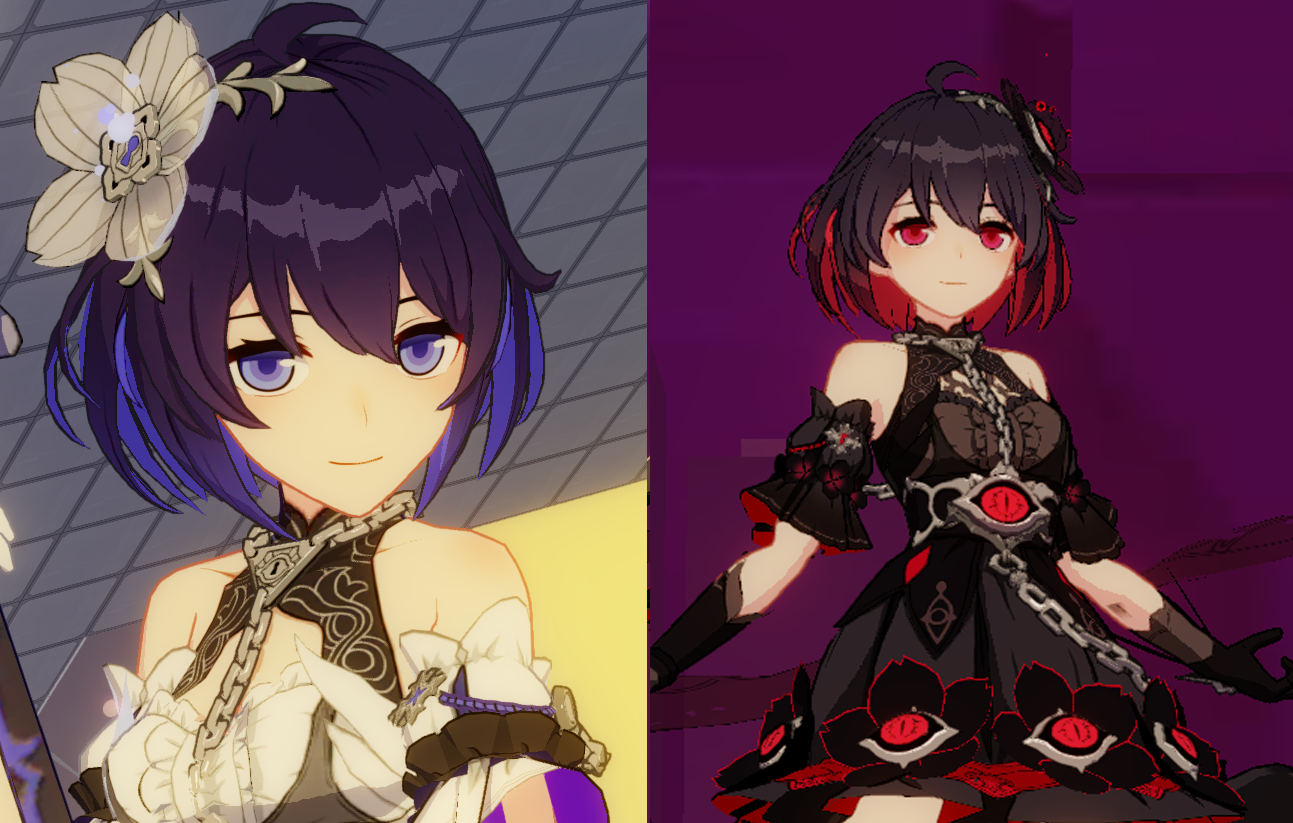 Saulian Ego and Veilian Id
SN has two meters - Saulian Ego (Saule) and Veilian Id (Veliona), sharing one gauge. When meter is full, charged attack will consume full meter, apply mark and resonate with the mark, dealing damage. Consuming meter also grants 20% Physical DMG for 10s.

Gif shows how the meter works. When Ego recovers, Id depletes, and vice versa
Sunnebrand and Veilmark
SN can apply a mark called Sunnebrand (Saule Form) or Veilmark (Veliona). Mark lasts for 20s, and gives a few debuffs:
Charged ATK resonates with the mark, inflicts 400%(Saule) /

500

%(Veliona) Physical DMG
Marked enemy takes 25% more Physical DMG (HUGE!)
Mark damage gains 20% crit rate
Mark damage also gains

35

% Crit DMG (50% at SSS-rank)
Resonated mark recovers 12 SP.
The mark is a powerful debuff and deals huge damage when resonated. Frequent resonation and maximizing mark damage are the keys to a successful SN.

Image shows Sunnebrand (Left) and Veilmark (Right)

Basic Attack
Basic attack consists of five-sequence (Saule) / four-sequence (Veliona) melee attacks that deal physical damage. Basic ATK have a few properties:
Recovers 50 meter on each hit (except Saule's 4th sequence).
Veliona gains Interrupt Resist and 40% Total DMG reduction.
Veliona tentacles immobilize enemy for 1s
3rd and 4th hit are Heavy ATK
If meter is full, your next attack after final sequence will be Charged ATK
Basic ATK meter recovery is the lowest compared to other SN kits. It takes two full sequence to recover full meter. Fortunately, meter recovery is improved after ultimate.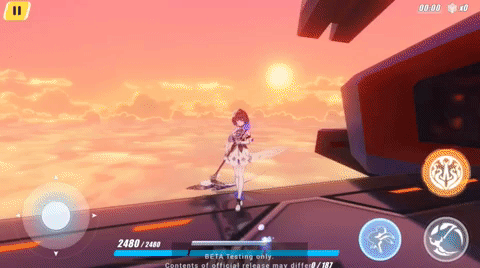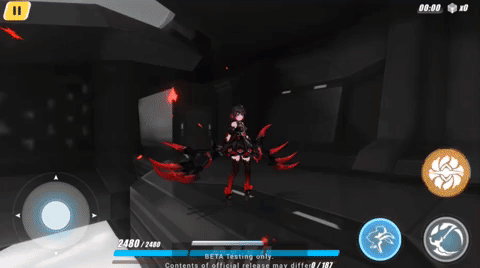 Charged ATK
Charged ATK deals 2x150% (Saule) / 100%+300% (Veliona) Physical DMG. When meter is full, Charged ATK will consume full meter, apply mark and resonate with mark, dealing 400% (Saule) / 500% (Veliona) Physical DMG. Charged ATK does not recover any meter, so only use it to mark or resonate with the mark.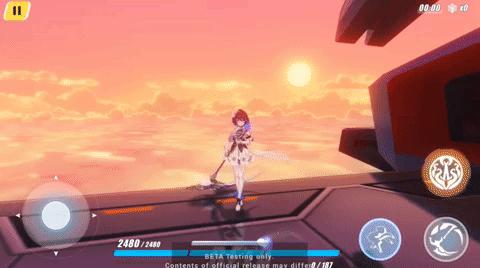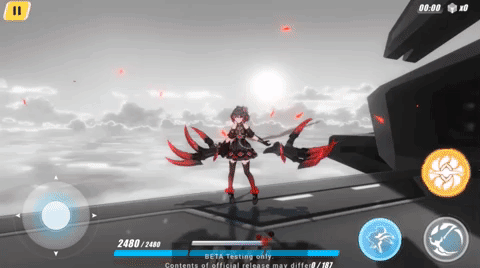 Evasion
Ultimate Evasion recovers 100 meter, and can be connected to 4th basic ATK.
Evasion skill (Flash of Eternity) recovers 400 meter and procs 3s of global Time Fracture. CD:15s.
SN can pass through enemy to proc Evasion Skill and reduces cooldown by 2s. However, Time Fracture will only last 2s. This is a very strong skill for SN, since it recovers full meter, allowing you to immediately perform charged attack and deal mark damage.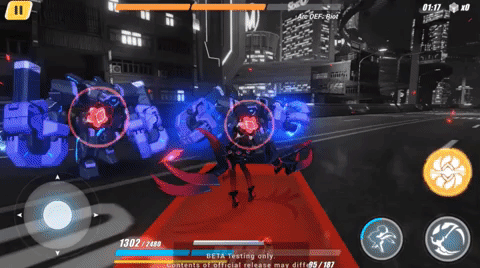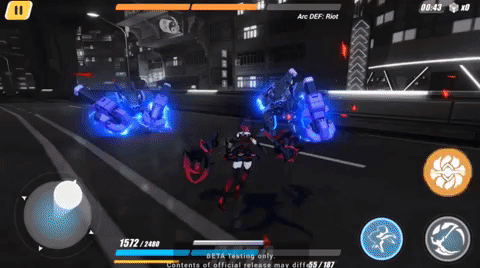 Gif shows Ultimate Evasion (left) and passing through enemy, triggering Evasion Skill (Right)
QTE
Trigger: Weaken / Time Slow
SN swoops in, dealing 800% (Saule) / 900% (Veliona) physical DMG, recovers full meter and mark the enemy. Another skill that instantly recovers full meter, as well as applying mark. Useful in switch-heavy playstyle.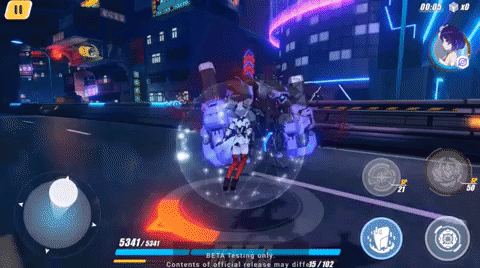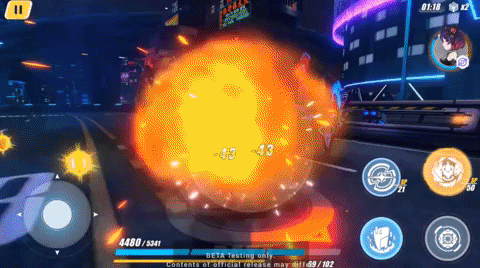 Ultimate
Ultimate skill has no SP requirement, but consumes all SP on cast. Each SP consumed boosts utimate damage by 0.5% (150 SP max for 75% TDM). Ultimate applies Quantum Implosion on QUA enemies, as well as having the following effects: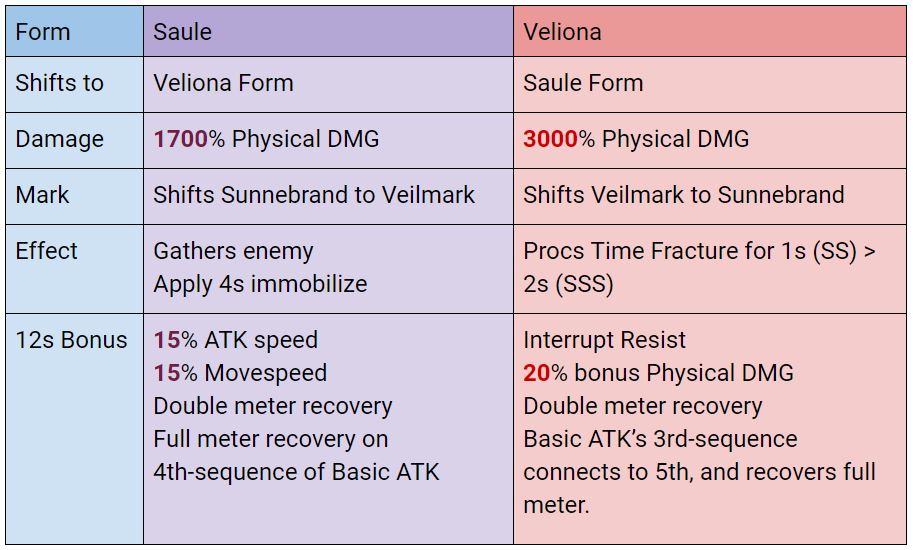 Ultimate has a lot of damage - it's a nuke! Try to cast ultimate after mark resonation, as it gives 20% Physical DMG buff.
12 second buff gives a few bonuses, but most importantly it improves meter recovery from Basic ATK - allowing you to resonate with mark much faster.
Leader Skill
Team gains 14/15/16% Crit Rate. With 3 members of different types, team gains 21/23/25% Physical DMG bonus.
Passive Skill
These are the rest of SN passive skills.
Vulnerable Duality
Saule - Each kill recovers 200 meter. This helps Saule Form keep her momentum against mobs.
Veliona - Grants 50% TDM against shields.
Might of Duality
Gain 5 SP per second in battle for 10s. Activate every time you switch in. This helps to boost Ult damage and gain Allen Poe stigmata effect, which we will discuss later.

GAMEPLAY BREAKDOWN
In this section, I will discuss on how to play SN effectively. First, you must understand that:
1 - SN itself isn't too strong as she lacks self DMG multipliers
2 - SN main damage output is her resonated mark damage
3 - SN must fill meter quickly to spam mark damage
1 - SN lacks self DMG multipliers
First, SN requires full gear to deal impressive damage. Why? Let's take a look at her DMG multipliers from her skills.


As you can see, SN doesn't have a lot of DMG multiplier, even after using Ultimate. Her mark has Crit Rate and Crit DMG, but that only affects itself. Why doesn't she have more DMG multipliers? Does Brother Wei not like Seele? Well, the real reason is...
2 - SN main damage source is her mark
That's right. Resonated Sunnebrand and Veilmark damage are SN main damage output. I'm not saying damage from other skills are lackluster (her ultimate is a huge nuke!), it's just that most SN skills recover meter - to encourage mark damage. It can be triggered OVER AND OVER if you fill meter quickly, and this brings us to the next aspect of SN...
3 - SN must fill meter quickly to spam mark damage
Different SN skills recover different meter values. Let's take a look which ones recover meter the fastest.


From the table, we can see that QTE, Evasion skill and Ultimate are the best way to recover meter, while basic ATK meter recovery only improves after casting Ultimate. Based on this info, your sequence of actions should be:
QTE > Charged ATK> Ultimate > Charged ATK> Evade through enemy > Charged ATK > Basic ATK > Charged ATK
This is it. This is how you play Stygian Nymph. Of course, this is just a guide, you might have to adjust according to the situation. For example, if ultimate is not available during your rotation, just skip to Evasion Skill. An example of such gameplay:
Note: Always use your charged ATK by holding down ATK button; don't use the automatic activation after Basic ATK. Since full Basic ATK sequence takes a long time - you'll waste time that you could've used to fill meter, and whatever support buff you have will expire.
Finally, to improve the damage, you must have the best gear and proper support - which is our next topic.
Now that you've learned how to play SN, it's time to improve her damage by equipping the best gear for her.
BEST GEAR ANALYSIS

Path to Acheron and Allen Poe set are the best gears for SN, as they provide her with the most buffs, more mark damage and they all synergize well with SN playstyle. At max potential, the gears give:
125% TDM
40% Physical DMG
28% Crit Rate
100% Crit DMG
25% ATK Speed
15% Evasion Skill CD Reduction
30% TDM for Mark Damage
Path to Acheron
Gives SN her much-needed multipliers - 20% Physical DMG, 10% Crit Rate and

30

% Crit DMG!

30

% TDM for Mark Damage is great. SN abilities only improve Physical DMG and crit of Mark, so having another multiplier will greatly improve damage.
Allen Poe Mid
Try to ult with 63 SP for maximum bonus Crit DMG. You should have no trouble reaching that high with SP recovery passive and CH + 11th Leitourgia.

Allen Poe Bot
Reduced evasion skill CD and faster attack speed means faster meter recovery, which also means faster mark resonation. That's great!

Allen Poe 2-set
After charged attack, give a whopping 80% TDM for 1s, with a a 2s cooldown. Always try to resonate mark damage when this buff is up.
WEAPON RECOMMENDATION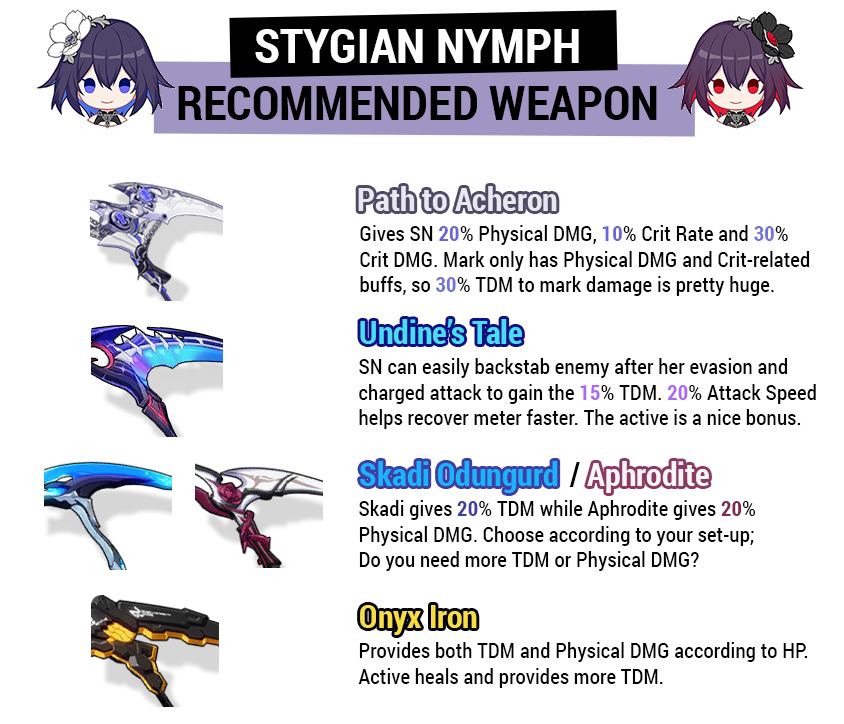 STIGMATA RECOMMENDATION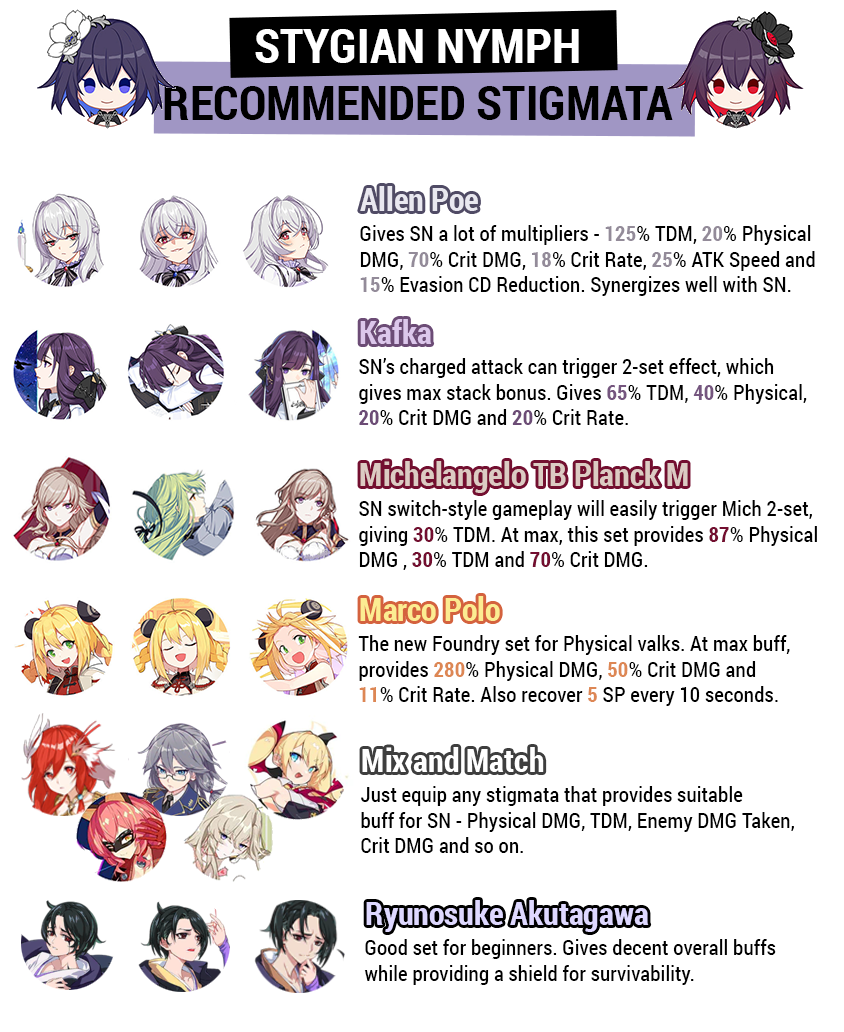 In competitive level, you will need two supports to maximize SN damage potential. One support should have impair while the other buffs physical damage or increase enemy damage taken. Usually, you will have one of these lineup: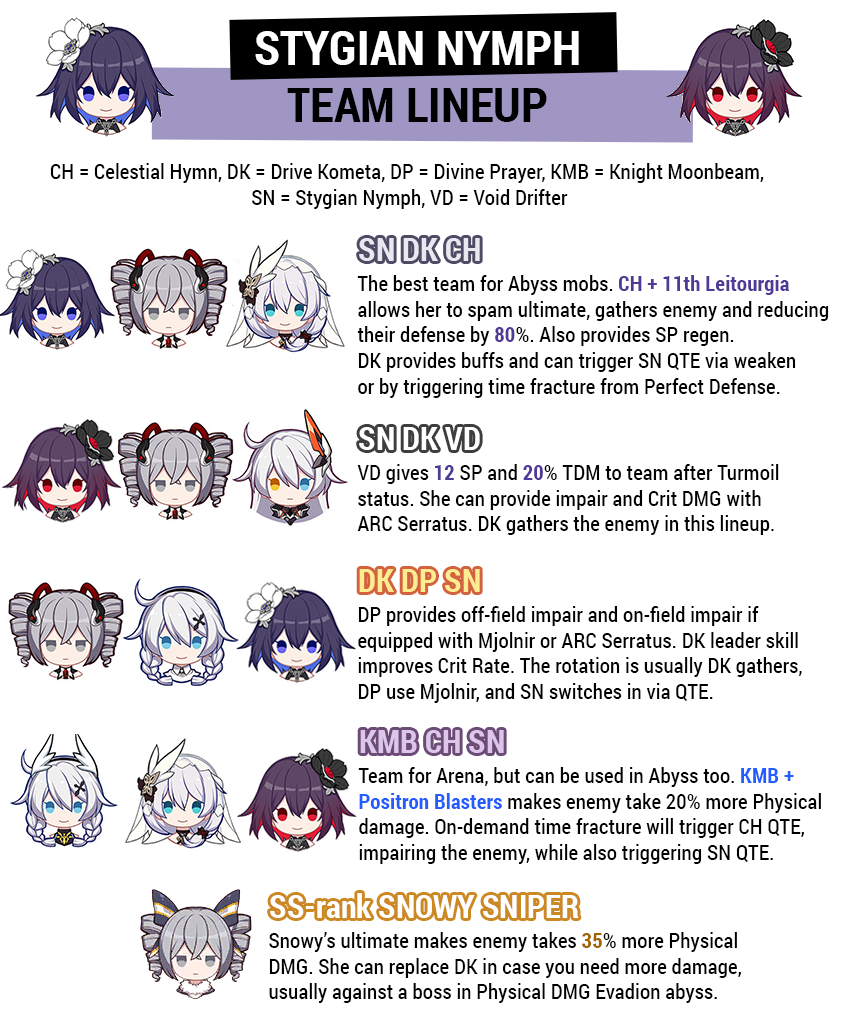 ABYSS / DIRAC SEA
SN can perform well in any Evadion or Weather that doesn't reduce physical damage. In v3.5, there is a new final floor boss - Quantum Legion, and you have a high chance of getting high score and promoting to myriad against this boss. The only competitor you'll have is a fully-geared Swallowtail Phantasm.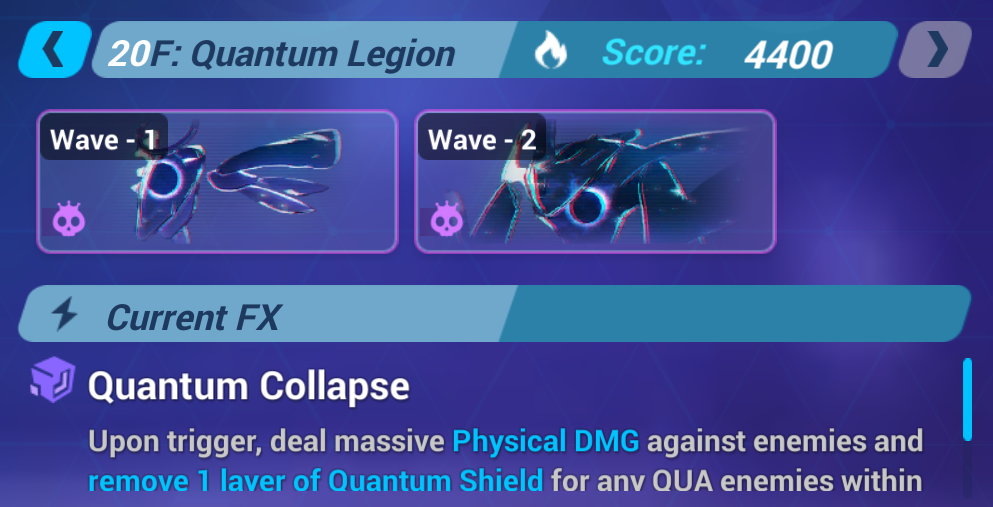 You will only face difficulty in weather that reduces physical damage, and against enemies with Physical DMG resistance, such as PSY crabs. Fight carefully in these situations, captains!

MEMORIAL ARENA
SN has no type disadvantage, so she can work against any boss that is not resistant to Physical DMG. SN is best against the new Arena boss in v3.5 - Mexicatl: Umbreist.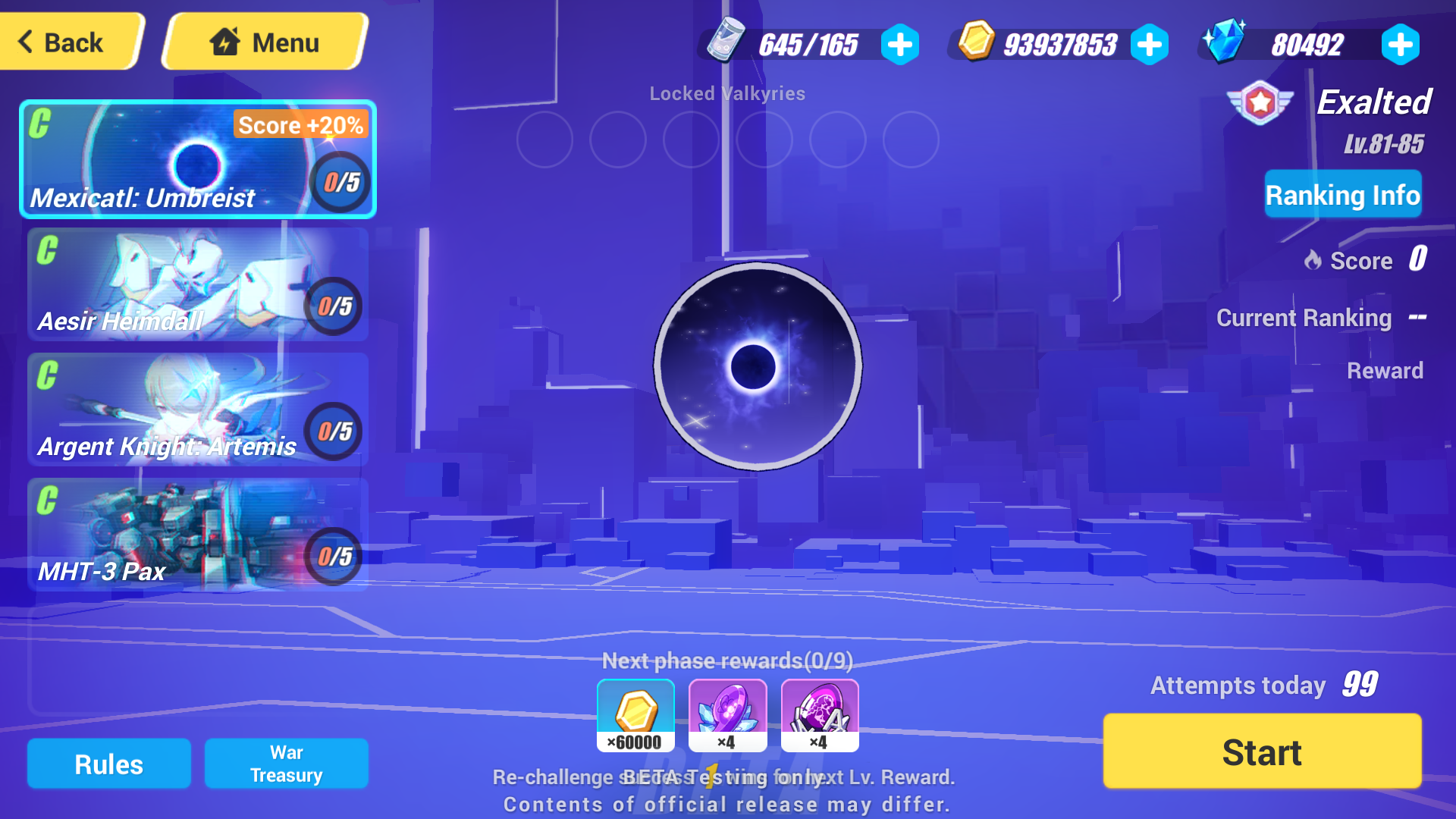 CONCLUSION
Congratulations, you've reached the end of this guide! Hopefully this has been helpful in mastering Stygian Nymph. She will be a big asset to you in both casual and competitive modes.
If you have any more questions, hit me up at discord - Marisa#4065. Hopefully we meet again in another guide.

BYE~