Home
 > 
 >  
Honkai Impact 4.8 Tier List
back
Author:Marisa
Submission Date:2021-05-27
Views:0
SEA, 11919640
Hi, I'm Marisa Honkai from Youtube~ Back with another tier list. At first, I wanted to improve this tier list with a bit more explanation, but a lot of players mentioned that this one is good enough - it's short and sweet~ So, I'll stick to this format.
EXPLANATION
4.8 BOSS LIST

This is the list of bosses that appeared in 4.8 CN server so far. The bosses were taken into consideration when making the tier list.
NEW VALKYRIE - STARCHASM NYX
Nyx is a very strong Quantum-type Ice DPS with a unique Nightmare Thorn skill that transfers damage to affected enemies. This unique skill allows S-rank Nyx to get top score on Homu Magician.
Being a Quantum-type, Nyx has a lot of coverage, and gets high scores on a lot of bosses such as Hellmaru, Tonatiuh, Couatl, Benares, etc IF YOU HAVE THE GEARS AND SUPPORTS.
She is very gear dependent and needs Haxxor Bunny support. Casual players can settle with Skadi and Ana.
In 4.8, Homu, Hellmaru and Couatl appear quite a lot.
All the factors above put Nyx in SS-tier.
HERRSCHER OF THE VOID down to S-tier
Due to the lack of Ranged Assaka and Physical Assaka in Abyss, HoV goes down to S-tier.
SWALLOWTAIL PHANTASM rises to SS-tier
Couatl appears three times in Abyss, and current disturbance still allows SP to get high score in Nirvana. This puts SP to SS-tier, for now.
CN TIER LIST
The CN community team, a.k.a Moonlight Center, has given permission for me to translate and upload their tier list too, which is more detailed. I couldn't translate it in time... Here's the untranslated tier list [CLICK HERE]
SUPPORT TIER LIST
If a valk is on here, then she's a good support. Which one you must use? Depends on the situation!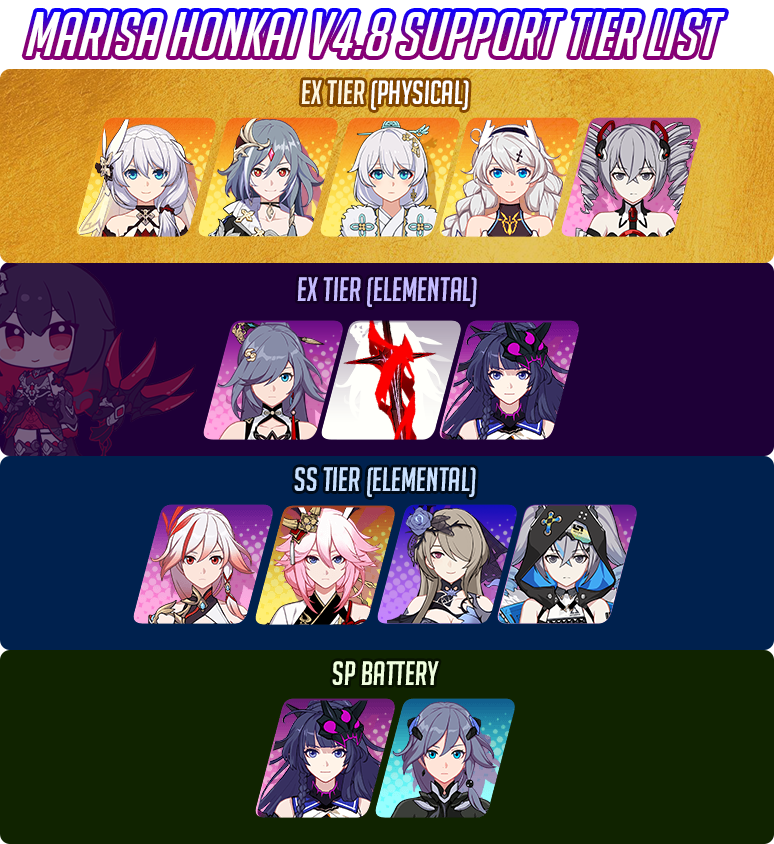 Yeah, no change from 4.7 support tier list.
THANKS
Thanks to Spliff, Neal, Pump, Derci, Qodnec, Defdep, bortz, CN community team, Cabbages team and other captains that helped not just in this tier list, but on all the guides as well. Got any feedback? Find me on my Youtube Community Post!