Author:Stroke
Submission Date:2020-09-13
Views:7605
Stigmata Transmute Guide
In Patch 4.2, there will be a new forging system called Stigmata Transmutation. This system will allow you to forge Generation 2 (G2) and Generation 3 (G3) stigmatas from previous "generations" stigmatas. These generational stigmatas are broken down by damage type. Currently, there will be 3 G2s and 1 G3 available for forging. In this guide, we will go over what that process will look like.
Let us go over what are the required materials in making each of the stigmatas.
Generation 1
This system is familiar to many of you already. It is the current bounty mark system that has been in the game for quite some time. The total number of resources depends on whether shades and/or spirits were also crafted in the process. The most common method is crafting with 2 stigmata specific shades dropped from Bounty Marks and their costs are as follows:

1 Spirit, 4 Shades, and up to 24 Ghosts(typically skipped)

500 Ether Fuels

80 Honkai Pieces or specified Foundry stigmata

150 SS Imaginons or specified Foundry stigmata
If ghosts were used to craft into shades, Ether Fuel cost could rise to 550 or 600 Ether Fuels. Ether Fuels are gathered from Bounty Marks, daily Logistics Terminal shop, new daily Coop Tactical Training, and recycled Ghosts.
Generation 2
G2 stigmatas are currently made up of Michelangelo, Monet, and Robert Peary. There are two crafting paths for making a G2 stigmata. You may choose to craft with, or without the use of a corresponding G1 stigmata. For the three aforementioned, their G1 counterparts are Ekaterina, Nagamitsu, and Nohime.
Without G1 Stigmata:
40 specific G2 Ghosts

900 Ether Fuels

160 Spatial Lens
With G1 Stigmata:
25 specific G2 Ghosts

550 Ether Fuels

G1 Stigmata

110 Spatial Lens
We will return to which crafting path may be more cost-efficient in a later section.
Generation 3
There is currently only 1 G3 stigmata set: Ana Schariac. She will need corresponding Robert Peary pieces to craft and the cost is as follows:
35 specific G3 Ghosts

G2 Stigmata

900 Ether Fuels

150 Spatial Convectrons
New materials and how to find them
There will be events rewards throughout the patch with free forging materials so be on the lookout for that! However, besides the freebies, here are how you can get these newly desired materials.
Spatial Convectrons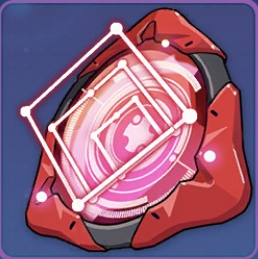 These are required for forging a G3 stigmata. The only way to obtain these are by exchanging AE/SS Imaginons and Stigmata Resonators.

Remember, you will need 150 Spatial Convectrons per G3 stigmata piece.
Spatial Lens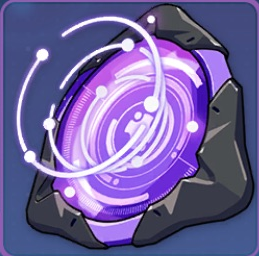 These are required for forging a G2 stigmata. These are also only obtained via exchange using AE/SS Imaginons, and Bounty Silver.

You will need about 110 to 160 per G2 stigmata piece.
Event Bounty Marks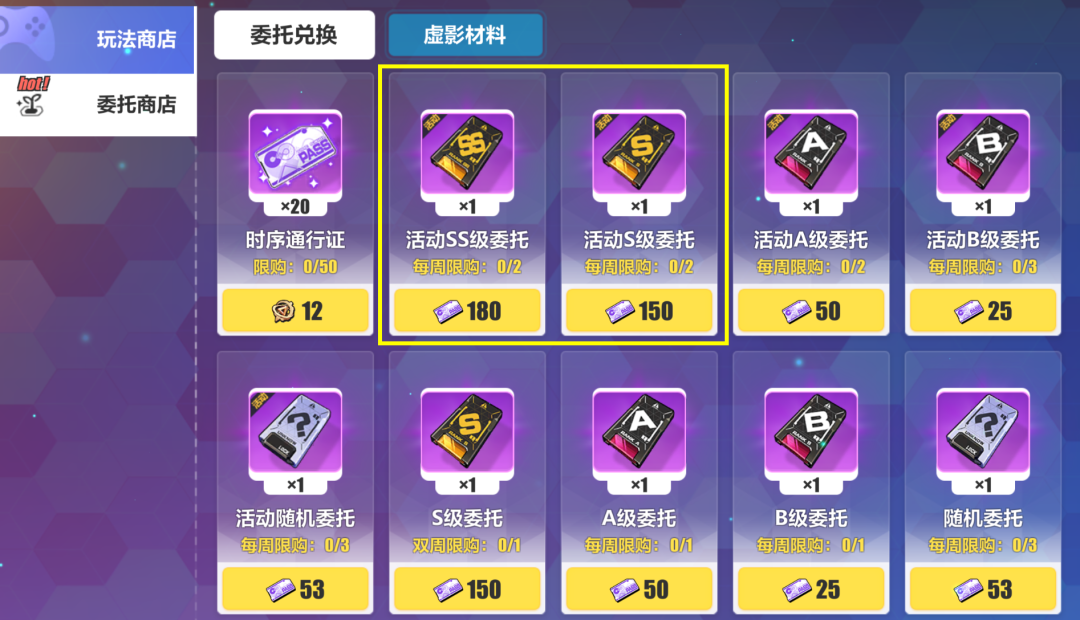 These special bounty marks will be available within the Task Shop alongside the normal bounty marks. They will be ranging from B ranks all the way to SS rank bounties. They will be purchased by the same Time Swirl Pass and be a main source of G2/G3 ghosts and Bounty Silver.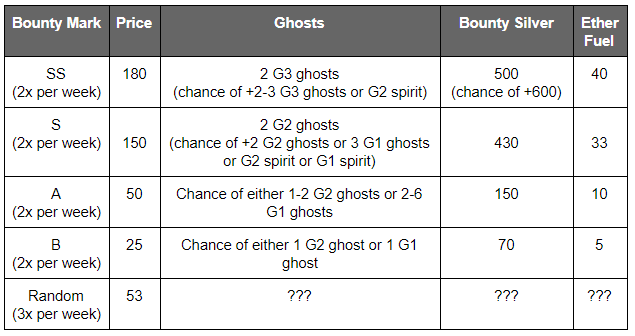 Exchange and recycling rates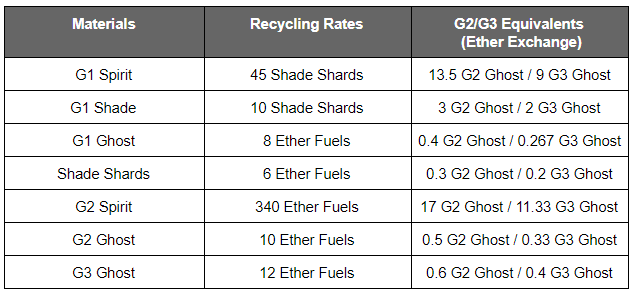 One Final Math Problem
Which crafting path is the most cost efficient crafting path for G2 stigmatas? Should you craft their corresponding G1 stigmata or forego that route altogether? By crafting with a G1 stigmata, you will save:
50 Spatial Lens (Eq. to 2,700 Bounty Silver / 62.5 AE Imaginons / 83.33 SS Imaginons)

15 G2 Ghosts (Eq. to 3,750 Bounty Silvers / 300 Ether Fuels)

350 Ether Fuels
Say you have a G1 Spirit ready to craft, you will spend:
300 Ether Fuels (Eq. to 15 G2 Ghosts)

150 SS Imaginons (Eq. to 90 Spatial Lens)
What if you choose not to craft the G1 Spirit but salvage it instead? Opportunity lost is a price paid. As shown above, a G1 Spirit is equivalent to 13.5 G2 Ghosts. With everything considered, by crafting with a G1 Spirit, we lose 62 SS Imaginons but save 80 Ether Fuels.
Now what if you were to craft starting with 4 G1 Shades? You will spend:
500 Ether Fuels (Eq. to 25 G2 Ghosts)

150 SS Imaginons (Eq. to 90 Spatial Lens)

80 Honkai Pieces (Eq. to 40,000 Mithrils)
Had we salvaged the 4 shades? It would have been equivalent to 12 G2 Ghosts. In this scenario, we would lose 87.5 SS Imaginnons, 80 Honkai Pieces, and 90 Ether Fuels.
Final answer? The most common route will be to forge without a G1 Stigmata, unless you were lucky enough to already have one previously. If you have a G1 Spirit ready, craft it if you value 80 Ether Fuels higher than 62 SS Imaginons. I would typically value 62 SS Imaginons over 80 Ether Fuels. Do Not Craft G1 Stigmatas!