Honkai Impact 3rd: Path of Apotheosis Week 3 (5/16/2019-5/20/2019)
By Reinbex
What to expect:
Hello, this is a guide to provide Captains an idea of what to expect from this week's Path of Apotheosis's stages and bonuses. This guide also includes information on what valkyries benefit most and therefore would be the most ideal matchups against each stage. Below is a summed up version of what to expect.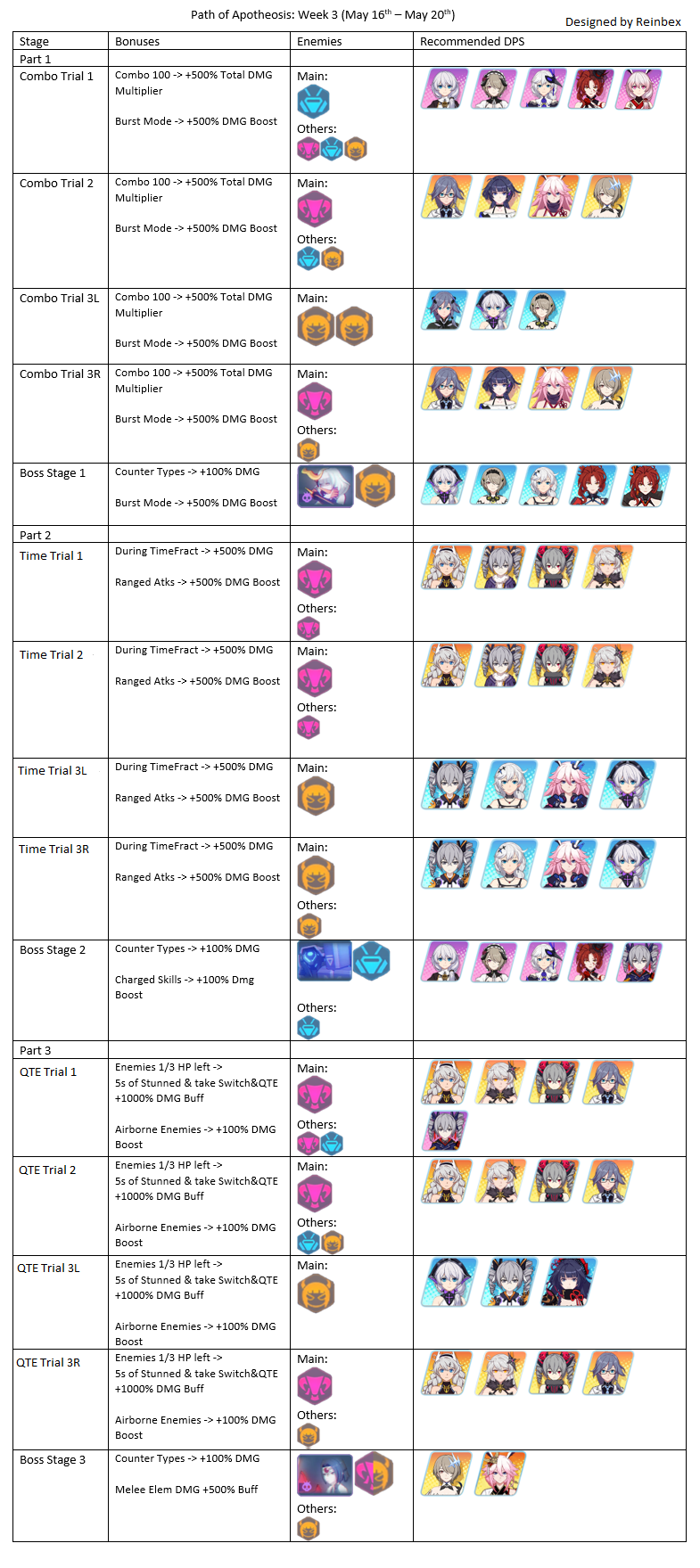 Strategies
The following provides a further in-depth look in the chart above. Please keep in mind for the following:
-After reaching the checkpoint of non-Boss stages, valkyries have their gear locked in and an attempt for them used up.
-All non-Boss stages share the same bonuses.
Zone 1: Burst Mode +500% and Combo 100 +500%
Stage 1
F2P Build:
This build has YA with a laser to increase combo count. Since another way to increase combo count easily, is for one to use one of Bronya's lasers. SJ and SR are two different typed DPS that can steadily increase their combo count and burst ult.
My Build:
This stage is fairly simple. There exists 1 Gauntlet Titan Mech and many module bot mobs of every type. The stage is finished when all enemies are defeated. Your main priority should be lowering the HP of the Titan Mech while increasing your combo count as much as you can. The sooner you hit 100 hits, the sooner you can defeat the stage. Even better if your DPS valkyrie has a burst mode ult.
Stage 2
F2P Build:
YA's role here is for her leader skill, barrier and laser combo increaser. You can continuously hold CI's attack button to swirl up on surrounding enemies. She can increase her combo count very fast this way.
My Build & another F2P build:
Similar to Stage 1.1, Stage 1.2 however, has 2 waves. First wave is a Missiles Mech and white Bushi and 2nd wave spawns spider bots and the Honkai. It's recommended that you use a melee based valkyrie for the first wave at the least. Keep in mind that you would want to maintain your combo count for that the spider bots spawn fairly far away. Like stage 1.1, once you get to utilize the Zone bonuses, the enemies will fall.
Stage 3L
This stage here has 2 Zombies. Use a Mecha High Combo Valkyrie to kill them such as PI, VE, or SK. Or if you really want the challenge, use WC. I recommend taking the right stage if you lack enough Mech Valkyries.
Stage 3R
Suggested DPS:

This stage has 1 Honkai Beast and 1 Claw Zombie. It's a fairly simple stage that just need 1 high combo hit valkyrie that has a burst ult like NS or VBS. Stay on that DPS and get your ult asap to secure victory.
Boss Stage
Suggested Choice of DPS valks:

This stage only has Doom. The boss here isn't anything special from the other Dooms in the game. However, since Time Fracture does not slow the timer down, it's recommended that you use a valkyrie that has a low SP cost Ultimate and can build her ult fast enough. Therefore, it's recommended to stay on 1 valkyrie for as long as possible without switching so you can bring out burst mode. I recommend VK as the best choice here for this stage for these stated reasons but I went with SJ, SF, and VE instead that had pretty much F2P gear. Took me two attempts but if you stay on 1 valkyrie such as VE, you can take down Doom.
Zone 2 Ranged +300% and During Time Fracture +500%
Stage 1
Suggested F2P build:
In this stage, you only need 1 strong DPS that benefits from the bonuses. There will only be Honkai Beasts on this stage so a valkyrie such as SS or KMB are all you need to take down this stage. The VT is only here for the leader skill to buff SS's DMG while YA is there to provide SS some shield. If you run KMB or GK, you could run a valkyrie that uses invokes Time lock and/or lifts enemy Airborne for their QTE.
Stage 2
Suggested F2P build:
Because this stage is nearly the same as the previous, with only Honkai Beasts, except there exists a pair of Honkai Beats with soul link (cannot truly die until both lose all their HP), you can run the same team as the previous stage.
Stage 3L
This stage consists of Zombies also. I recommend choosing the right stage since it's really easy if you have DB and VR.
Stage 3R
F2P Build:
Alternatively, you can use SF's QTE (triggerable by time slow) if you lack DB. VR can still gather mobs and use Artemis pistols to trigger SF's QTE.
My Build:
This stage has a lot of zombies and then 1 boss zombie in each cycle. It's quite simple to defeat this stage. Have VR ult evade to gather the zombies and then trigger the DPS valkyrie's QTE (that is ranged and happens during time fracture). In my case, it was DB, so VR's Rinaldo M did the trick to paralyze. I had one more filler valkyrie, which was Meme in my case. Meme can benefit quite well from the stage bonus but I simply lacked her gear so she was a Mech Filler for my DB's leader skill. Meme also could trigger VR's QTE with Crystal Edge.
Boss Stage
Suggested DPS:
Suggested Support:
At first, only the Gauntlet Titan Mech will spawn. At the 0:35 mark, Titan Mechs begin to spawn. And at the 0:15 mark, Missile Mechs begin to spawn. Both 6S and BR are the DPS here. VR is the gatherer so it's easier for you to kill the mobs. Keep in mind while mobs exist, the boss does not take dmg. Substitutes to VR/DPS are VC and UR. VC not only gathers, but can also be a DPS while UR and VP can take down multiple amounts of MECHs. Just avoid the boss' hits and focus down on him until mobs spawn. When mobs spawn, gather then quickly and kill them so you won't waste too much time.
Zone 3 ⅓ HP Stunned 5s Switch&QTE +1000% dmg and Airborne Enemies +100%
Stage 1
F2P Build:
My Build:
This stage will be filled with Honkai Beasts and Mechas. The best approach to this stage is to deal most of your dmg through the bonuses. Because the QTE bonus only applies when the enemies have hit ⅓ HP, it's recommended to use a valk that can output dmg while lifting enemies. Both SD and CI are good choices since they tend to put enemies airborne. When enemies reach ⅓ HP left, they become auto-stunned for 5s. The stun is a trigger in itself for VC's and even SD's QTE. During these 5s, is when you should QTE to quickly kill your enemies.
Stage 2
F2P Build:
My Build:
Stage 3.2 is very similar to stage 3.1. However, zombies will be present here so it's encouraged to have 2 DPS's with a strong QTE of different typings. Much like Stage 3.1, you will need to kill 10 enemies.
Stage 3L
This stage has Zombies as its main enemy. Because there can be only so many Mech DPS valkyries that fulfill the requirements of the zone's bonuses, it's recommended to choose the right path.
Stage 3R
F2P Build:
My Build:
This is a stage of killing 10 of the Emperor main enemies and zombie mobs. It's encouraged to BIO valkyries here. For F2P valkyries, you can consider Miko, SS, or BN for QTE. SS here gives the best QTE out of the 3 but if you will need a valkyrie that can perform lifting and/or time slow. VR with Artemis can gather enemies and use the weapon skill to trigger Time Slow and Airborne QTEs.
Boss Stage
Recommended DPS:
Other optional DPS:

This boss stage features DXY and several zombies. Keep in mind DXY is a psychic type while she has a shield up (on her horse) and is a BIO type while her shield is down (not on her horse). It's not recommended to use VK unless you can break DXY's shield fast enough. And time shouldn't be wasted on killing the zombies. 6S and DP can be lead support while WD or a Theri with Judah be another support. WD at ss rank gives a 30% elemental DMG buff. YA gives an ignore-interruption shield. VP and SK can both give good leader support as well. There are only two recommended DPS here: Mainly AK (Ice Rita) or FS. You can also substitute the DPS by using Phx if you lack the former two. Be warned that DXY is very mobile so it can be quite difficult for FS to maintain her combos. AK is the main choice since she can freeze bosses and pin them down with Ice Cage. The immobile boss makes for an easy target to slice down. With FS or AK, focus down on DXY because you have limited time. Stay on your DPS and let your other 2 valks provide passive support without needing to come out for too long or at all.
Something to note here is that the claw zombie that spawns in this stage will have a special feature as dictated by her spiral ring. While she is alive, your active valkyrie will continue to take physical dmg. While you can take some time to kill her, this zombie does respawn. It's considerable to have 2 DPS or an sss rank DP in your team to save your team from a potential death. It took me 3 tries to beat this stage. My FS was not the best geared FS there ever was, and I did not have AK. So on my 3rd attempt, I ignored the main bonus and just rammed DXY into her death with my God Kiana.
If you are reading this, you've reached to the end of my guide. Thanks for reading and good luck to all in this week's Path of Apotheosis!