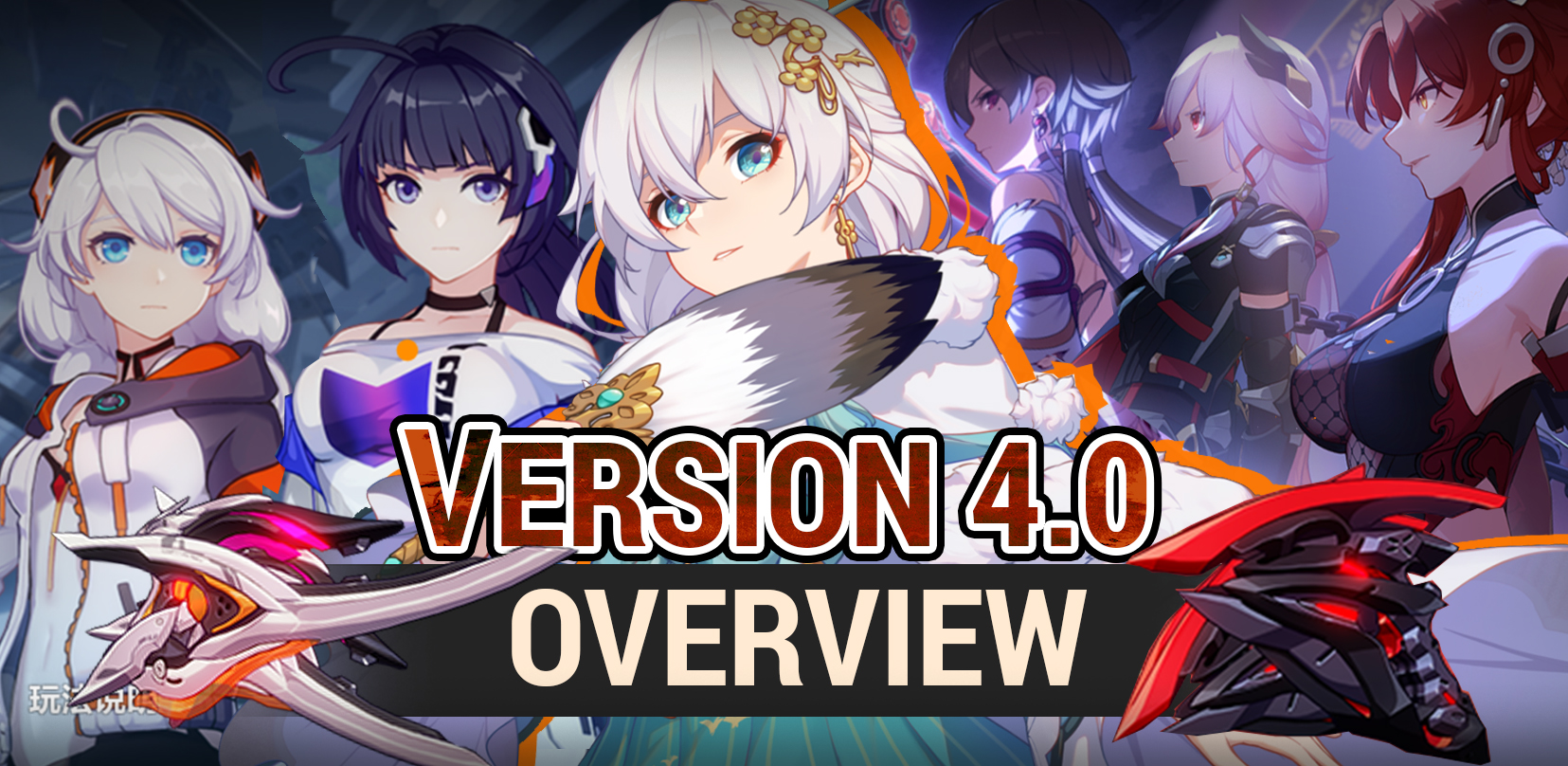 Welcome to Version 4.0 Overview. A new Teri is finally here! Let's take a quick look at some of the contents in v4.0. New Teri, lots of new equipment, new arena boss and more!
NEW VALKYRIE - STARLIT ASTROLOGOS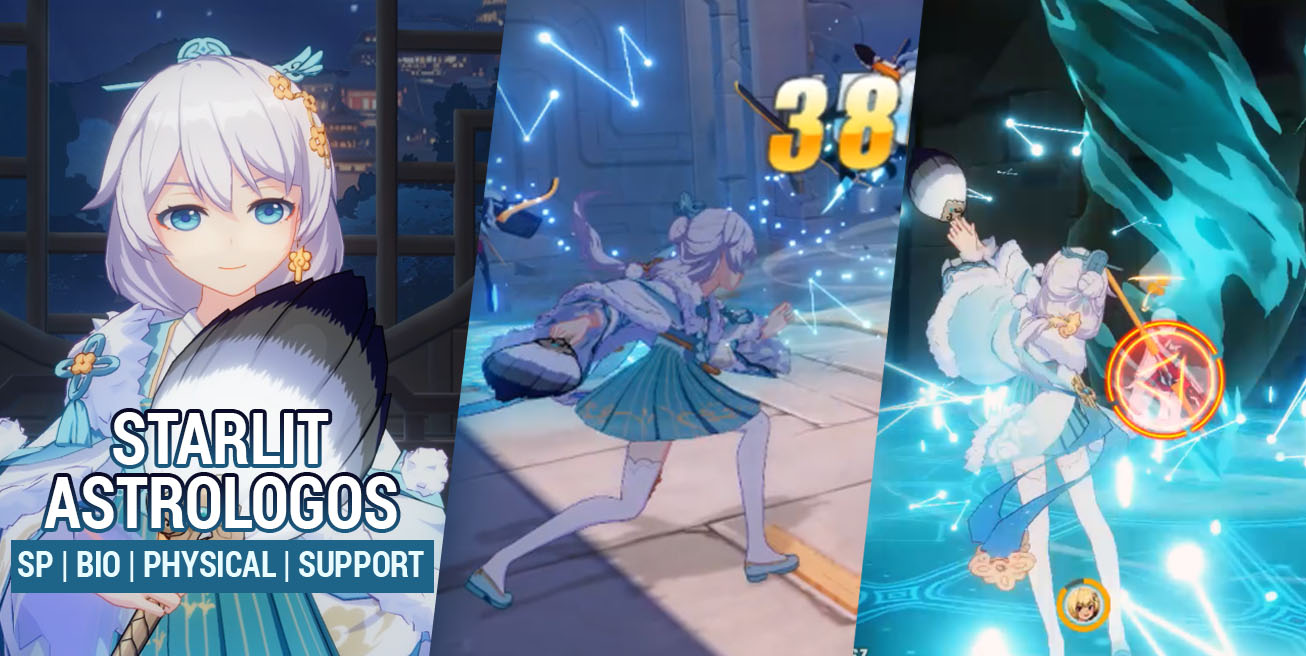 Starlit Astrologos (SA) is the new BIO-type physical support Teri. She is the first battlesuit that can use QTE and Ultimate in the background. Very cool, Theresa!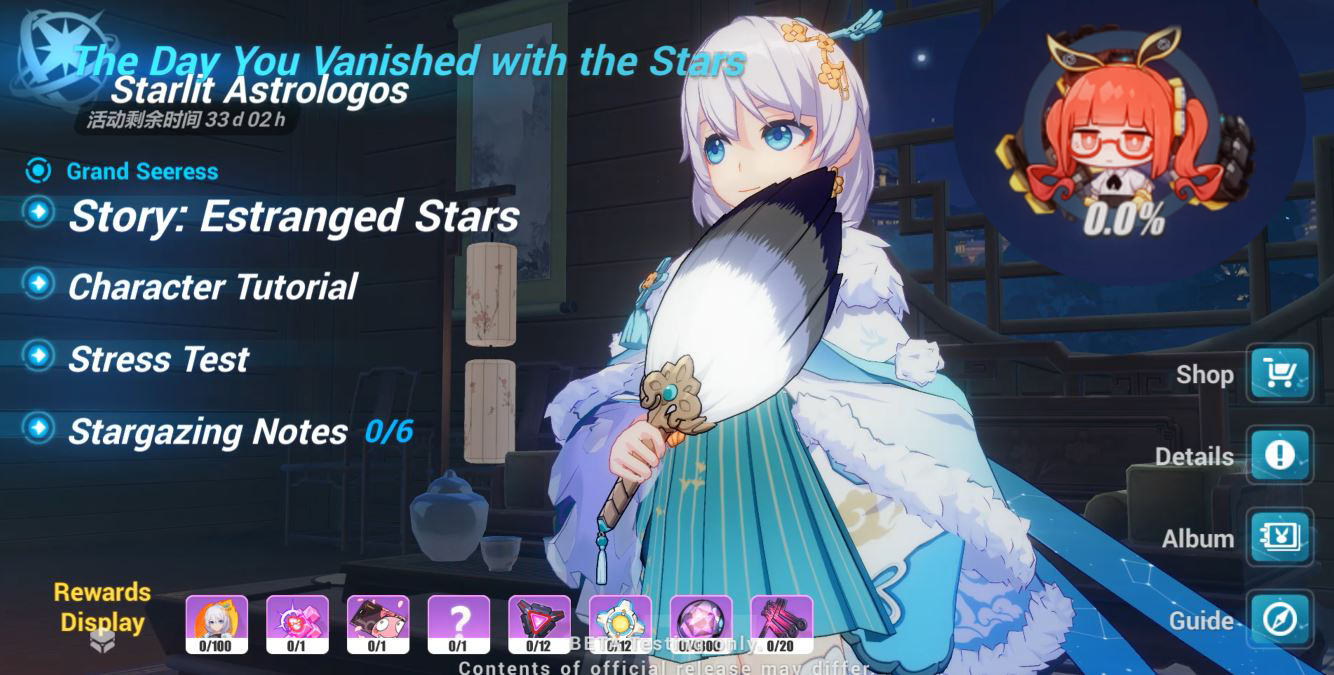 The Day You Vanished with the Stars event will tell us what happens to Teri, Captain and Tesla Zero after Honkai Kingdoms Zero. Tutorial and Stress Test challenge will be available. This event will give 100 SA fragments, enough for you to rank up to S-rank!

You can get SA fragments from SP Supply, Event, Open World task and shops.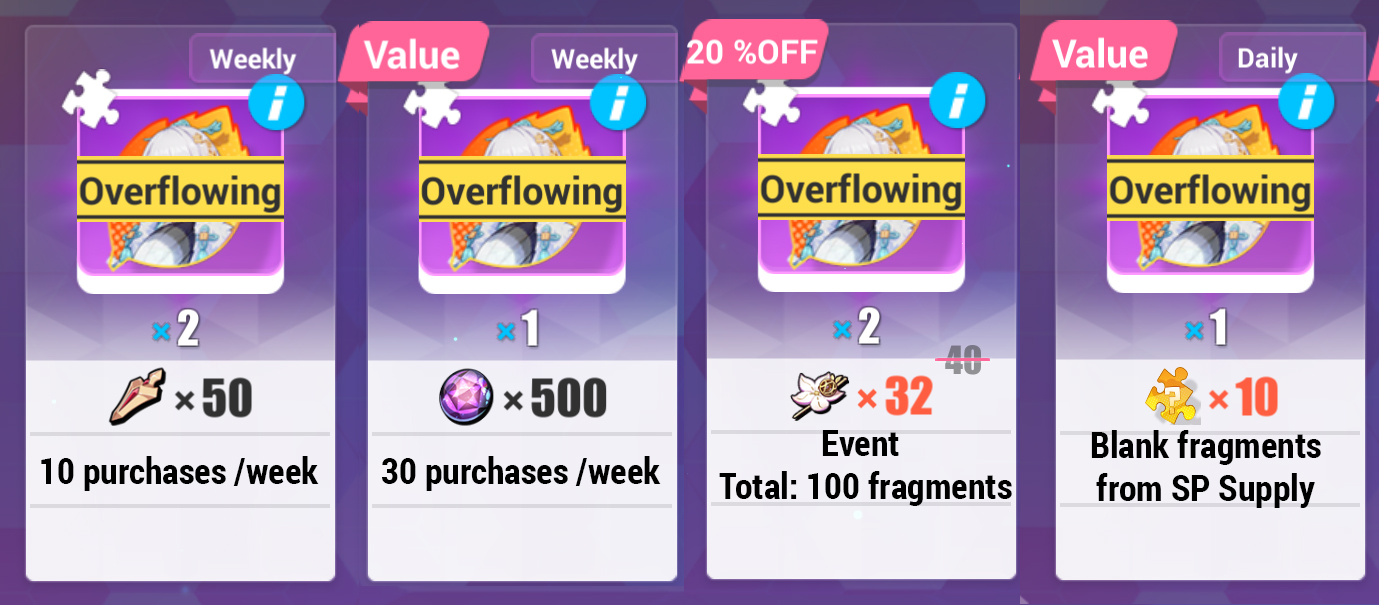 Also in this update, Dimension Breaker, Yamabuki/Drive Kometa and Bright Knight block skill can remove Quantum shield and gain Evadion charge. Nice!

NEW EQUIPMENT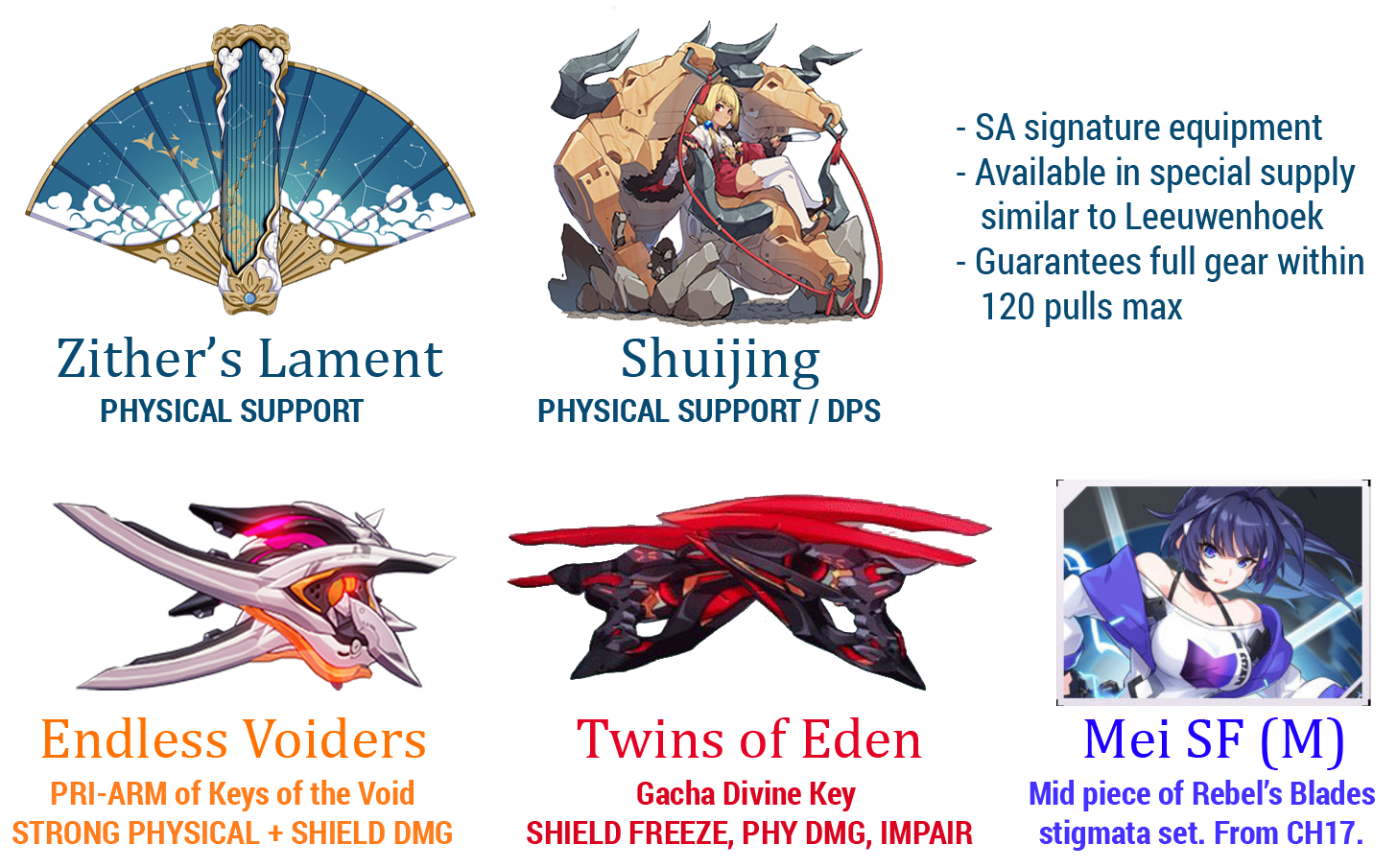 ​
SA Signature Gears - Zither's Lament and Shuijing​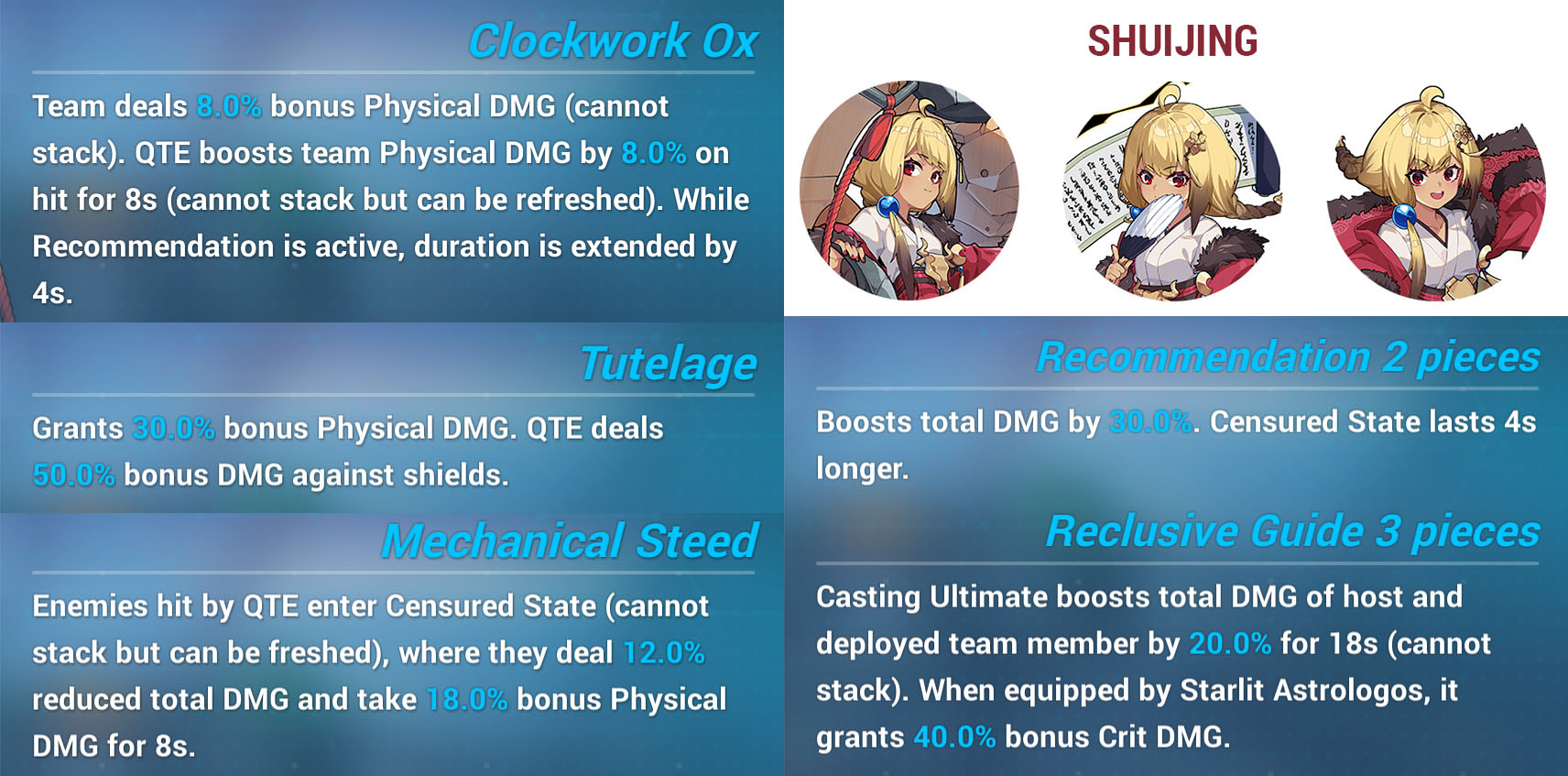 Zither is a very beautiful cross and can be auto-deployed during Astrologos Ultimate Skill. Shuijing has both support and DPS component. Interesting... They will be available in a special supply similar to Leeuwenhoek supply, where you are guaranteed to get full gear within 120 pulls max.

New PRI-ARM - Endless Voiders​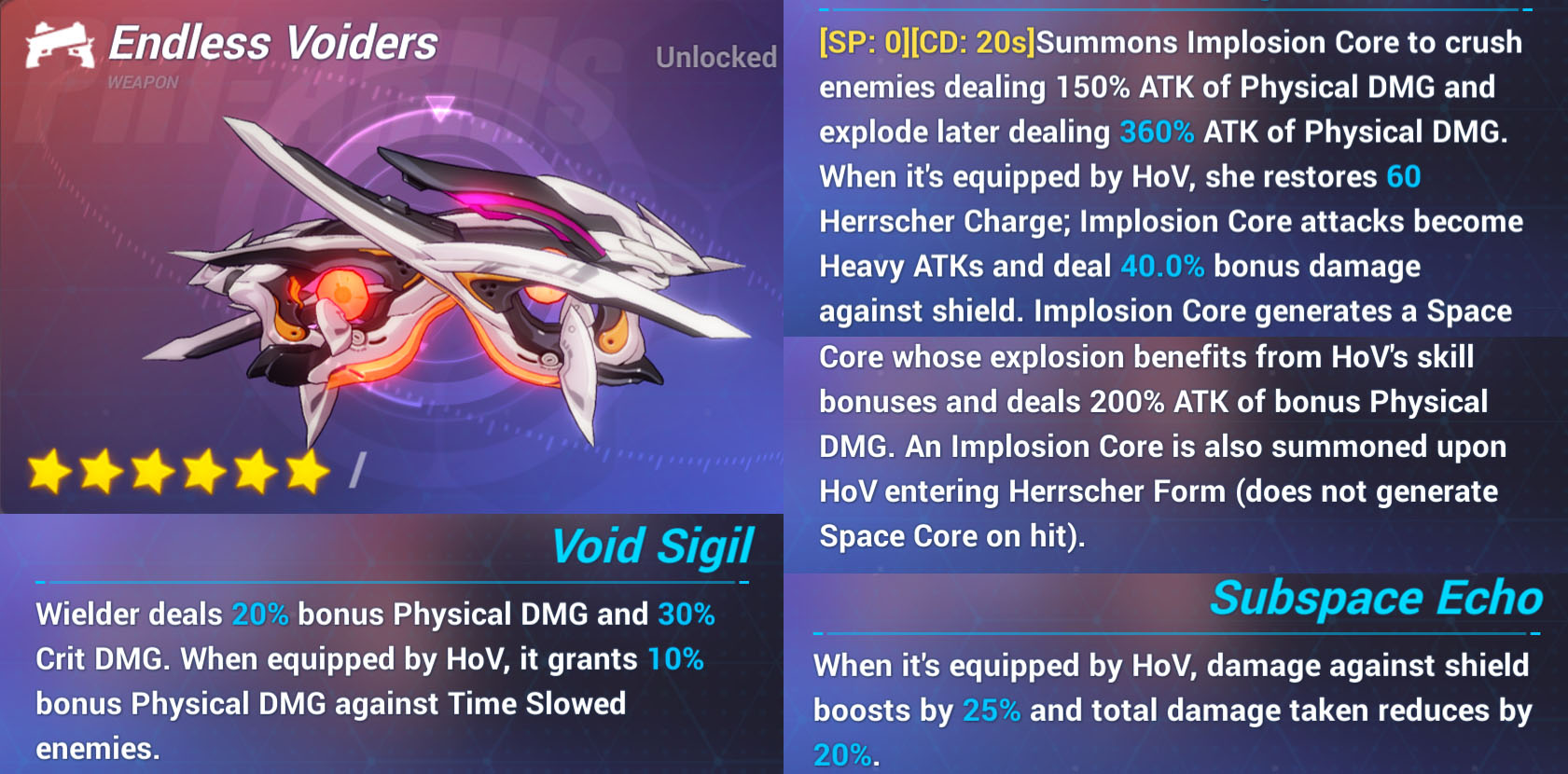 New Gacha Divine Key - Twins of Eden
​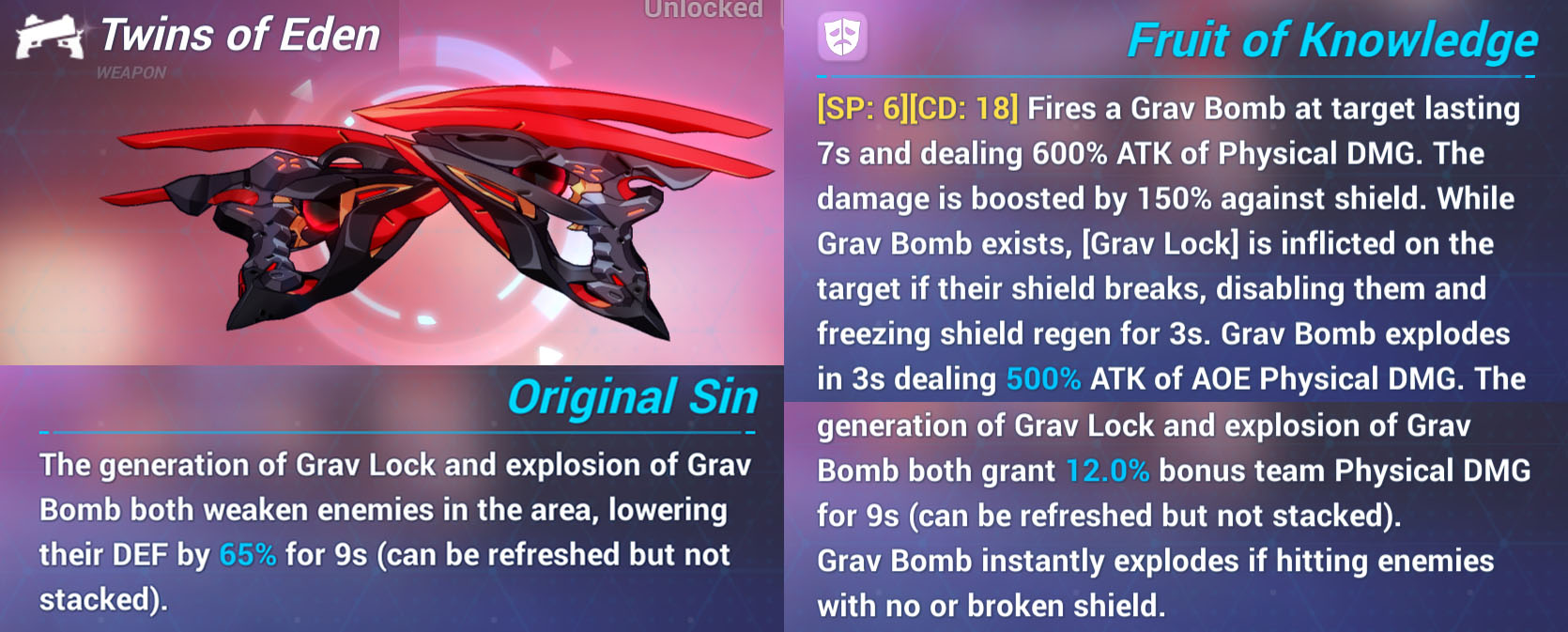 Twins of Eden has a unique shield freeze ability, and can impair enemies. You can tune the weapon to gain global +10 ATK. Twins of Eden will be available in a special Divine Key supply, where you are guaranteed to obtain it within 50 pulls max.
Rebel's Blades Set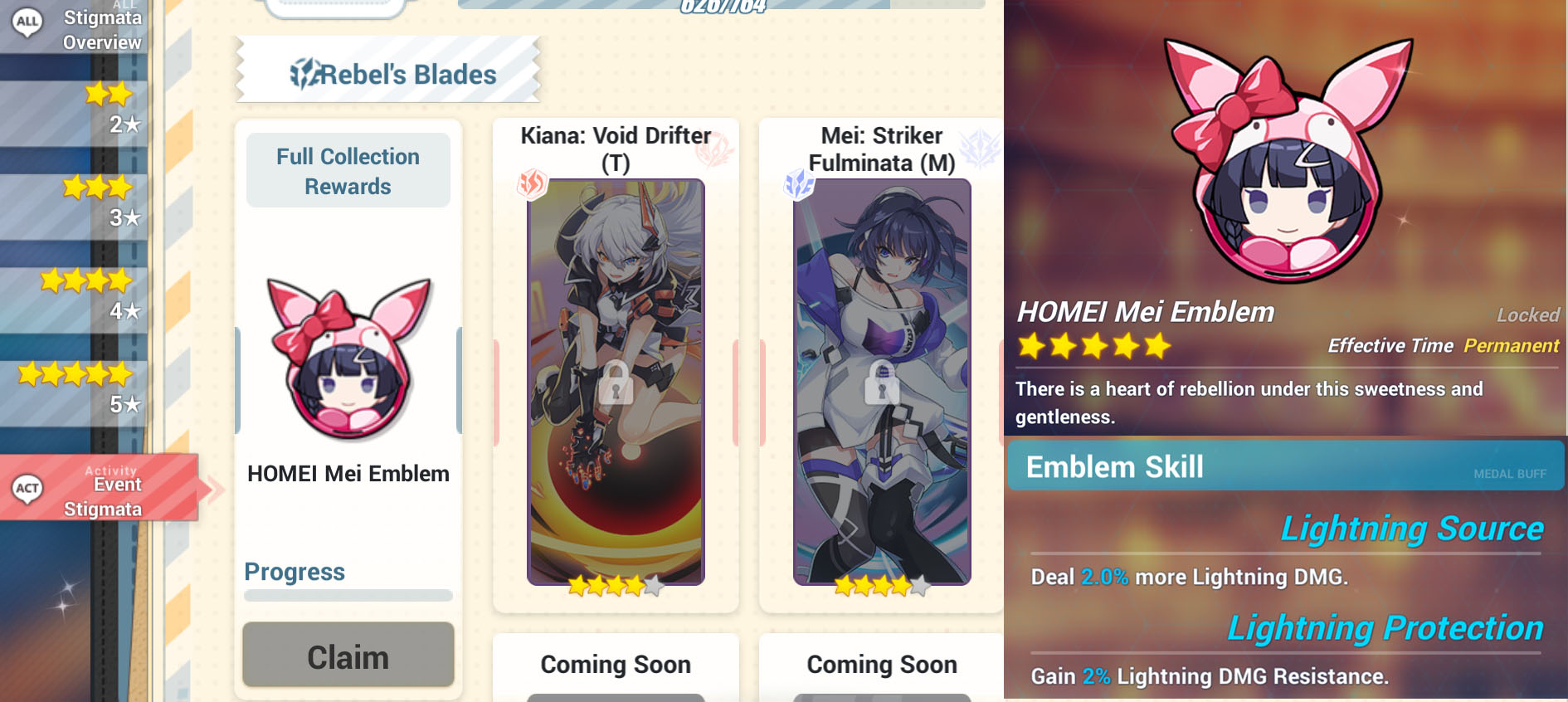 In v4.0, Rebel's Blades set has its own section in stigmata album. You can see the special HOMEI Mei Emblem that you will receive once you have completed the set. BUT it will take a few patches until you actually get it. Mei (M) will be obtainable from Chapter 17 event.
Exchange Shop
Blooded Saints and Zorro added to Exchange Shop
CHAPTER 17 - THUNDERS OVER NAGAZORA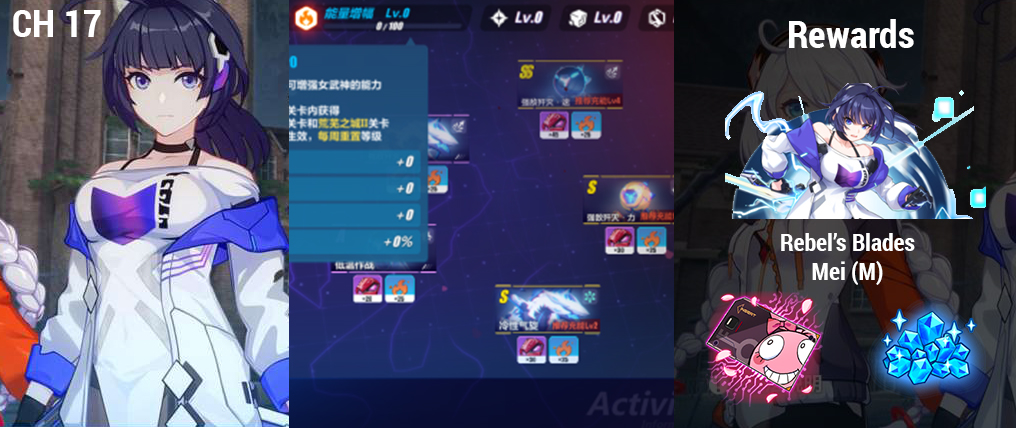 In previous overview, I said thunder is coming. Well, thunder still hasn't arrived. Maybe next patch? +_+ ⚡⚡⚡

OPEN WORLD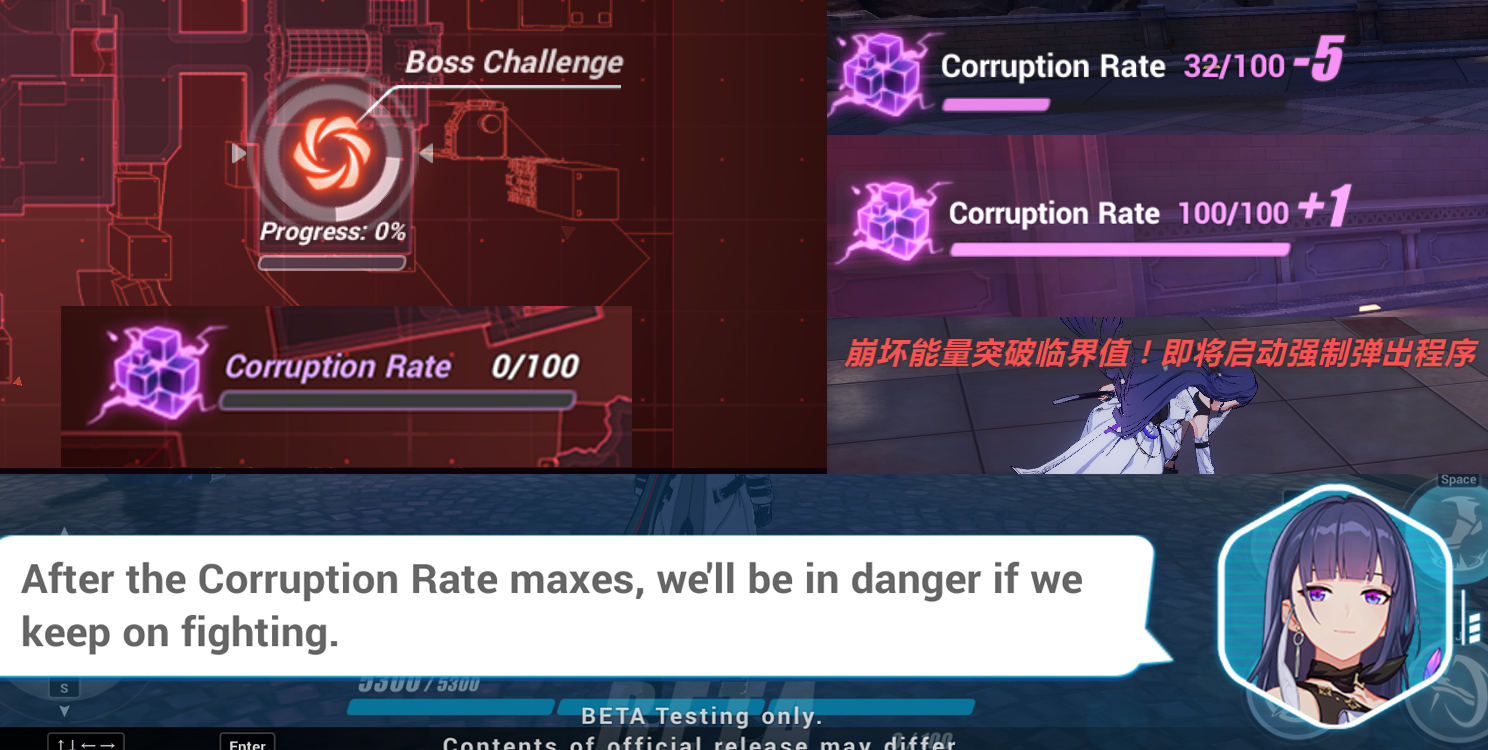 Honkai Odyssey open world adds a super hard Boss Challenge. You have to manage Corruption Meter while fighting, if it's maxed out, the challenge fails and you will be kicked out. Also, Starlit fragments added as task reward.


BATTLE PASS


​Here are the new stuff in 4.0 Battle Pass. I would get Keys of the Void to unlock the PRI-ARM, and Gustav for that strong Physical support. Knight Pass owners only get the Rare Outfit Box this patch, and Paladin Pass owners get a special Sora ribbon (the character from Chapter 16)
OUTFIT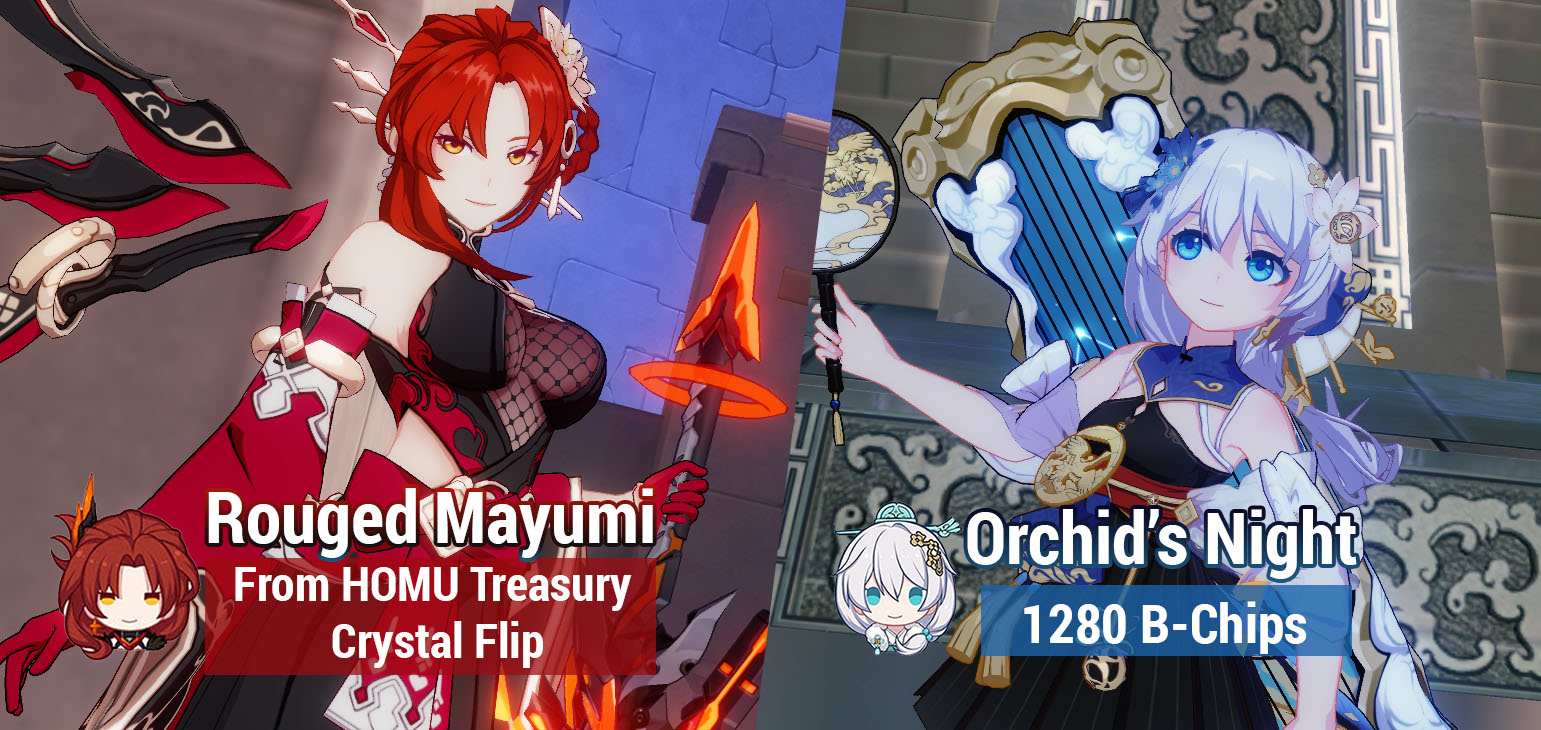 Here are the new outfits this patch, made for Vermilion Knight and Starlit Astrologos. Both have special visual effects.
MEMORIAL ARENA
New Mech-type boss Bright Knight: Excelsis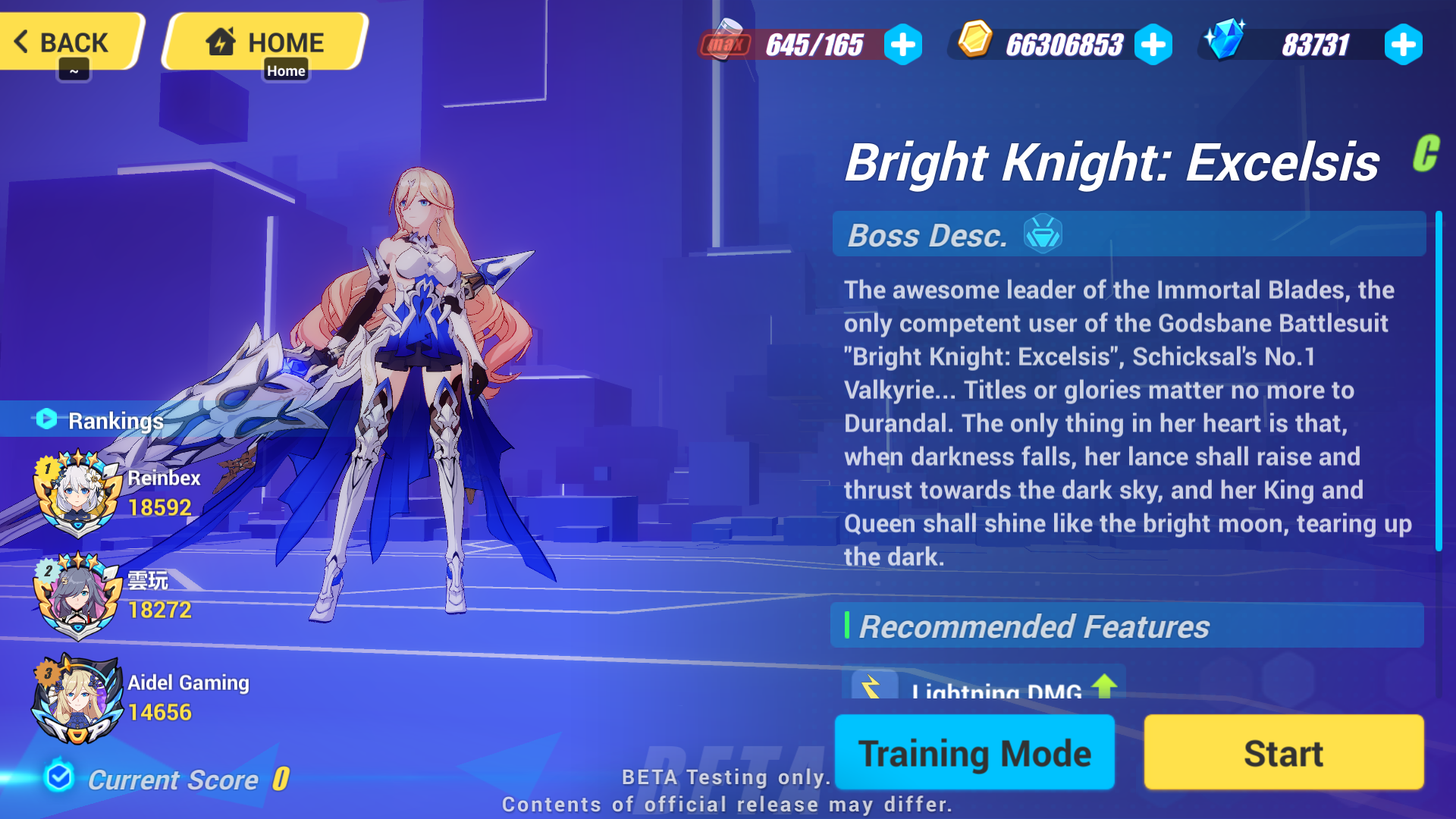 ​This boss has a lot of special skills and very long descriptions. Looks like Hawk of the Fog is the budget and top-end options against her.
​
V4.0 Boss Pool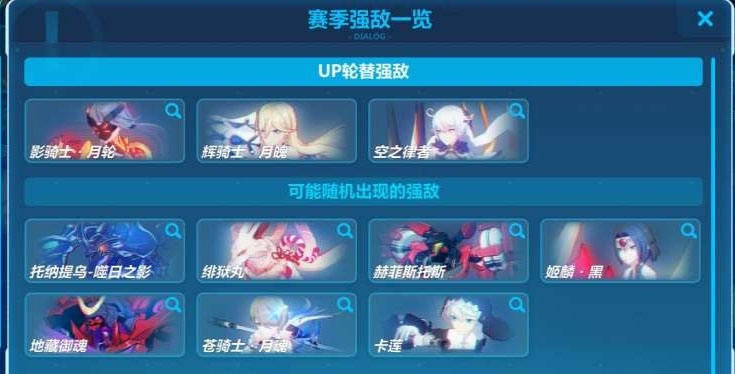 Training Mode Improved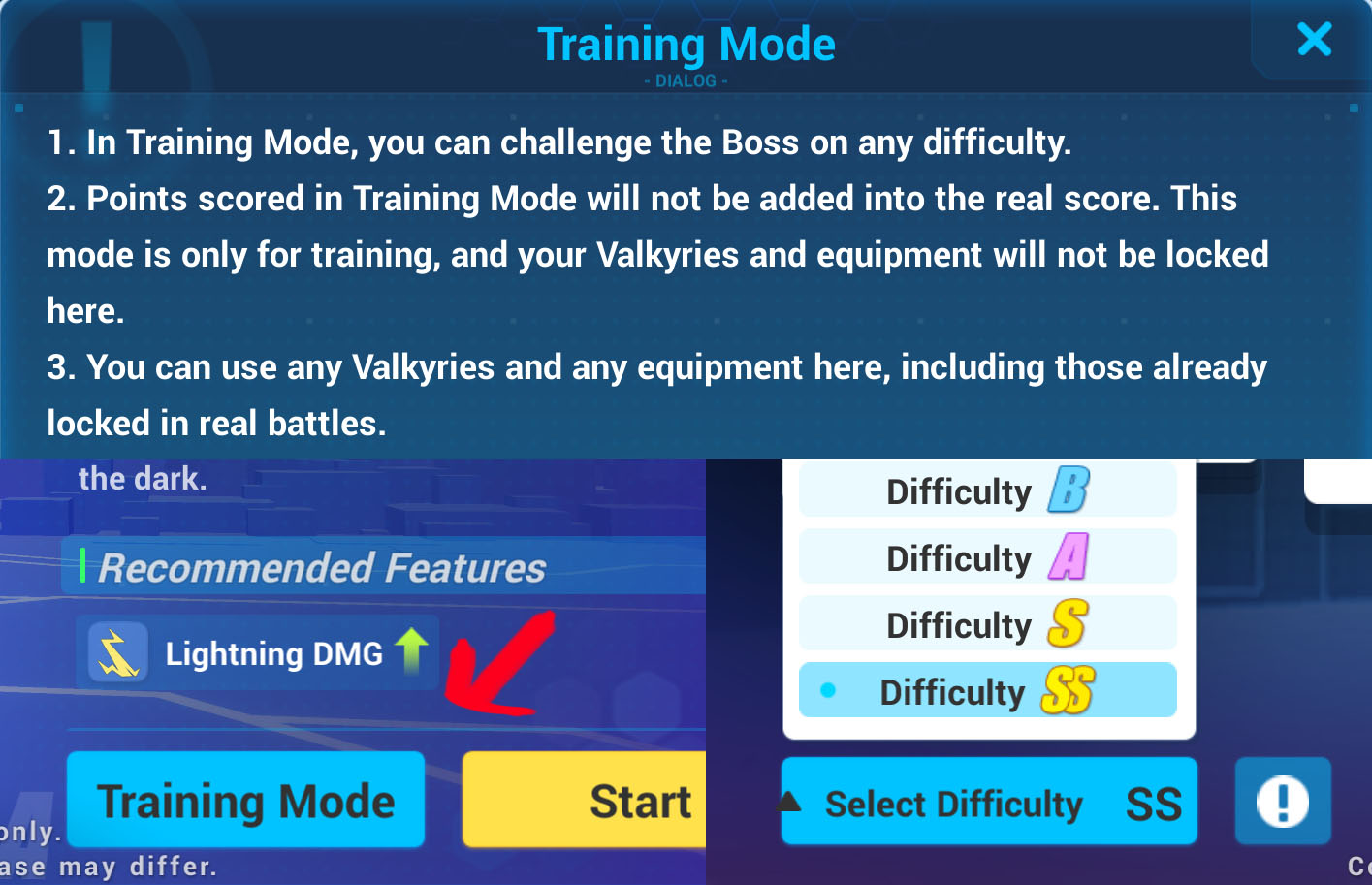 You can now use locked gears for training mode, and you can choose the rank of the boss for training mode.
ABYSS

Q-Singularis
Perfect defense and Retaliation skills now charges Evadion.
Evadion charge gained from evasion / block has been increased. Evadion now fully charges in 4 evasions/blocks (previously 5).
New Evadion QUANTUM FUSION. Deals massive Physical DMG. Affected targets receive TDM +100%, applies weakened state, lasts for 12s.
Slightly reduce HP of Titan and Doom

Dirac SEA
Wendy + Ganesha replaced with Wendy + Wendy, similar to Q-Singularis
Decreased HP of Dark Bronya

SPECIAL SUPPLIES
⚠️This supply information is based on CN server. Global / SEA may get different supplies This is just for reference!⚠️

Starlit Astrologos Supply - SP supply similar to Darkbolt Jonin supply. Refer to the Honkai Gamepedia for supply details. Darkbolt Jonin supply card from v3.9 will automatically convert to SP Supply card.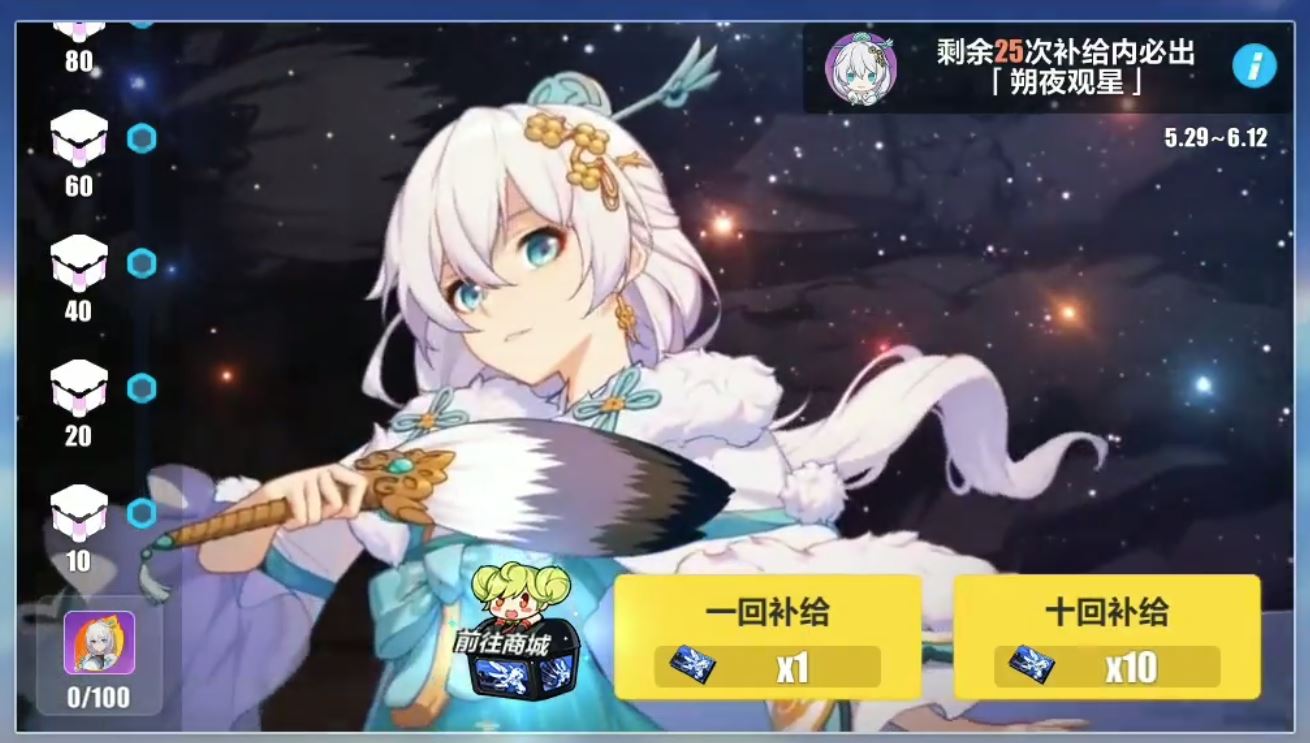 Zither + Shuijing Supply - Guarantees full gear within 120 pulls maximum. Similar to Gloria + Leeuwenhoek supply.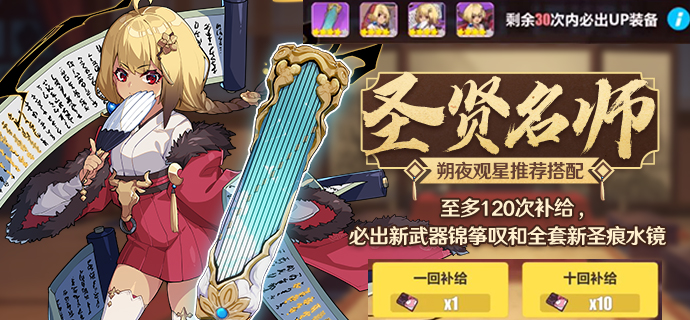 ADV Supplies for Herrscher of the Void and Vermilion Knight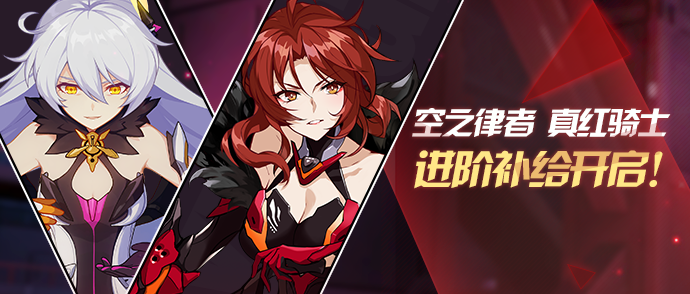 Special Divine Key Supply - Two special supplies for Mike of An-Utu and Twins of Eden with higher overall 4* droprate. You are guaranteed to get An-Utu / Eden in 50 pulls max.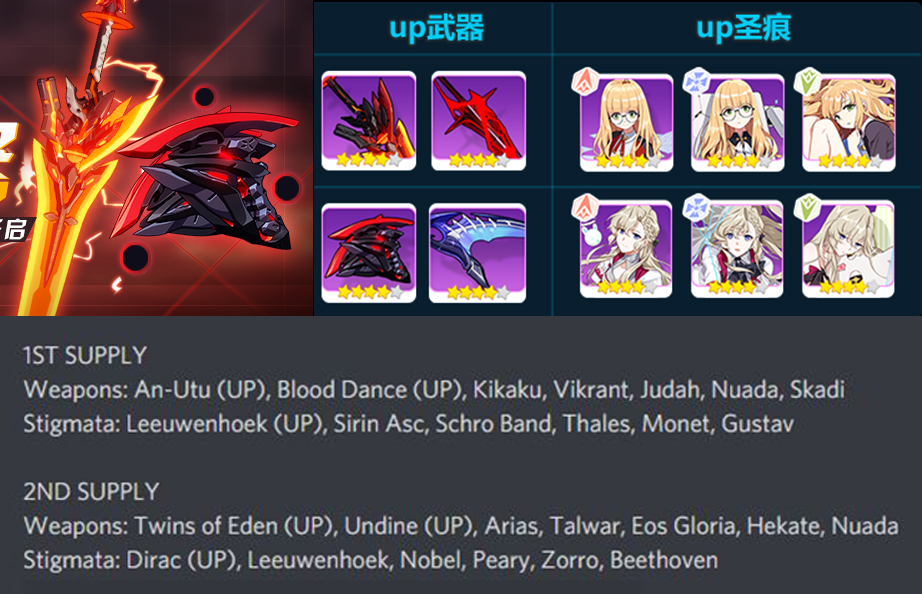 VK Outfit Flip Supply - A crystal flip supply for VK new outfit. Rule is similar to previous Shadow Knight crystal flip. See the Gamepedia link here for info.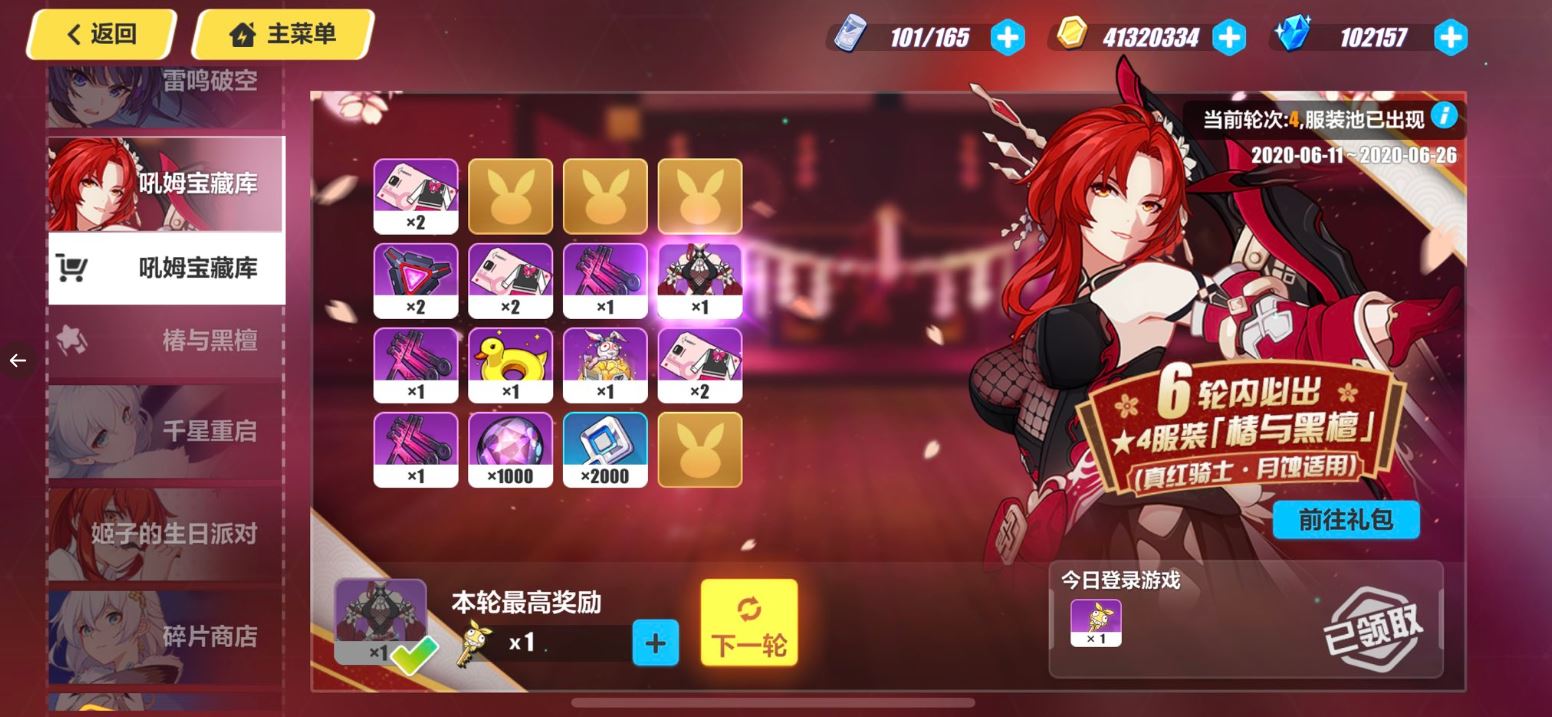 OTHER CHANGES

Weekly Report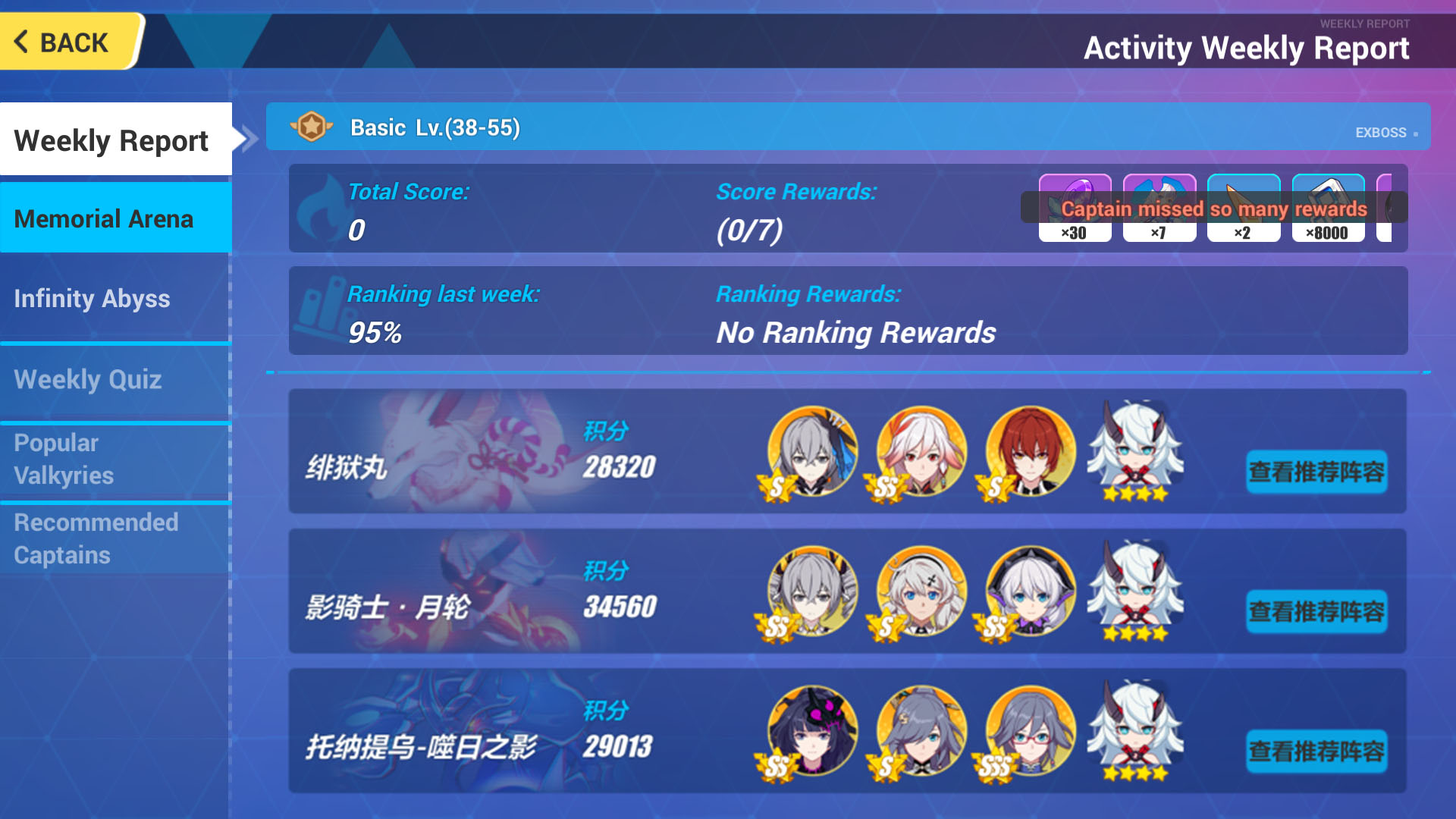 Weekly Report shows Abyss and Arena ranks, popular valks, top captains in each bracket, etc. Are you pro enough to appear in the report, captain? Maybe there's a ranking for best weekly White Comet players. Hmm...
​
Blacklist Feature​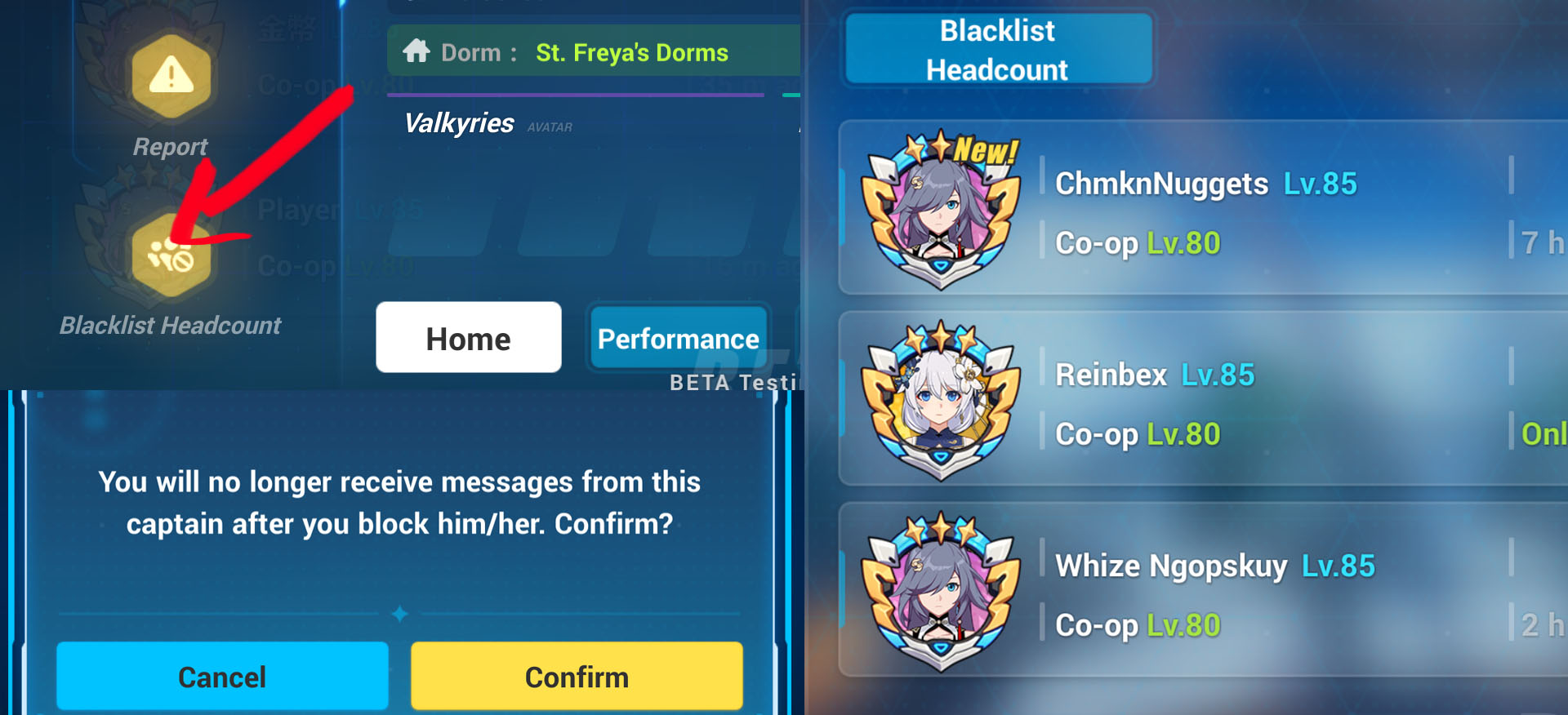 Birthday - Captains can set birthday in-game. You'll receive 100 xtal and 100 stamina cake on your birthday!

Tonatiuh - You can't double collapse against Tonatiuh anymore

Weekly Quiz - has been improved!

SA bridge interaction has been added. SA also joins Dorm chibis. Which one is Zhuge stigmata chibi? Which one is Starlit chibi?

CONCLUSION
That's it for this overview. As always, there might be some minor stuff not mentioned here. You can experience them yourself when v4.0 update arrives. Here's a video version of the overview if you want to see the new stuff in action.

BYE~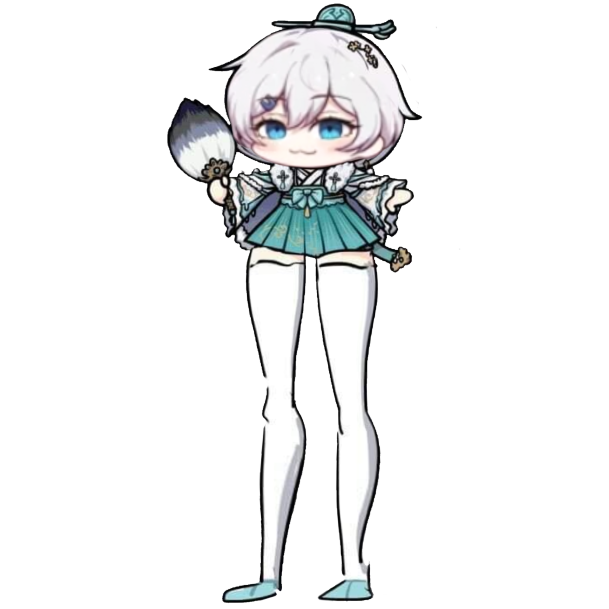 For more info on future version content, visit OFFICIAL HONKAI DISCORD and head to