All hail the mighty Empress of the Void. Our Queen has graced us with her presence and now you can obtain the new Knight Moonbeam Awakened Battlesuit in order to crush all those who oppose her, but what is the best way to stomp them under your heel? This guide is gonna show you gearing options, skill leveling and basic to advanced strategies. By the end, you will be able to annihilate those who oppose the Queen as you show no mercy.
Overview:
Our great Queen is a powerful Valkyrie Battlesuit that excels at Ranged Physical Damage as well as dealing Area of Effect (AOE) damage and controlling mobs, all while having excellent mobility. If used properly her damage can be second to none (as it should be).
Basic Attack: Her basic attack has 5 hits in the sequence. On the 3rd and 5th hit a Space Core is summoned which explodes after a short delay dealing AOE damage and gaining her 60 Herrscher Charge.
Herrscher Form:

Above her lifebar is the Herrscher Bar. It fills when Space Cores explode or when Ultimate Evasion is activated. It maxes at 480 charge (shown as 2 full bars) and when you have at least 240 (1 Full Bar) you may press and hold the attack button to enter Herrscher Form. Our Queen snaps her fingers and unleashes a massive AOE before taking this form. In Herrshcer Form, her attacks become a 3 hit sequence with the 3rd hit pulling in nearby enemies and dealing a large AOE that also summons a Space Core. In this form her Ultimate Evasion has 2 charges and she can move faster while attacking.
Ultimate Skill:
Herrscher of the Void opens multiple portals to unleash a barrage of energy blasts upon those before her. Hits all enemies in front of her at the time of use and when it is over Time Lock is applied to all enemies in a large AOE around her
Ultimate Evasion: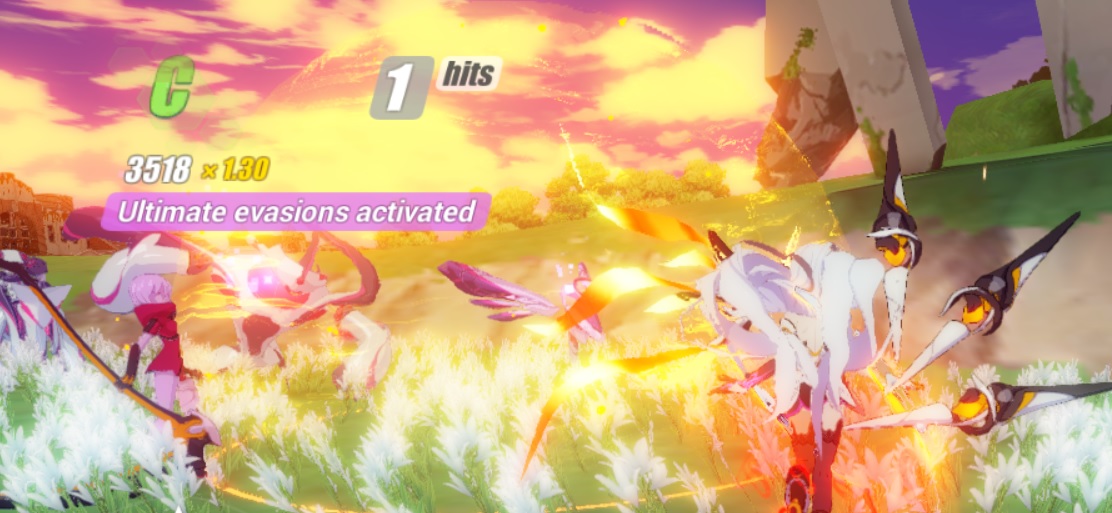 Upon evading an attack, the Herrscher creates a Time Bubble and any enemies caught in it or who enter it are afflicted with Time Lock. You can also press the attack button afterwards to perform the 3rd hit of her basic attack sequence, netting you more AOE damage and Herrscher Charge
Skills:
So you were lucky enough in your roll to get the new (and obviously awesome) battlesuit, Herrscher of the Void. But you used up a lot of resources and need to unlock the skills. What can you do? Whether you got her S rank or SS rank, there will be a priority for leveling skills. I want to approach it like a budget guide because, let's be frank, you probably spent a lot trying to get her. She'll forgive you, as long as you do things right. So what should I unlock first? Ideally, all of them and luckily since she is an Awakened form some of her skills are already leveled for you (If you have Knight Moonbeam and leveled up her skills). Get all her skills unlocked and then use the prority system for leveling the skills. If you still can't do that then make sure the Leader Skill is unlocked and use the priority for unlocking.
First Priority: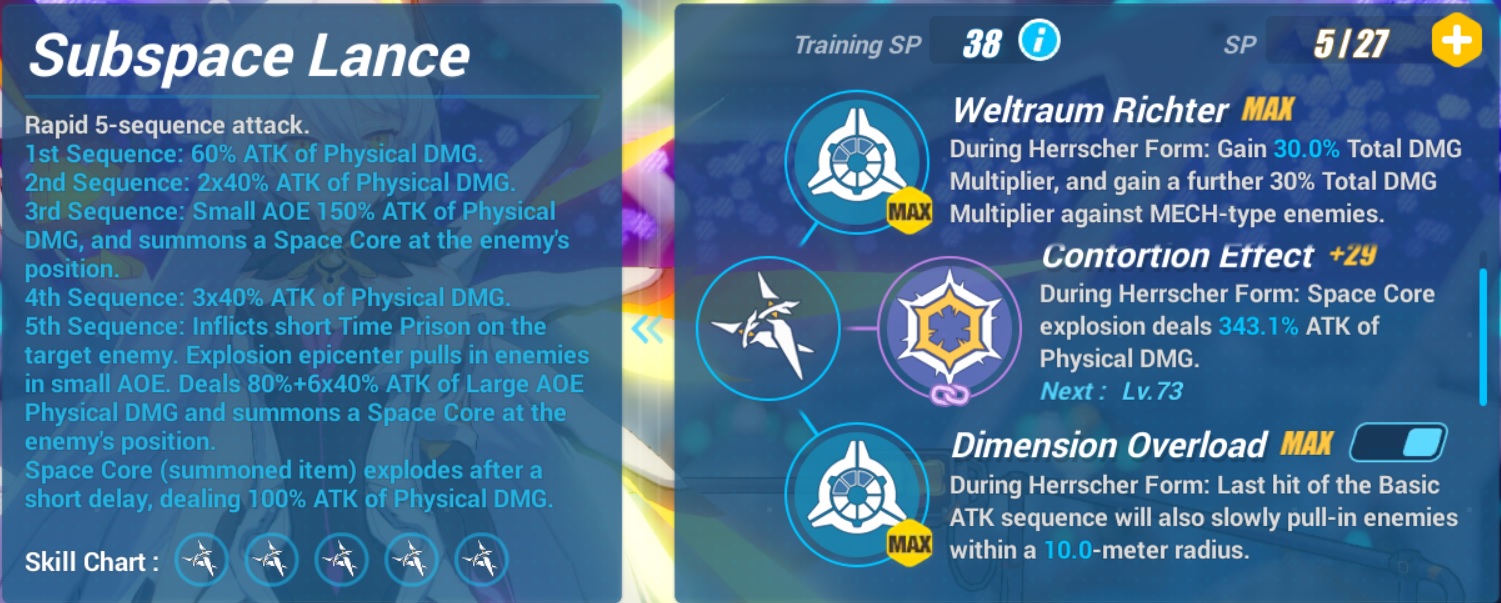 Leveling the Subspace Lance Skills is key to the Queens damage. These skills buff her Herrscher Form, which you should be activating at all times. Especially pay attention to the "Weltraum Richter" skill since it basically removes the triangle typing disadvantage while you are in Herrscher Form. All these skills should be maxed quickly in order to maximize her damage output.
Second Priority: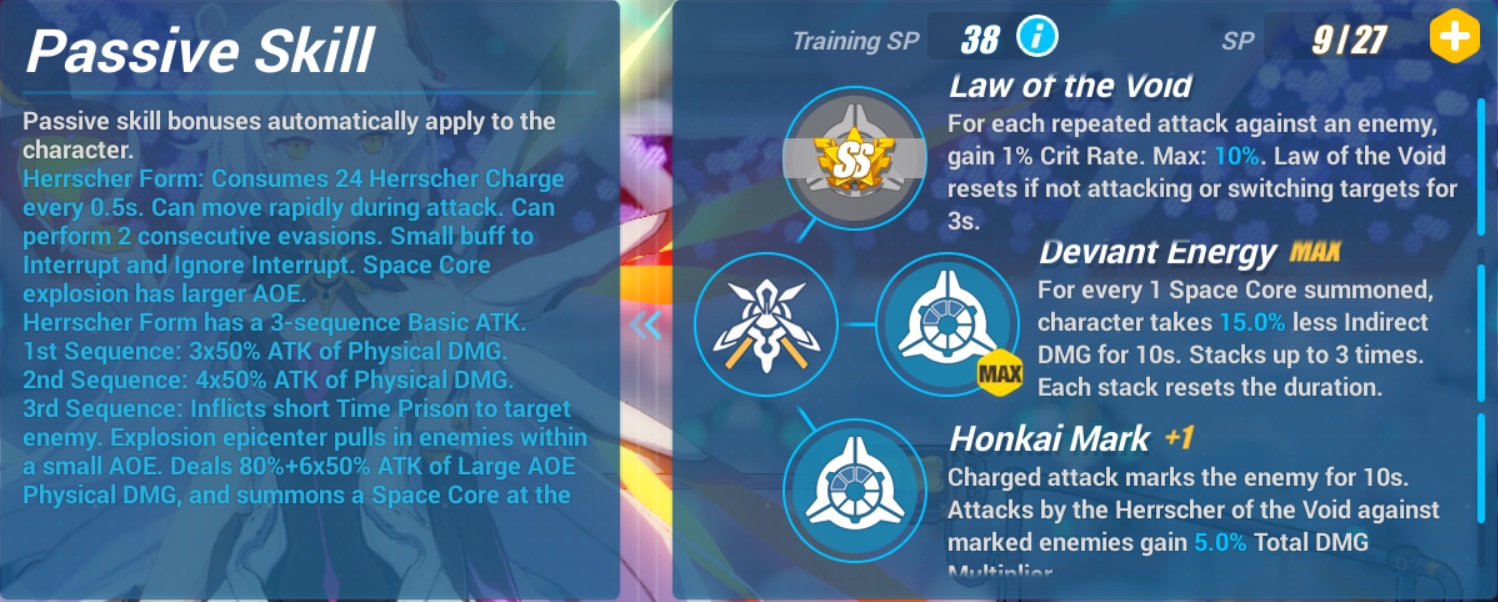 Next you want to hit her Passive Skills, especially if you were lucky enough to unlock her SS rank, since these skills don't require a lot of investment and provide a very strong buff to her damage. "Honkai Mark" only levels with rank and "Deviant Energy" is good for survivability. If you got SS rank then max "Law of the Void" above all else, especially if you are doing Memorial Arenas
Third Priority: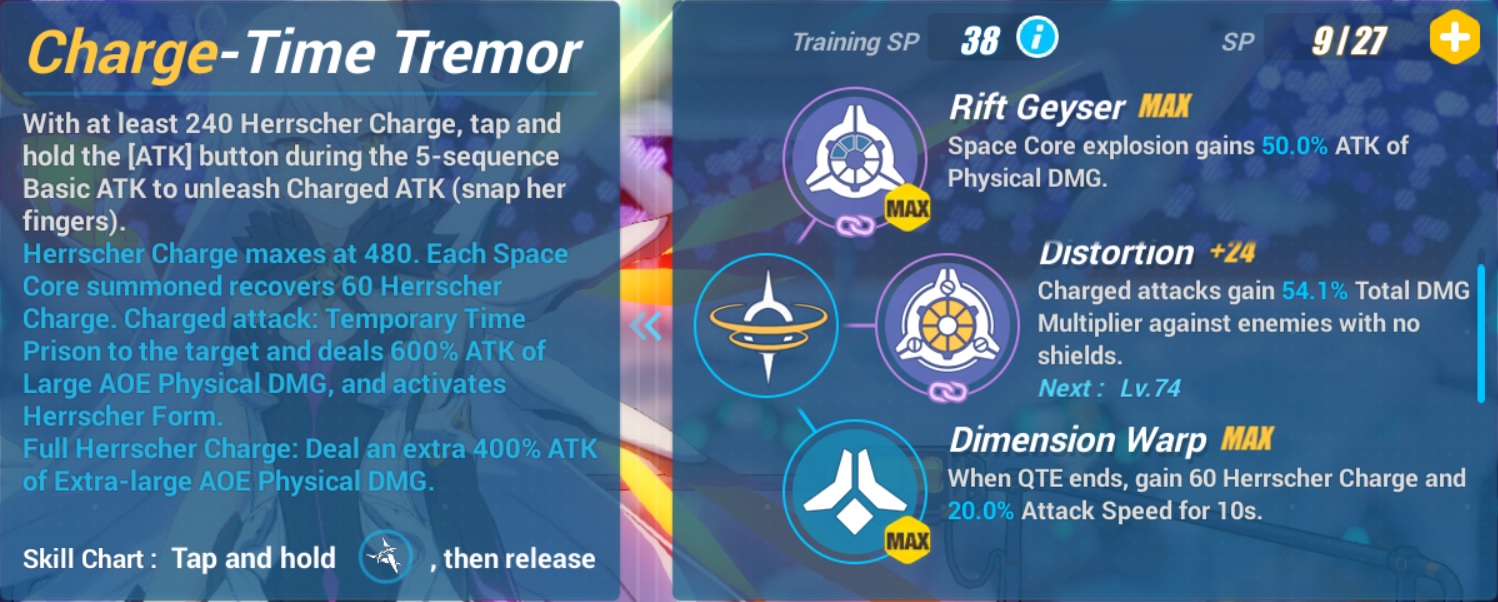 After the Passive Skills, start leveling the Time Tremor skills. Since you should have Unlocked QTE, max "Dimension Warp". Gaining extra Herrscher Charge is crucial and the increased attack speed will also help you build charge faster. Then level "Rift Geyser", this is because many of the Queens skills and abilities summon Space Cores (as well as her weapon Key of the Void). Then round it out with "Distortion".
Fourth Priority:

Then you want to level Phase Shuttle Skills. Start with the "Void Lock" skill since it reduces the CD of Ultimate Evasion and allows you Phase Shuttle through enemies to activate the Time Bubble rather than needing to dodge an attack. This gives you a lot of control over the field since you can group enemies and then activate Phase Shuttle. This is good damage since the "Gegenstrom" skill increases your damage for each enemy caught in the Time Bubble.
Last Priority: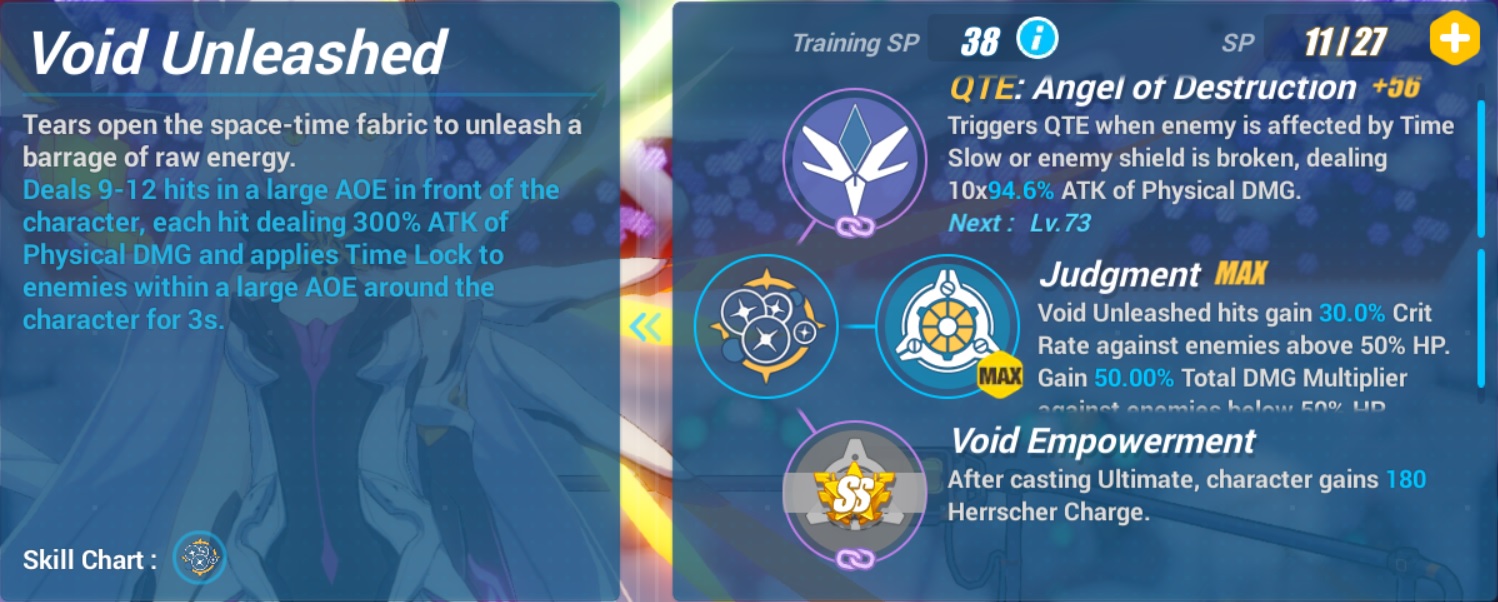 Lastly, you want to level out the skills in "Void Unleashed". If you unlocked her SS rank, then max Void Empowerment first. This is a big chunk of Herrscher Charge to gain and you can possibly enter Herrscher Form right after unleasing her Ultimate. Then it's actually a toss up between "Angel of Destruction" or "Judgment". Since Herrscher of the Void has two QTE triggers (Time Slow or Broken Shield) that means her QTE can be used quite often. On the other hand, "Judgment" provides a substatial damage boost to her Ultimate. It synergizes with her Leader Passive giving you even more crit or it functions as a strong execute. I would personally level "Judgement" since it maxes out faster than "Angel of Destruction" meaning you get the full benefit earlier.
Gear
You have the skills maxed out and now you need to find the gear that's fitting for a queen. A Queen should always look her best, but sometimes her best isn't available. That's why we'll look at optimized and budget options.
Weapons: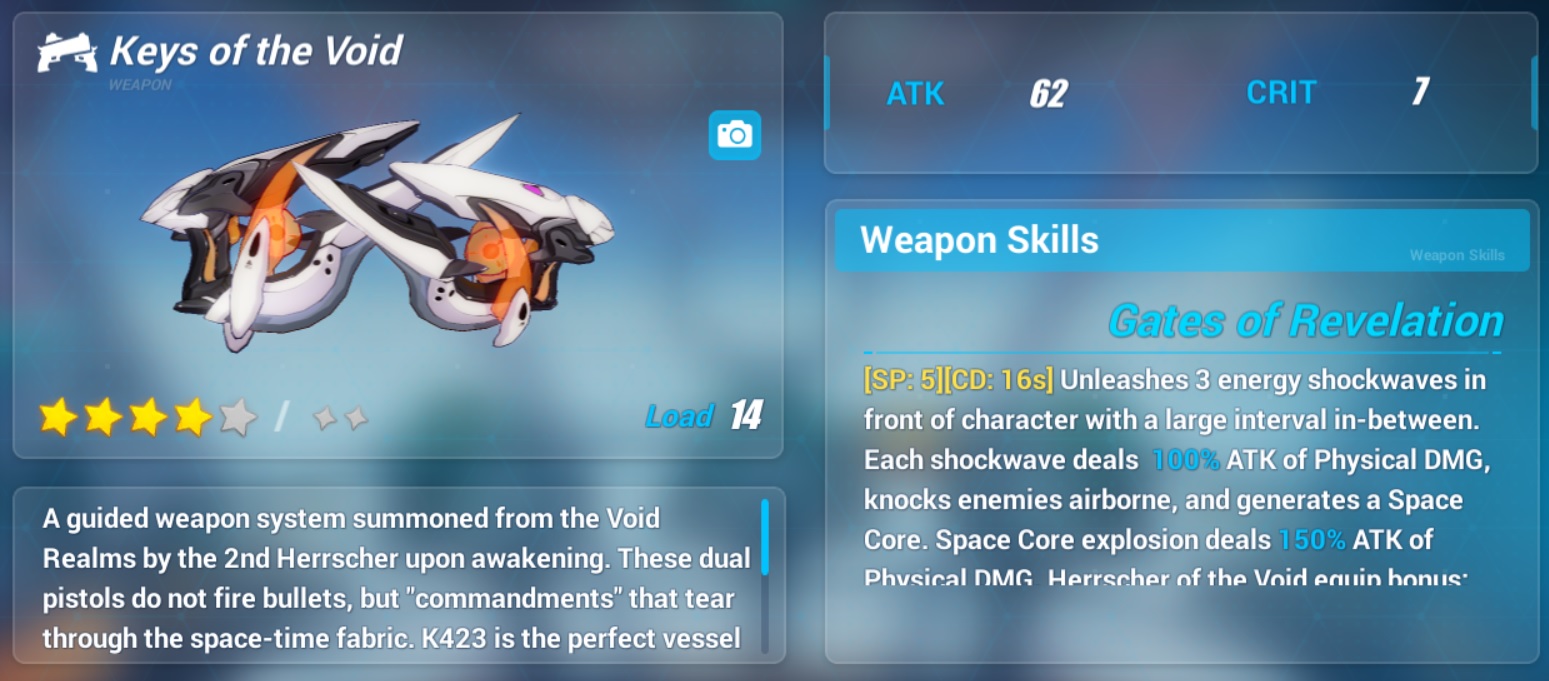 Keys of the Void is mostly going to be your go to weapon for the mighty Herrscher. Passively it increases physical damage and critical damage, so it already leads the charge in damage output. It's active skill is especially designed for Herrscher of the Void. It unleashes 3 energy shockwaves that deal physical damage, knock enemies airborne and leave a Space Core. If the Keys of the Void are equipped on her majesty then the Space Core benefit from all her passive abilities and the active skill generates 60 Herrscher Charge. If I was to prioritize rolling for gear, this would be at the top. It unleashes strong single target as well as AOE damage and aids you in building charge in order to enter or maintain Herrscher Form. This is the Queens Crown.
Alternative: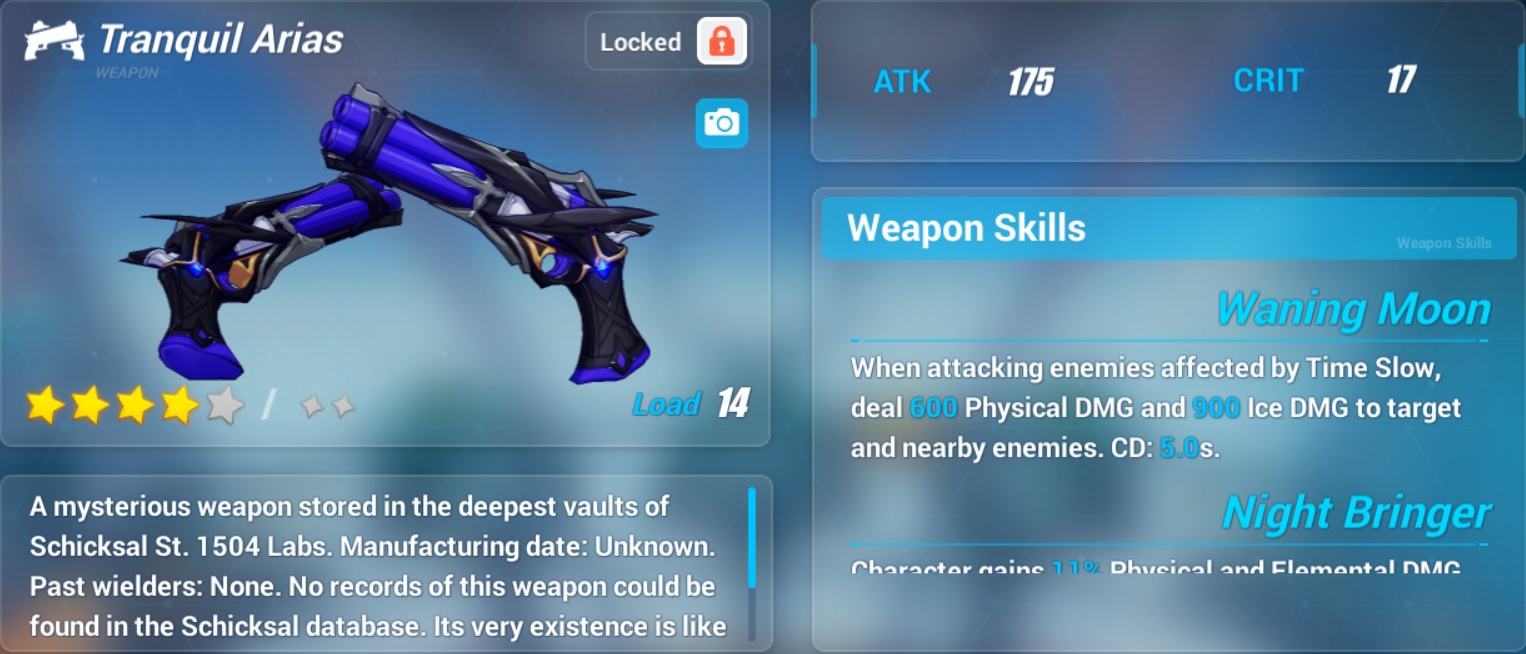 If you are unable to get Keys of the Void, then fret not because Tranquil Arias is not far behind on damage. Although it lacks an active skill, it more then makes up for it with two very strong passives. The first passive works against enemies stuck in time slow. Herrscher of the Void has many abilites that afflict time slow, including her Ultimate Evasion. This means strong AOE ontop of her natural AOE abilities. The second passive is a massive damage buff with an internal 30 sec cooldown. The buff is reset after being redeployed or using the Ultimate Skill. This is a very strong alternative and for most part is almost equal in damage to Keys of the Void. It excels in Infinite Abyss where you have large groups of enemies and requires you use Ultimate Evasion more aggressively but may be a weaker choice in Co-Op because of the long cooldown on the buff and your inability to swap out Valkyries.
Budget Alternative: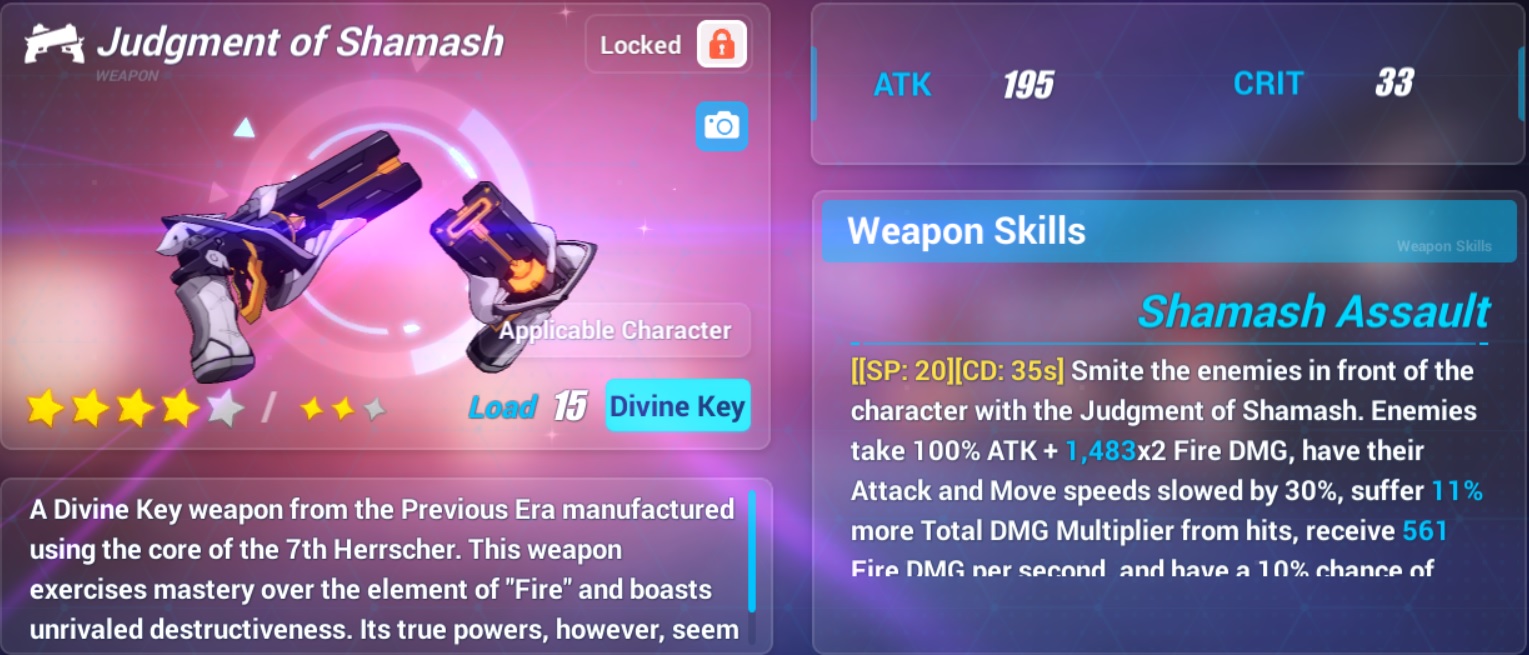 If the RNG gods have failed to smile upon you than fear not. Her majesty does not mind equipping the 7th Divine Relic, Judgment of Shamash. Obtained through Co-op raids, the Judgement of Shamash is a strong budget option. The Divine Keys don't require gatcha materials in order to level up, so it's easier to get them to max rank. The active can deal a lot of AOE damage, but can leave you critically low on health so use wisely. However, if you aggresively use Phase Shuttle to activate Time Bubble then you can activate the AOE fire proc from the guns passive ability. It also has the benefit of buffing teammates in Co-op raids. Although it's advised to get one of the previous weapons mentioned, you can still produce a lot of damage with this Divine Key.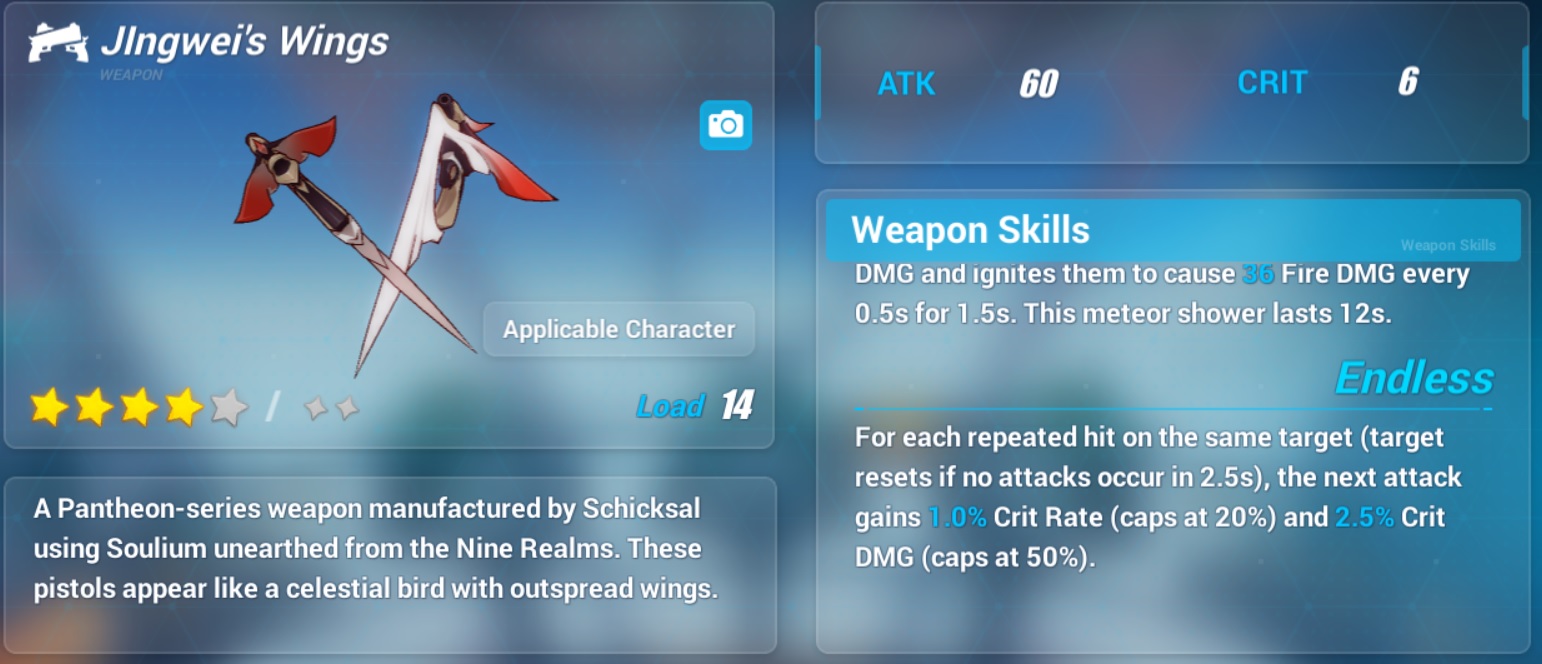 Another strong choice is Jingwei's Wings. This can be purchased in the store for 150 Imaginary Cores so you don't have to pray to any RNG gods for them. They have an excellent passive that synergizes with Herrscher's Leader Skill and are especially strong in Co-op raids and Memorial Arenas. Again, it's advised to try for the better weapons, but you aren't without options
Stigmata: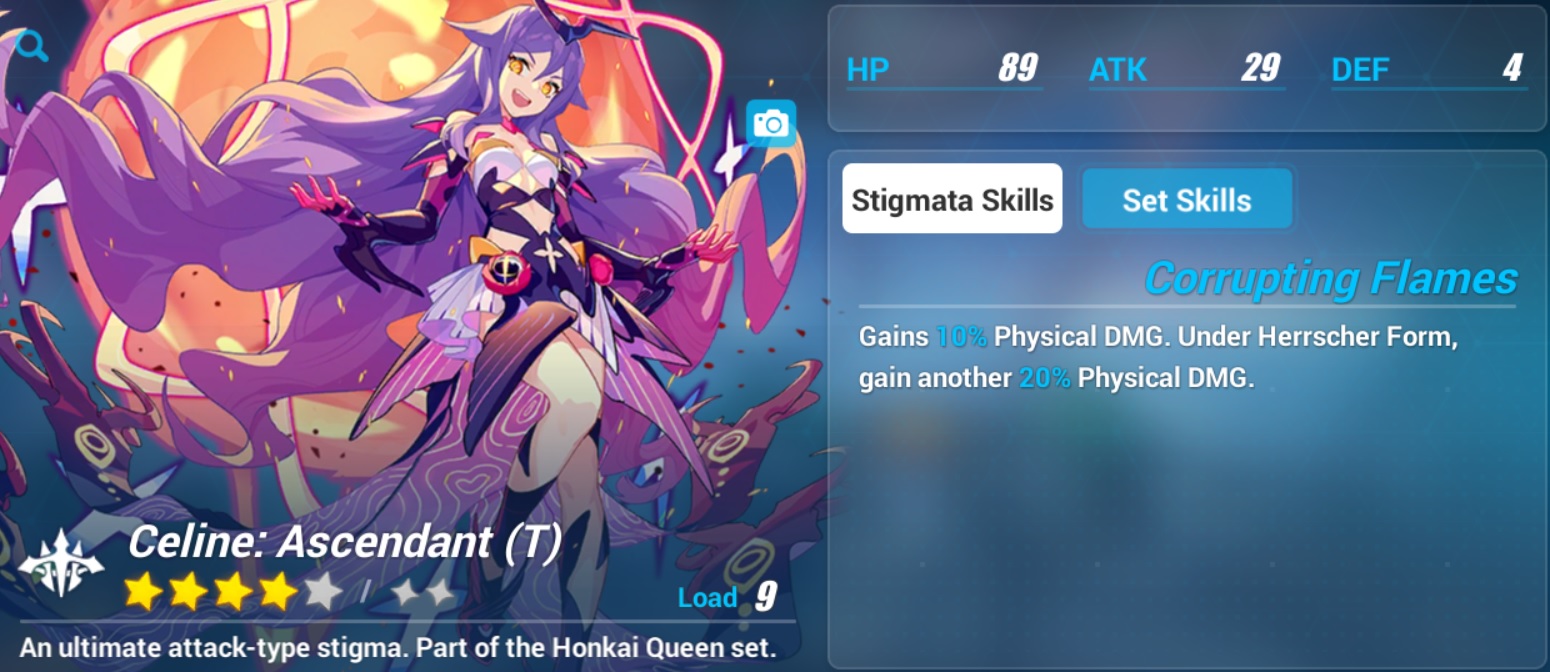 The top choice is a no-brainer. the "Celine: Ascendant" set is specifically designed for Herrscher of the Void. It's recommended to obtain a full 3 piece set since the 3-piece bonus is a massive damage boost, but if you aren't so lucky, then try for the top and bottom pieces since this provides straight physical damage buffs as opposed to the middle pieces crit damage buff.
Alternative: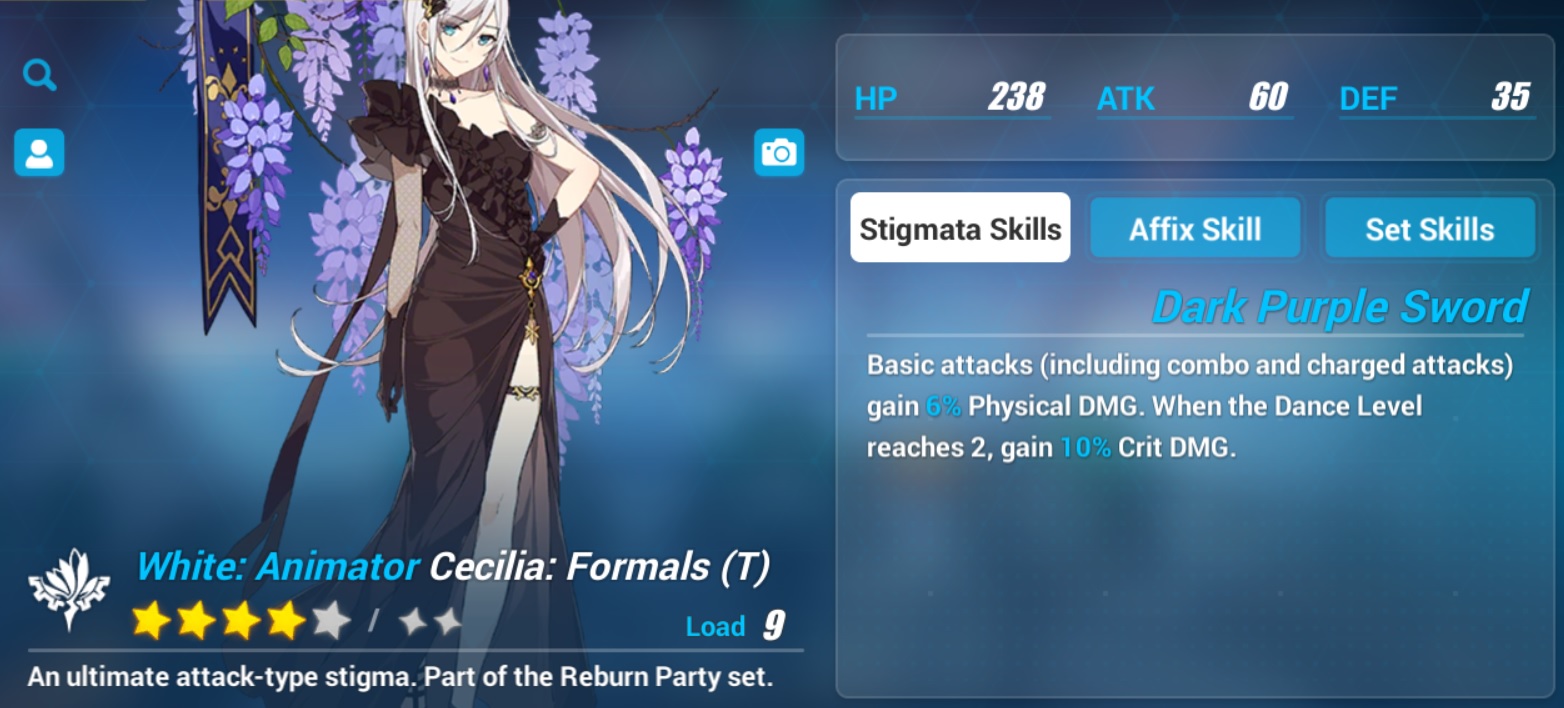 If you participated in the re-burn event then you should have gotten your hands on the Formal Party set. This set provides good buffs that get stronger the longer you keep the Valkyrie on the field. This makes it very strong in Co-Op where you can't switch the valkyries out. Not everyone may be able to obtain these, but they are strong stigmata considering they don't cost you crystals or rolls. If you don't have these then it's best to wear mix and match stigmata that buffs Physical Damage. A strong viable budget lay out can look like this: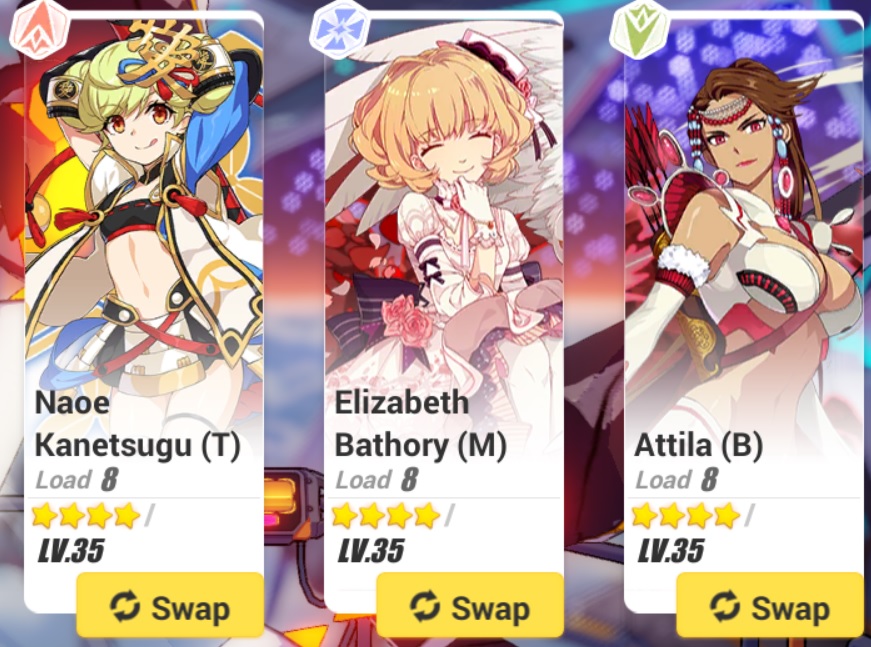 Tips, Strategies, and Formations
Formation:
The queen is an excellent damage dealer that has high damage output mixed with strong AOE and mobility. Her leader skill is one of the best in the game, providing you with straight crit rate and critical damage, no strings attached. This makes her the perfect lead since she doesn't require a specific team comp to excel. Her damage is especially high, so it's ok to fill your other two slots with support skill valkyries, like Theresa and Bronya. Gyakushin Miko can provide a strong physical damage buff through her leader skill so try to use your friends Miko as well as other Herrschers and Knight Moonbems for strong damage buff. Viable team comps can look something like this: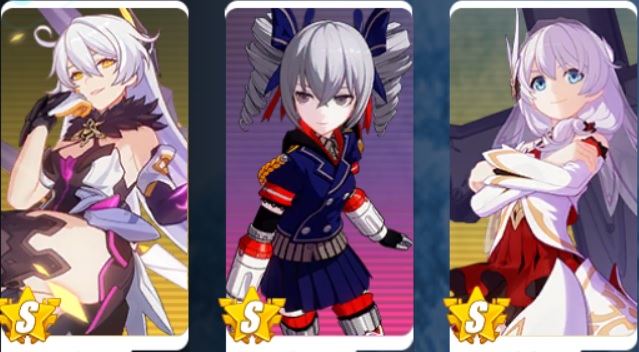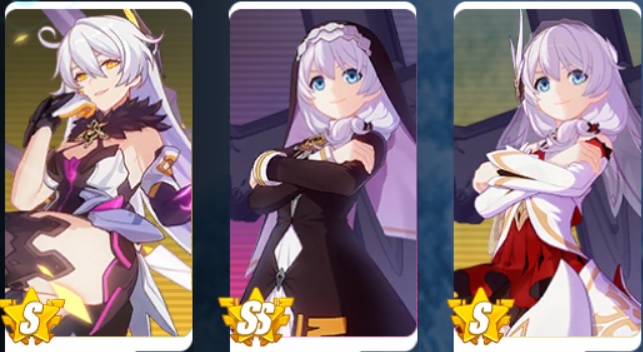 Celestial Hymn Theresa is a strong partner due to her teamwide buffs and Ultimate Skill. Valkyrie Chariot Bronya and Valkyrie Pledge Theresa compliment this while also providing strong CC. A Celestial Hymn Ult followed by a Valkyrie Chariot Ult can make it real easy for Herrscher of the Void to pile on the damage. An S-Rank Divine Prayer Kiana is also a viable choice since she provides CC through her Ultimate Evasion (That has 2 charges and very short cooldown at S rank) as well as providing group wide healing.
Tips and Strategies:
Herrscher of the Void is highly mobile. She can attack while moving, making it easier to maneuver through the battlefield and keep at a comfortable range. Always take advantage of this as the only other Valkyrie that can do this is Bronya.
Herrscher Mode is the key to dealing damage. Not only does she move and attack faster, but she can ultimate evade twice consecutively and she deals increased damage. The damage buff she gains not only negates the typing triangle disadvantage, but it goes above that as well to a whopping 60% total damage buff aginast Mech types and Psychic Types
Her Ultimate, "Void Unleashed", is a massive AOE covering almost the entire field. However, it is important to know that she only strikes enemies in front of her and there is a small dead zone immediately in front of her. Make sure to maneuver yourself to the most advantageous spot
Because she is an Awakened battlesuit many of her skills will come leveled if you were already leveling Knight Moonbeam. The down side is that it will require more fragments than normal to evolve her rank. It takes 250 fragments to go from S-rank to SS-rank as opposed to the normal 100 fragments
Remember that you can active the Time Bubble of her Ultimate Evasion without having to actually dodge an attack. Simply Phase Shuttle through enemies to activate. Remember this when you are trying to move through the battlefield and use it to your advantage.
Even though she is highly mobile and deals a large amount of damage, our Queen is still fairly fragile. Her defense stat is average and her health is slightly below average, a normal trade-off for a ranged damage dealer, so be weary and always be moving.
Herrscher of the Void is one of the only Valkyries that has two different ways to trigger her QTE. This means it's a lot easier to trigger and is recommended that you do so since you can level skills that give her increased attack speed and Herrscher Charge after a QTE, getting her into Herrscher Form faster.
Your role in Co-Op is that of damage dealer. The easiest way is to spam her QTE as she has fairly common activation requirements (Time Slow and Shield Break) and this aids in getting you into Herrscher Form faster.
Hopefully this guide helped you in preparing our Queen for her glorious conquest on the battlefield. Herrscher of the Void is an extremely fun Valkyrie to play that will always have you moving and thinking while you unleash the void upon your foes. Now go forth, and let it be known that our Queen has come!