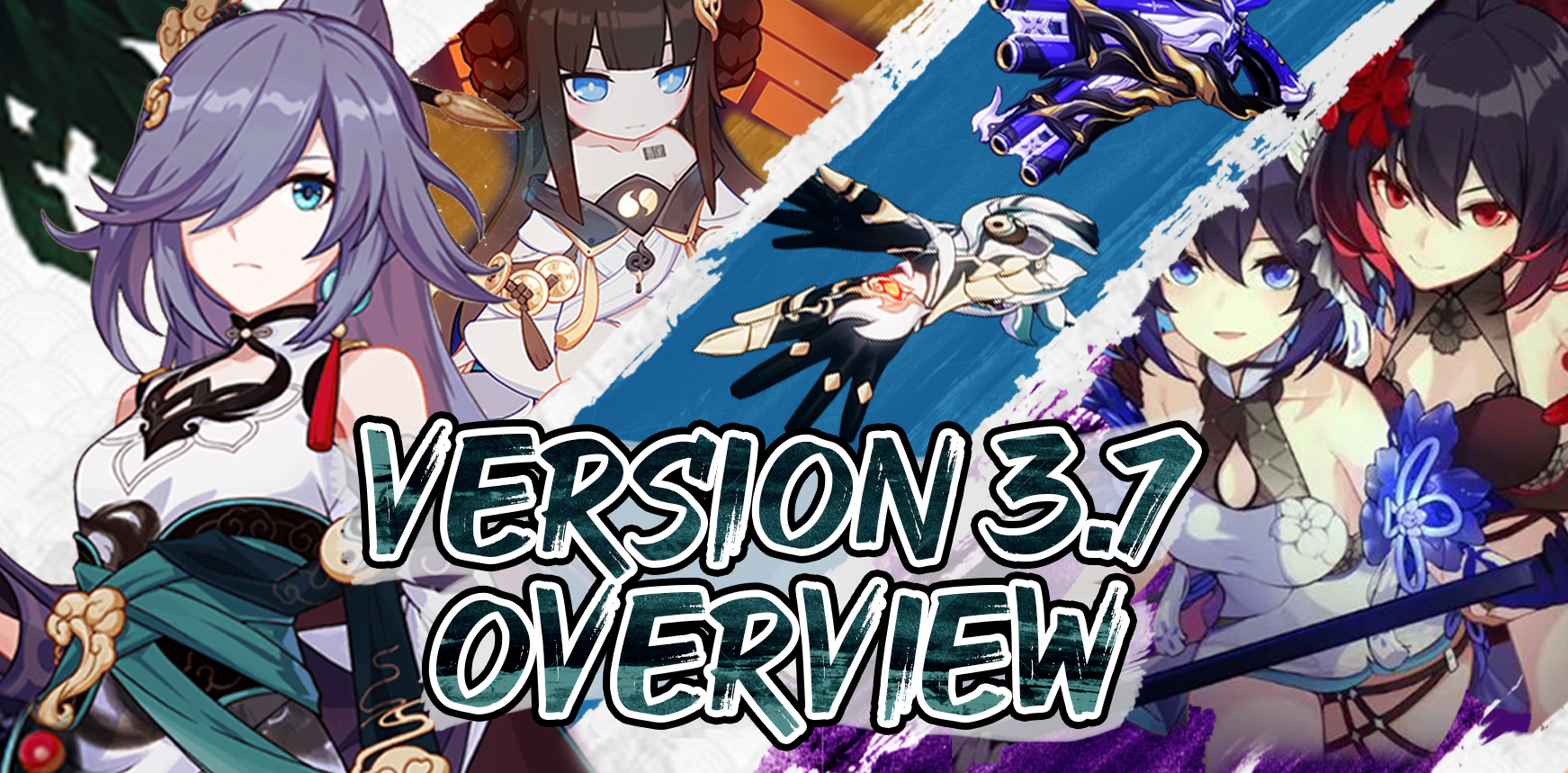 Happy New Year captains, and welcome to Honkai Impact 3 - Version 3.7 Overview! Well, it's not exactly new year, but this is our first patch in 2020. Yay~ There's a lot of new content in this patch, and this article will give you an overview of them. As always, just click the links below to jump to any topic.
New Character > New ELF > New Equipment > Battle Pass > Empyrean Legends > Spending Event > Abyss > Memorial Arena > Dorm Update > Supply > Raid and Divine Key Update > Open World > SK in War Treasury and Conclusion
Let's get started, Honkers!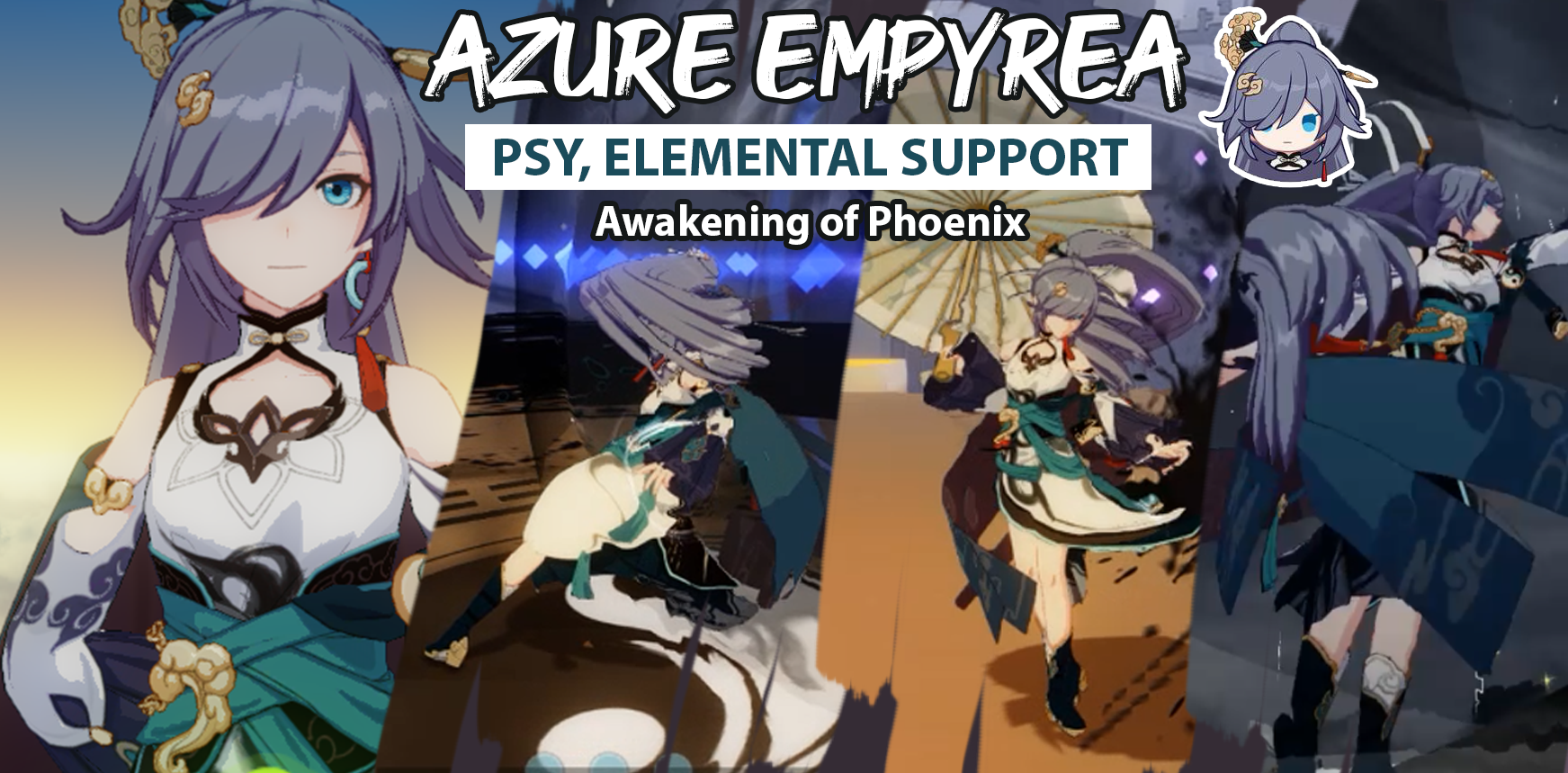 Azure Empyrea (AE) is Fu Hua's S-rank awakening battlesuit of Phoenix. AE is a powerful all elemental support unit. Her Basic ATK deals Fire DMG and stores Yin (ULT button) or Yang (ATK button) charge. Once she has 3 charges, using Combo ATK will consume the charges, applying various effects according to the Yin Yang mix.
Increase team's All Elemental DMG
Increase enemy's Fire and Ice DMG taken
Gather enemy in a small area and immobilize them
Recover HP and SP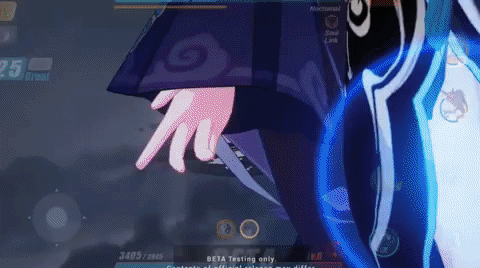 Her ultimate Empyrean Sunder costs 125 SP, and takes elemental support to a whole new level.
Gathers enemy in a large area and immobilizes them
Gives 14-16% all Elemental Breach to the team
Allies deal 30% more Elemental DMG to the enemy
Enemy takes 30% more all Elemental DMG
Elemental Breach is a very rare and powerful damage multiplier. Only Herrscher of Reason (HoR) had this before. Captains, you must get Azure Empyrea on the bridge!
Other Valkyrie Buffs
Darkbolt Jonin (DJ) now deals more damage and recovers more SP and Zakti meter. Parvati boss in Lightning weather / Evadion also indirectly buff DJ to become a strong competitor for Hawk of the Fog.
Vermilion Knight: Eclipse (VK) QTE deals more damage. SSS-rank also has higher ATK growth.

Molotov Cherry (MC)

now reduces Spice meter much faster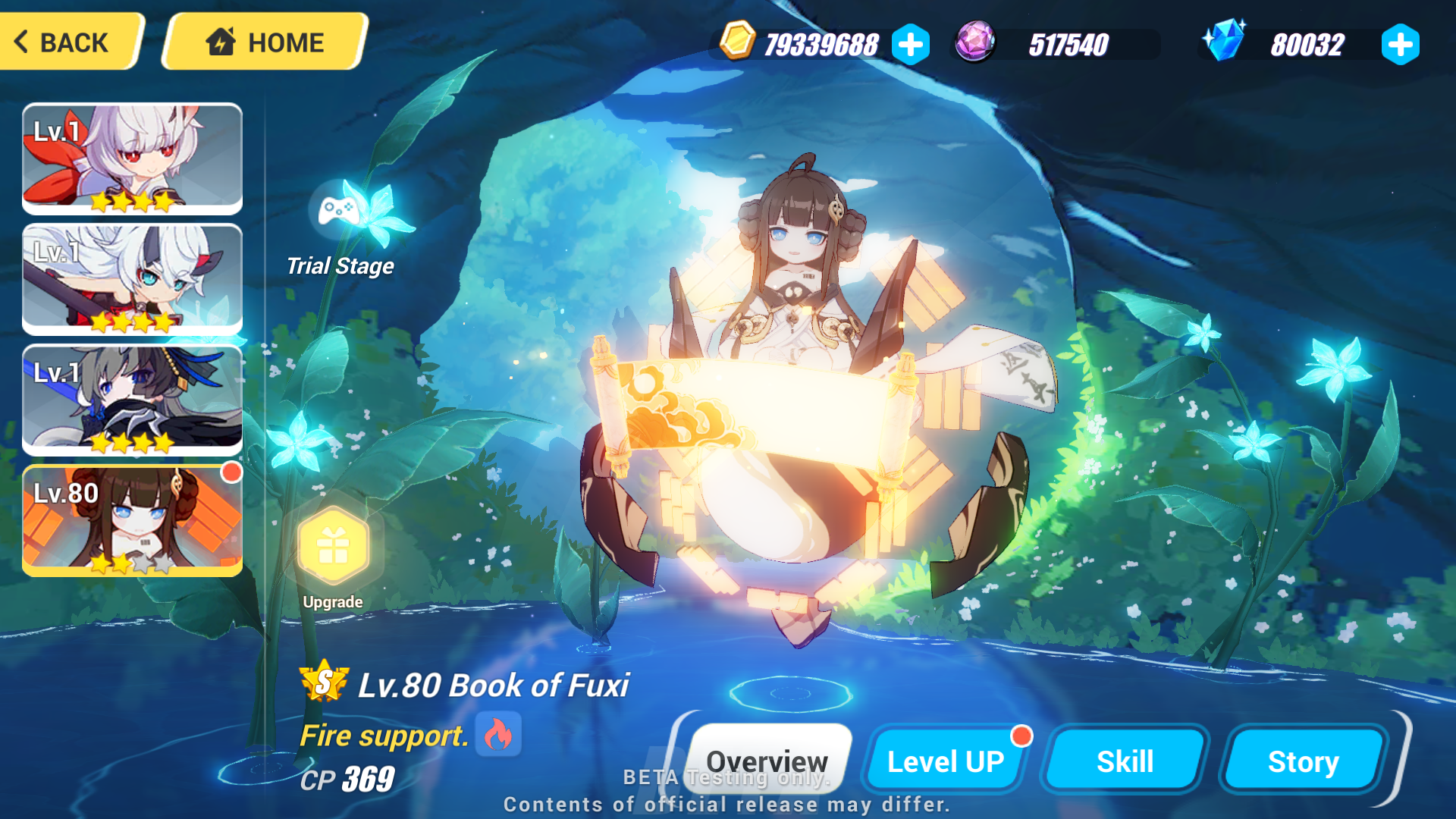 Book of Fuxi is the new S-rank ELF, created by Fuxi herself to assist Fu Hua. This sleepy girl riding a ball has many powerful skills, including:
Deal powerful Fire DMG
Increases elemental DMG of allies
Ultimate seals the enemy and increases all elemental DMG taken
Captains who wish to improve their elemental team must get her! She will be available in ELF Supply soon.
SKILL TREE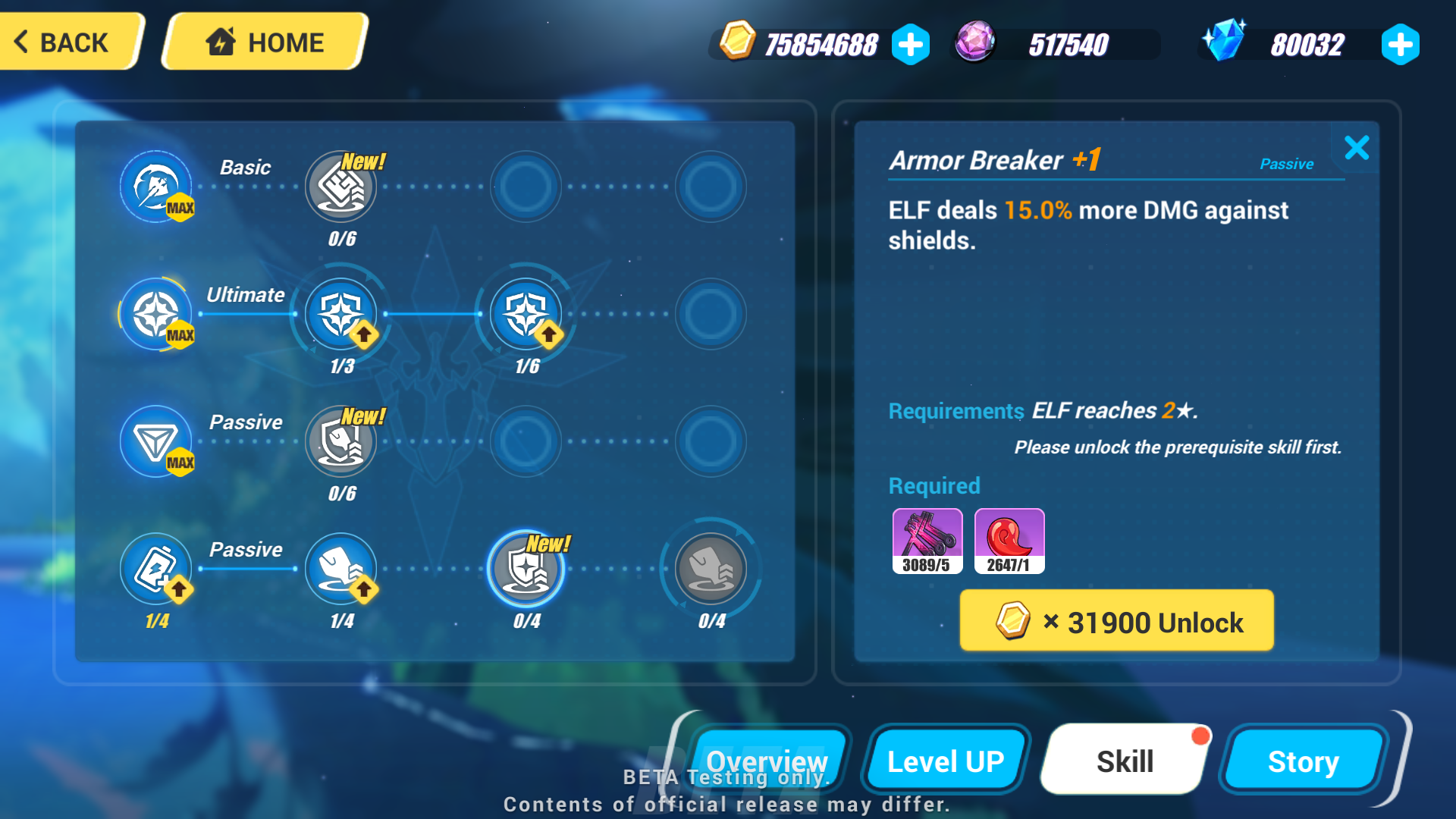 ELF Skills and Talent Bank have been reworked into the new skill tree system. Every ELF now has its own skill tree tailored according to its strength and playstyle. This means you don't need to change that SP skill back and forth ELFs anymore. Furthermore, the new skill tree makes ELFs much stronger than before!
Fists - NEBULOUS DUALITY [Dps, Support, Utility]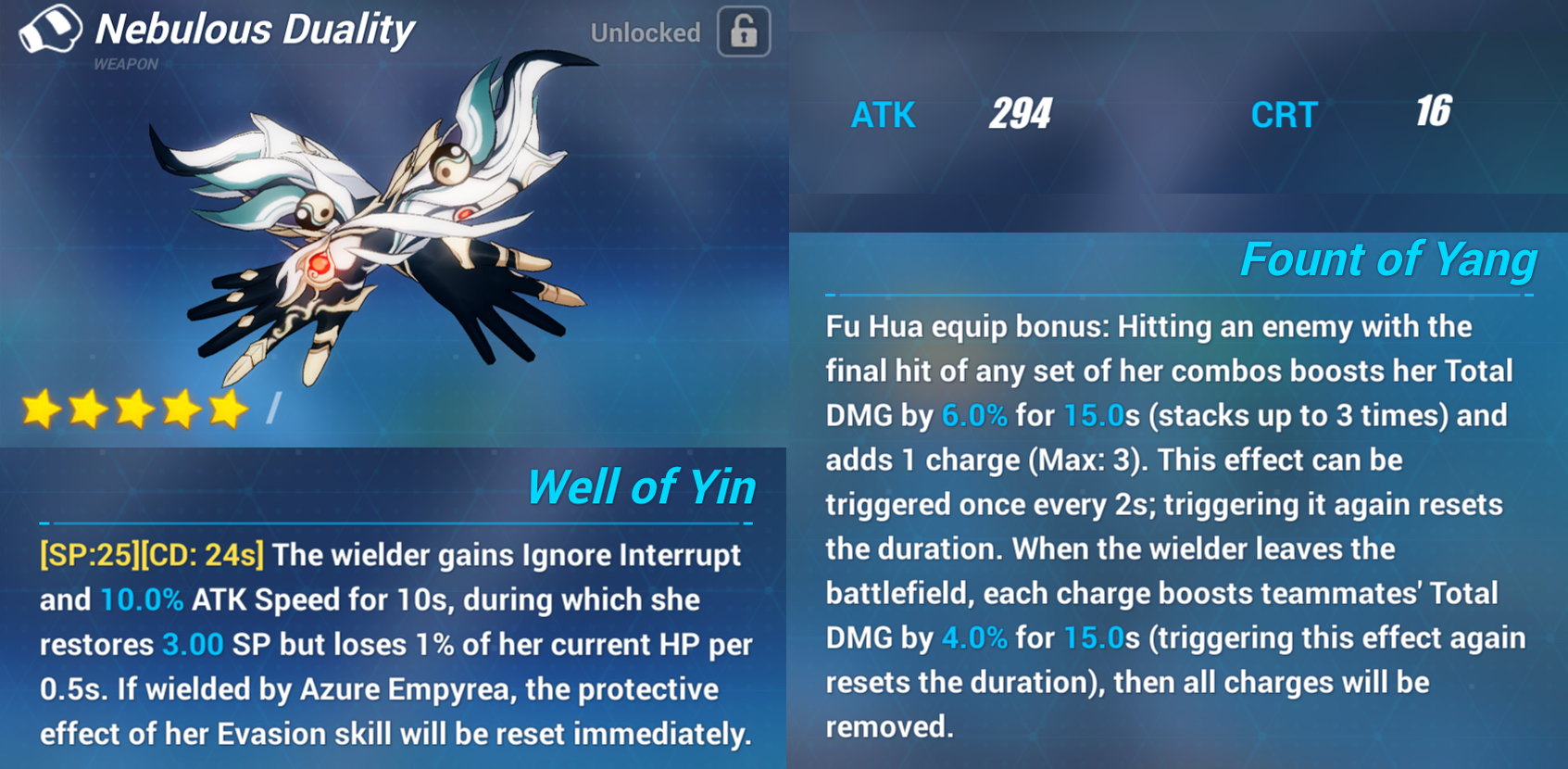 Nebulous Duality is AE's signature weapon, providing TDM boost to allies. It also gives SP recovery and ATK Speed, which can benefit any Fu Hua character.
Stigmata - FU HUA: MARGRAVE [Support]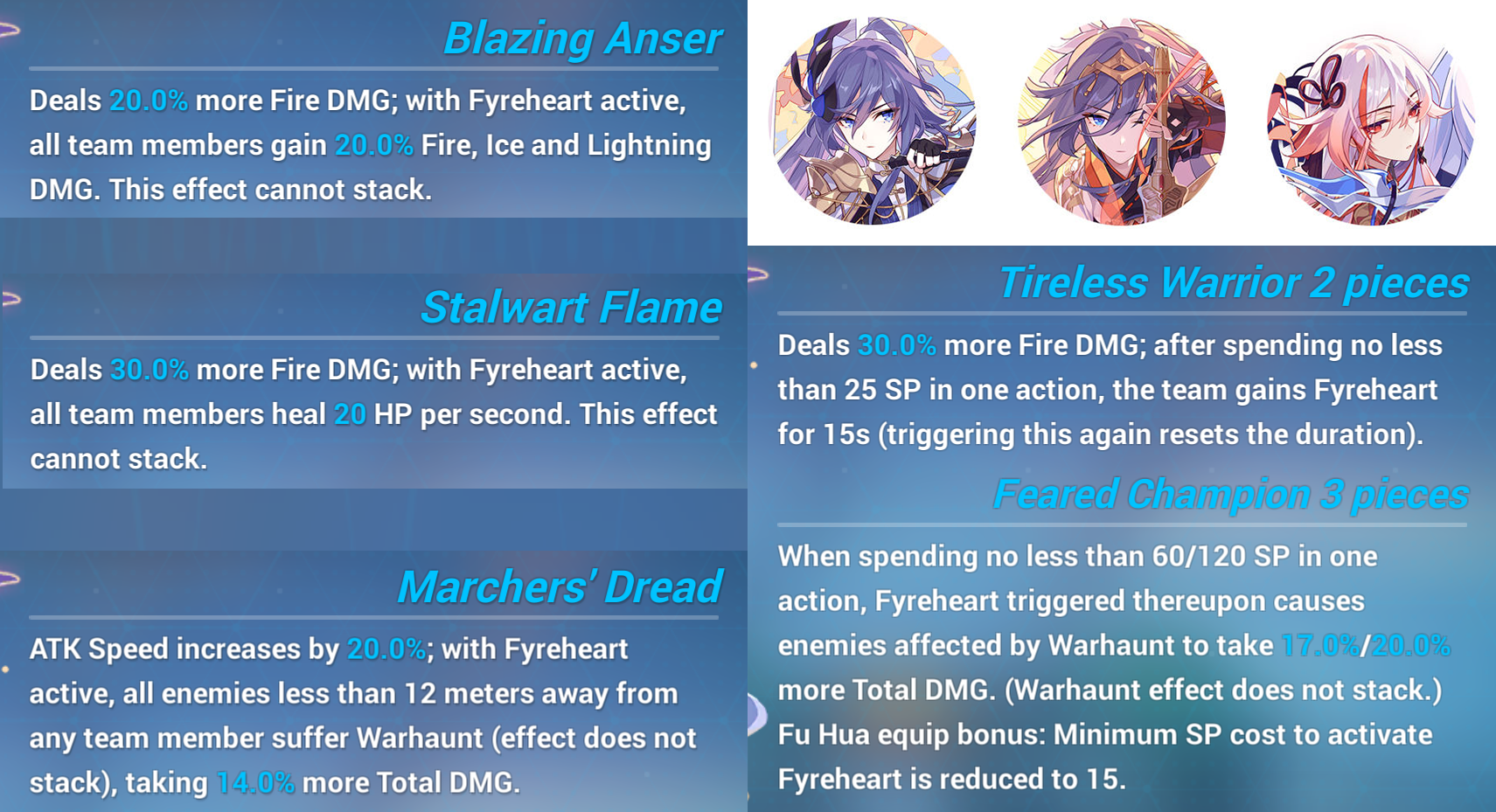 Fu Hua : Margrave is the signature stigmata of AE, providing all elemental and TDM buffs for the team. The bottom piece makes enemies in an area take 14-20% more damage for 15s, which has less multiplier but longer duration and multiple targets compared to Newton B. Keep in mind you need at least two pieces to activate Fyreheart state to get the full potential of this set.
Blade - RUINOUS SAKURA [Dps, Utility]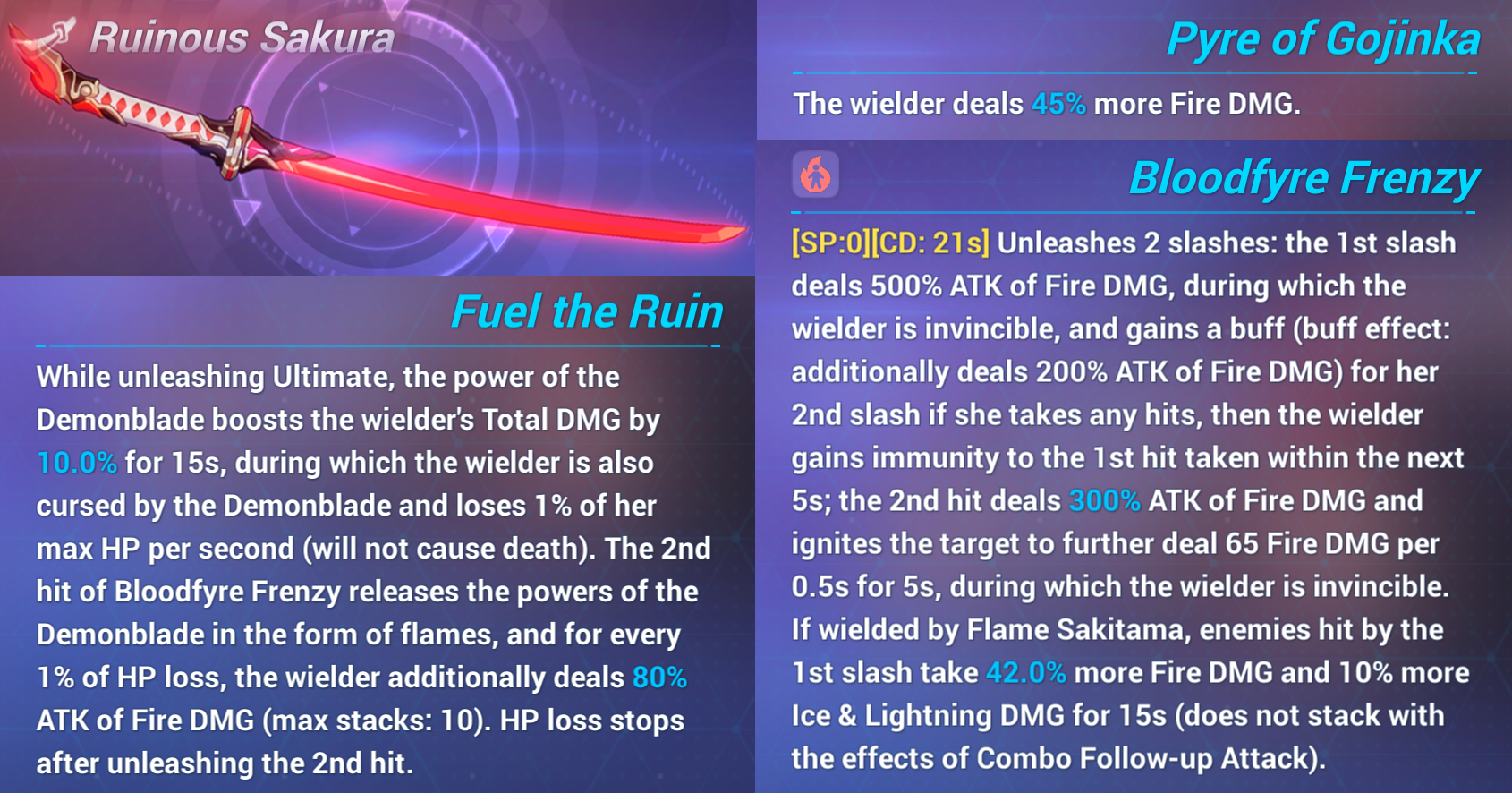 Ruinous Sakura is the PRI-ARM breakthrough of Demonblade - Florid Sakura. On Flame Sakitama (FS), this sword gives all the benefits of original Florid but with bigger numbers. Also, the second active unleashes a powerful fire slash! A must-have for both dps and support purposes!
Pistols - TRANQUIL RHAPSODY [Dps]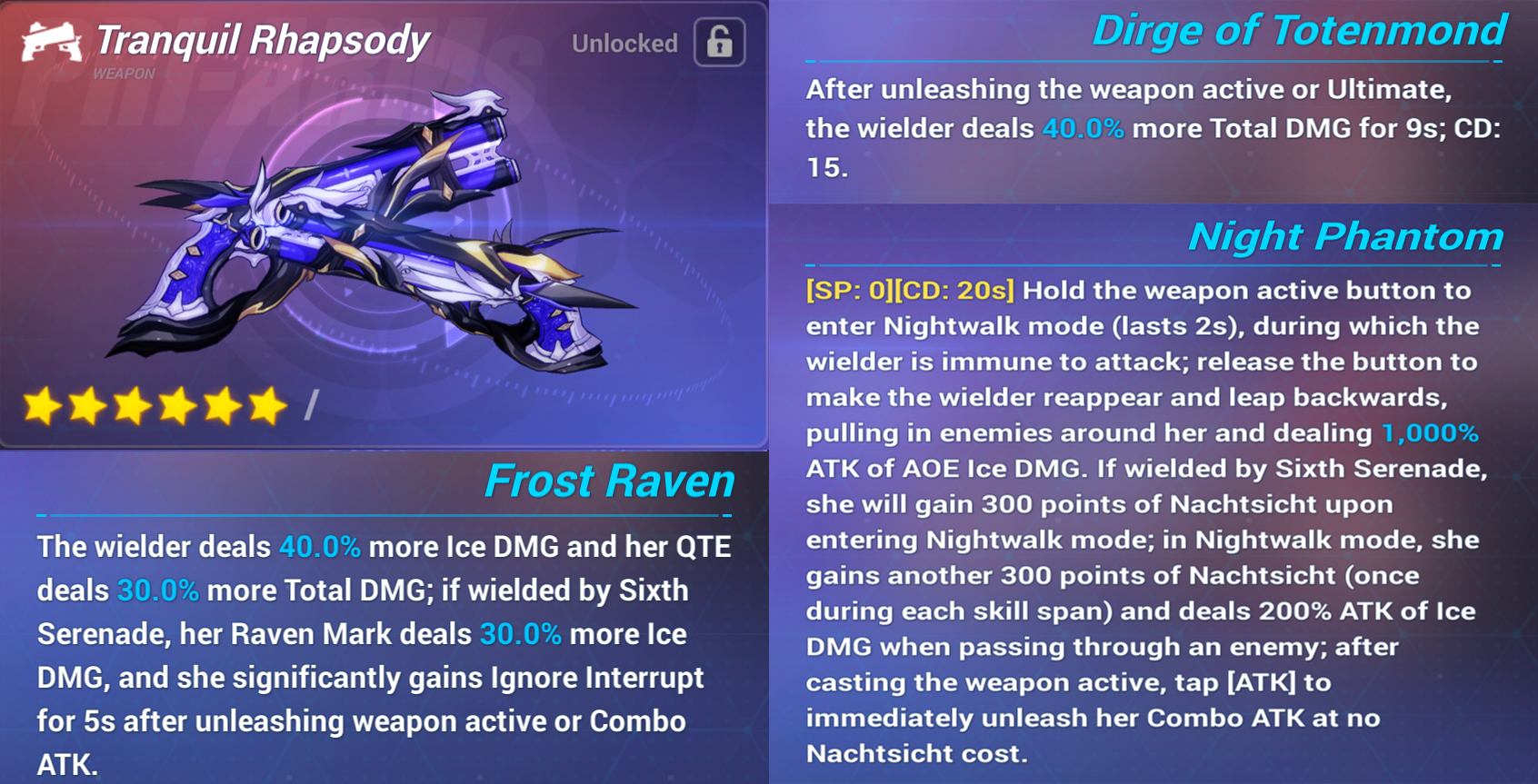 Tranquil Rhapsody is the PRI-ARM breakthrough of Tranquil Arias, specialized for Sixth Serenade (6S). Its active skill allows her to enter Nightwalk mode, recover 600 Nachtsicht meters, and unleash Combo ATK without consuming meter.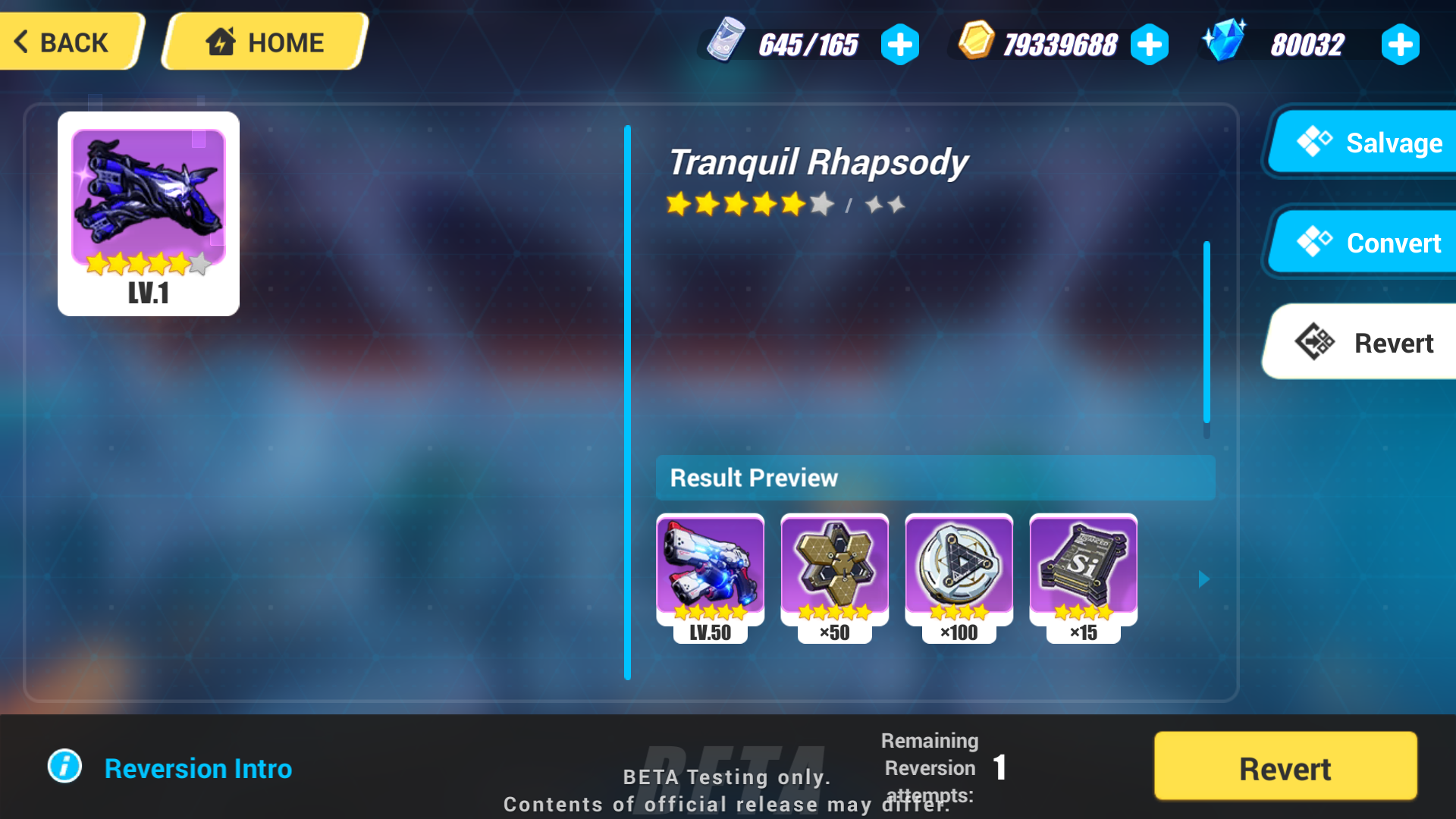 During v3.7, Ai-chan will open special reversion event for Tranquil Rhapsody, allowing you to revert it back to the 5* weapon used, along with all the materials spent.
BATTLE PASS
These are the equipment added to Elite Works in 3.7. I recommend you to get any missing gear for Herrscher of the Void (HoV), or get Tranquil Arias if you haven't owned one, since it is a very strong weapon.
Knight Pass owners will get Rare Outfit Option, while Paladin Pass owners will get Celestial Luster Ribbon and 10 extra Mind Stones.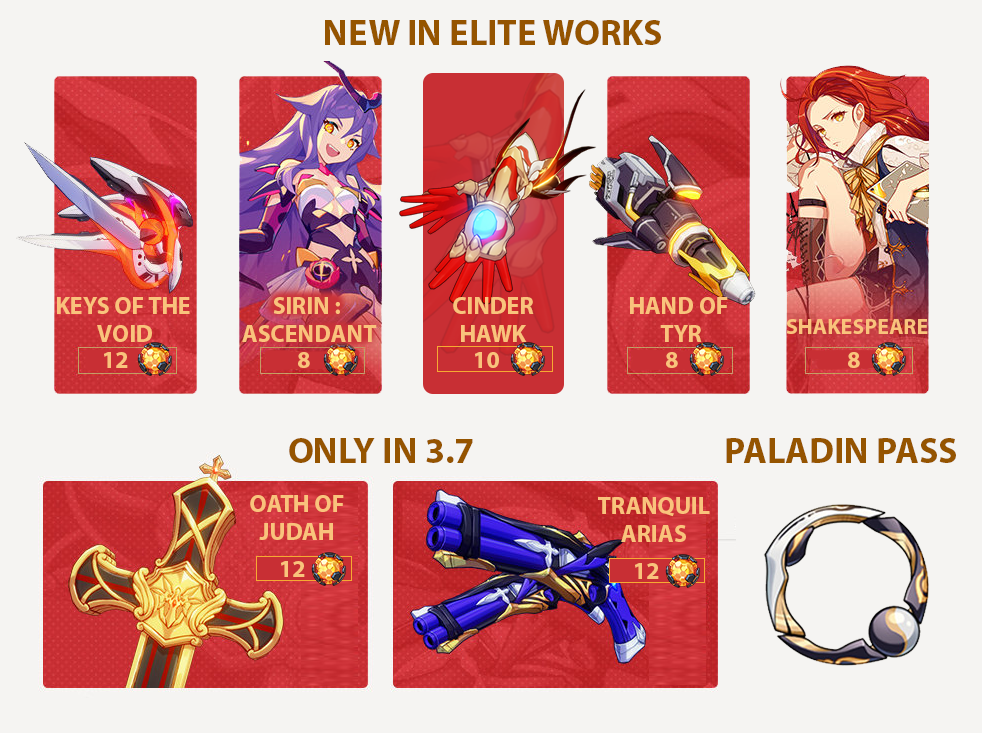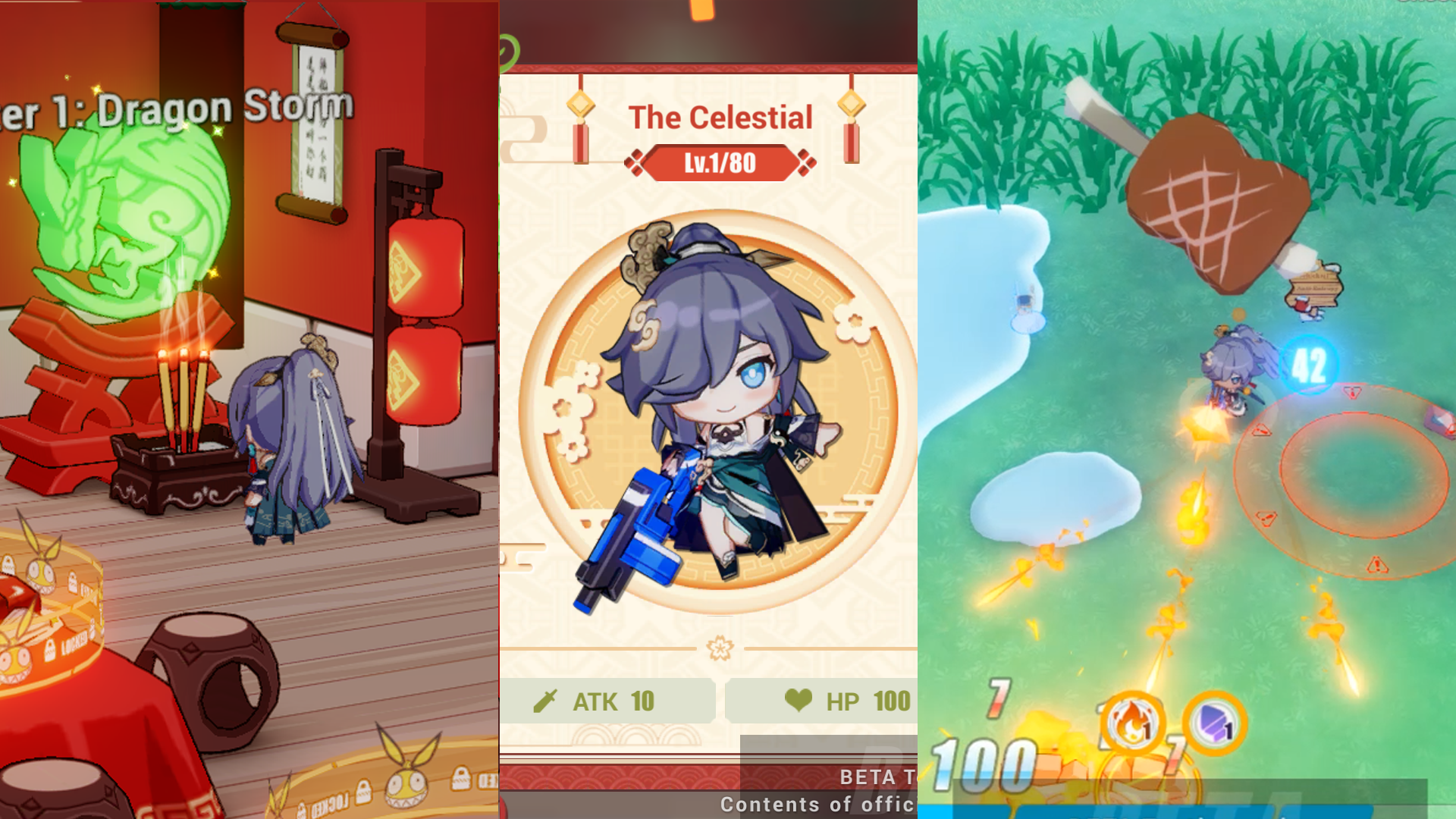 Go on an adventure with Fu Hua and Book of Fuxi to defeat the Nian beast. Shooting Minigame from Winter Rhapsody has returned with all-new features - environment destruction, gun upgrades and chibi buffs! Shoot the enemies and leave no evidence behind!
Event rewards include DJ Peach Sanctuary outfit and Seele: Doubled Bliss stigmata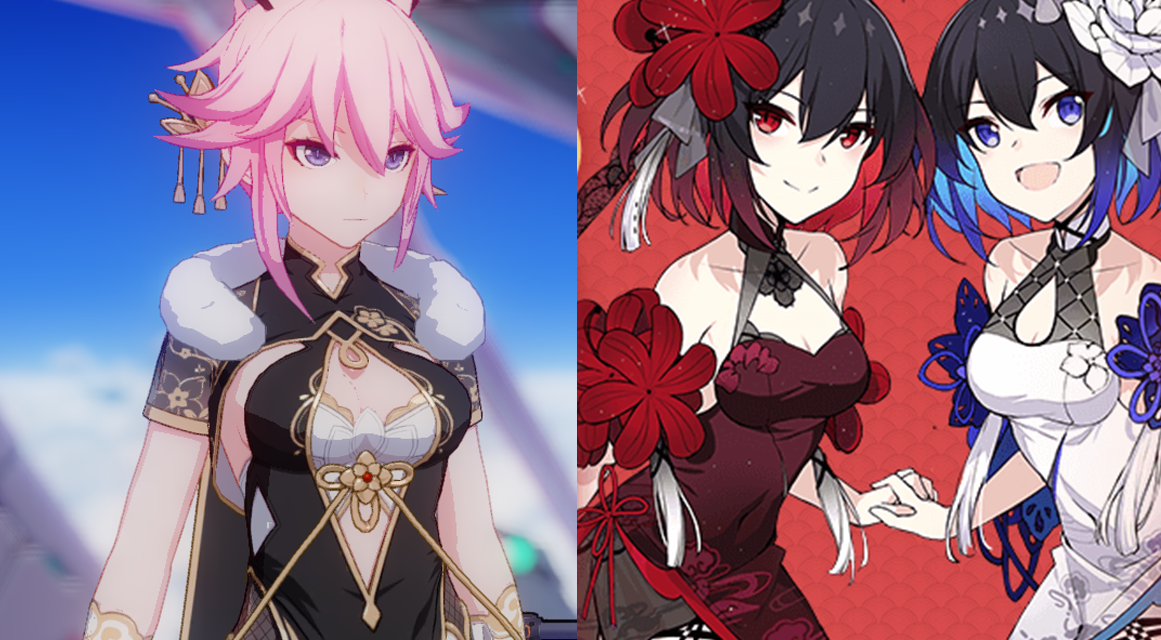 During v3.7, pull any Supply using crystal or Supply Cards. Reach a certain spend milestone and you will be rewarded with S-rank Blank Fragment! When you reach 30,000 crystal worth spent, you will also receive Stygian Nymph outfit - Mirrored Flourishes!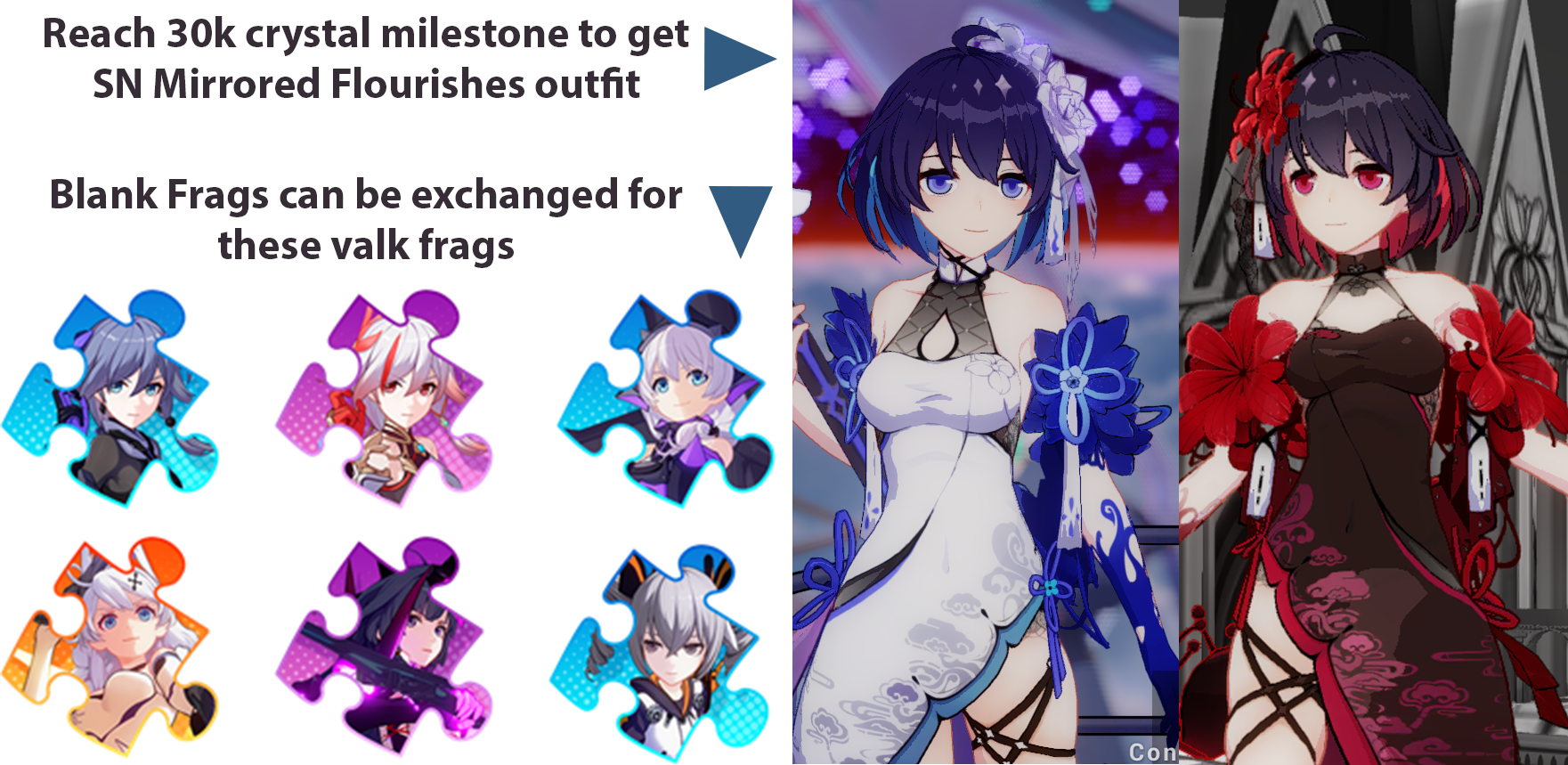 [DIRAC SEA]
NEW WEATHERS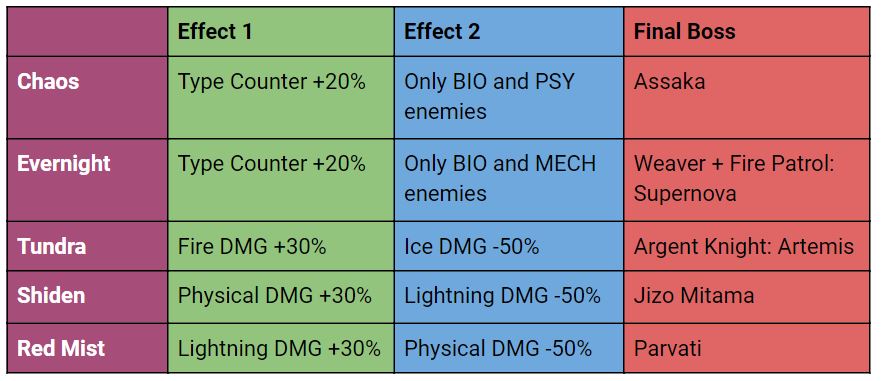 BOSS CHANGE
DROUGHT
OLD: Benares
NEW: Weaver + Fire Patrol: Supernova

WET and DARKMOON
OLD: RPC
NEW: Ice titan + Fire Patrol: Supernova + Baldur

Herrscher of the Void (HoV) and Dark Jixuanyuan (DJXY) now match their Arena properties.

[Q-SINGULARIS]
Q-Gateway returns.
New final bosses: Tonatiuh and Parvati
Similar to Dirac Sea, HoV and DJXY now match their Arena properties
Weaver is now a common enemy
Evadion duration increased to 12s
New QUA boss - Tonatiuh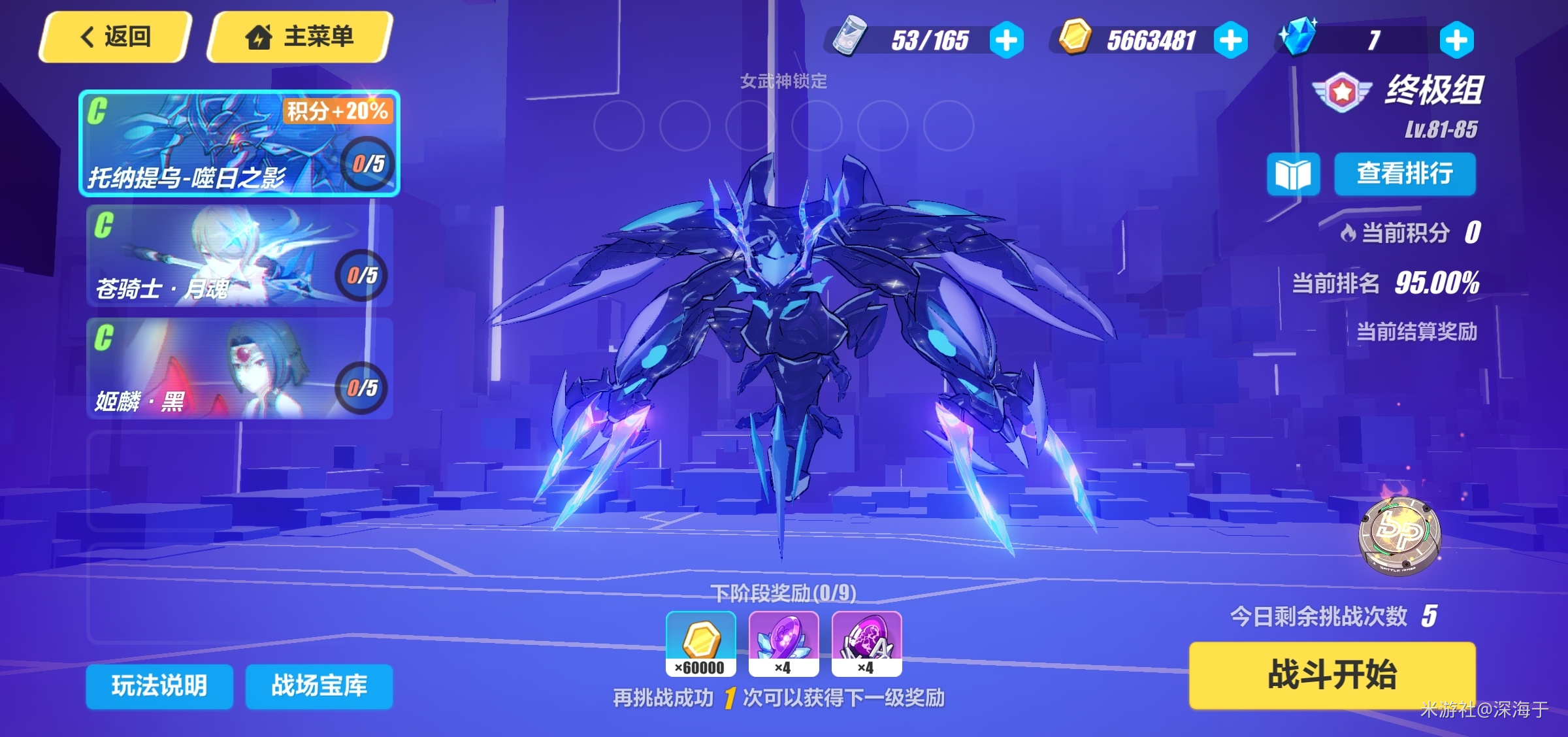 3.7 Boss Pool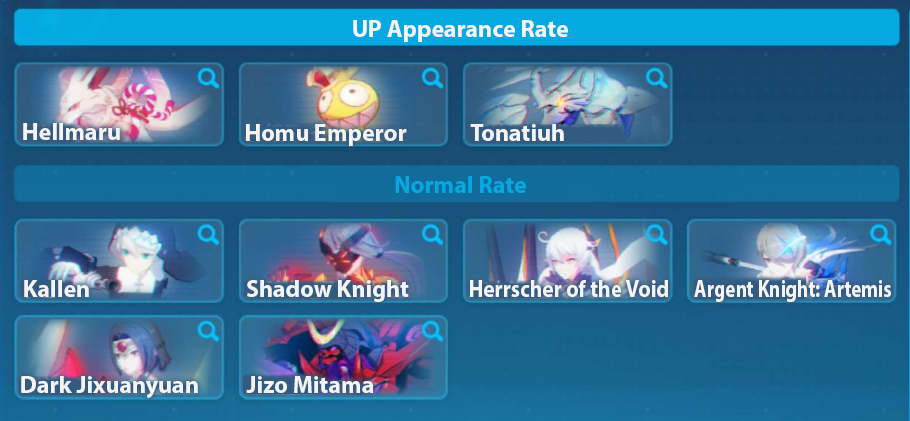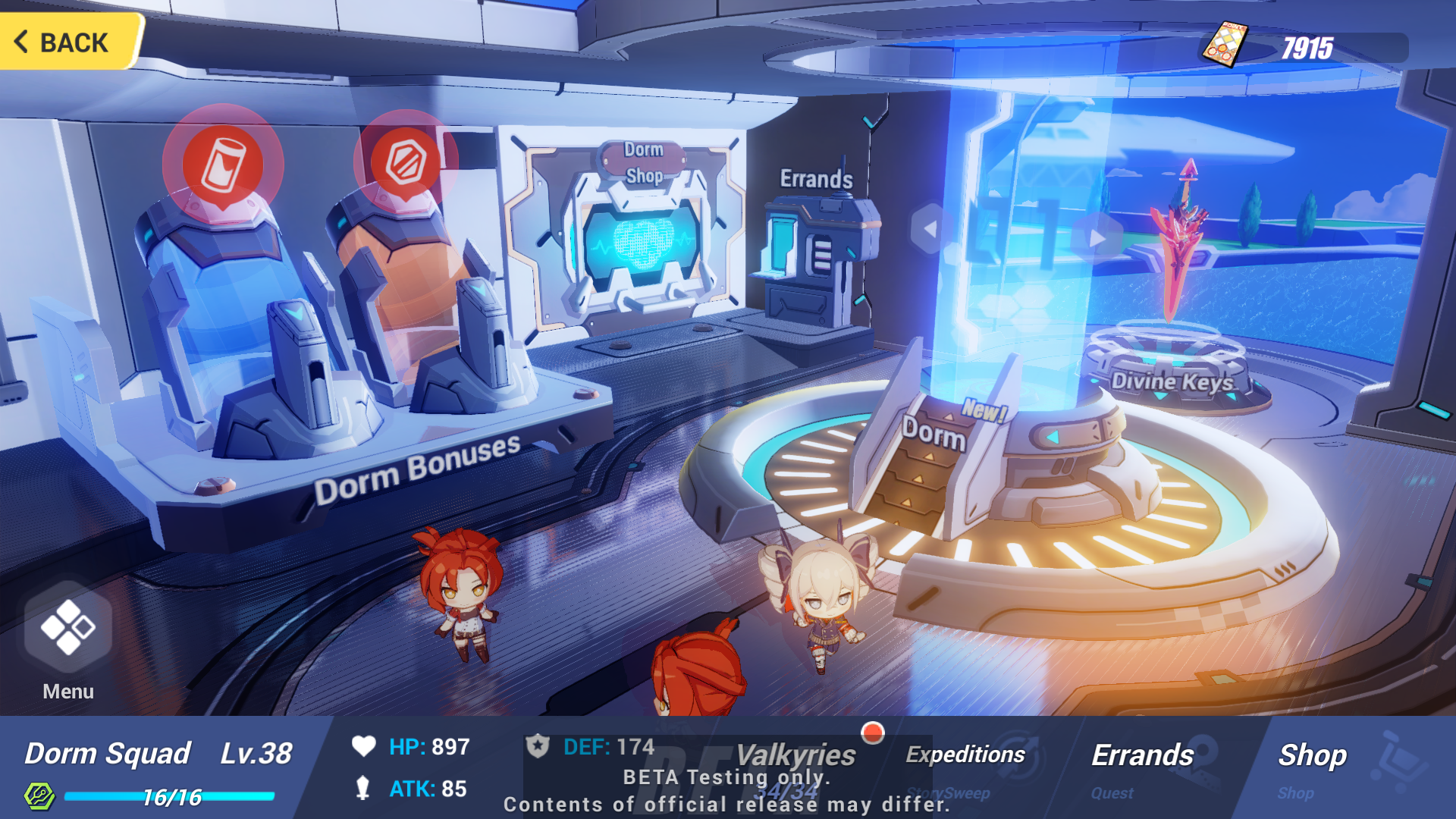 DORM SQUAD
Herrscher of the Void (HoV), Luna Kindred (LK) and Kriegsmesser(KMS) have been added to Dorm Squad. They will be available in Dorm Supply, and their gears will be included in Dorm Equipment Supply.

DORM OPTIMIZATION
Dorm has a new, modern look
You can now refresh errand
You will get a notification for completed errand / max gold / max stamina.
AE and DJ chibis added to Dorm Residence
Dorm Supply
HoV, LK and KMS have been added to Dorm Supply.
Dorm Equipment Supply
Keys of the Void, Sirin: Ascendant, Gustav, Jin Shengtan and Monet have been added to Dorm Equipment Supply. This is now a permanent supply
Equipment Supply
The previous Equipment Supply has been removed from the game.
ELF Supply
ELF Supply returns, featuring Book of Fuxi as the S-rank ELF.
Spring Fest ADV Supply (Unconfirmed)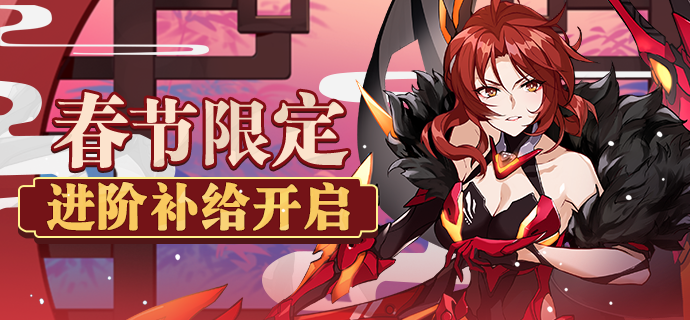 ADV Supply for HoV and VK will be available. If you have S-rank HoV or VK, you are guaranteed to promote them to SS-rank in 100 pulls / 28,000 crystals!
Lantern Festival Supply (Unconfirmed)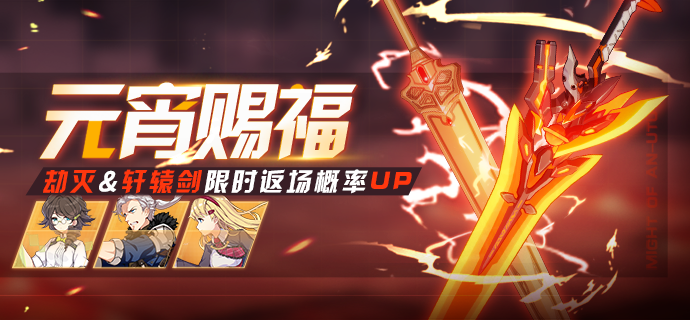 A special supply featuring two Divine Keys - Might of An-Utu and Xuanyuan Sword
Higher 4* droprate 12.39 -> 15.37
50 pull counter guarantees An-Utu
Bonus Type-A Material Box when you reach certain number of pulls
MATERIAL MERGE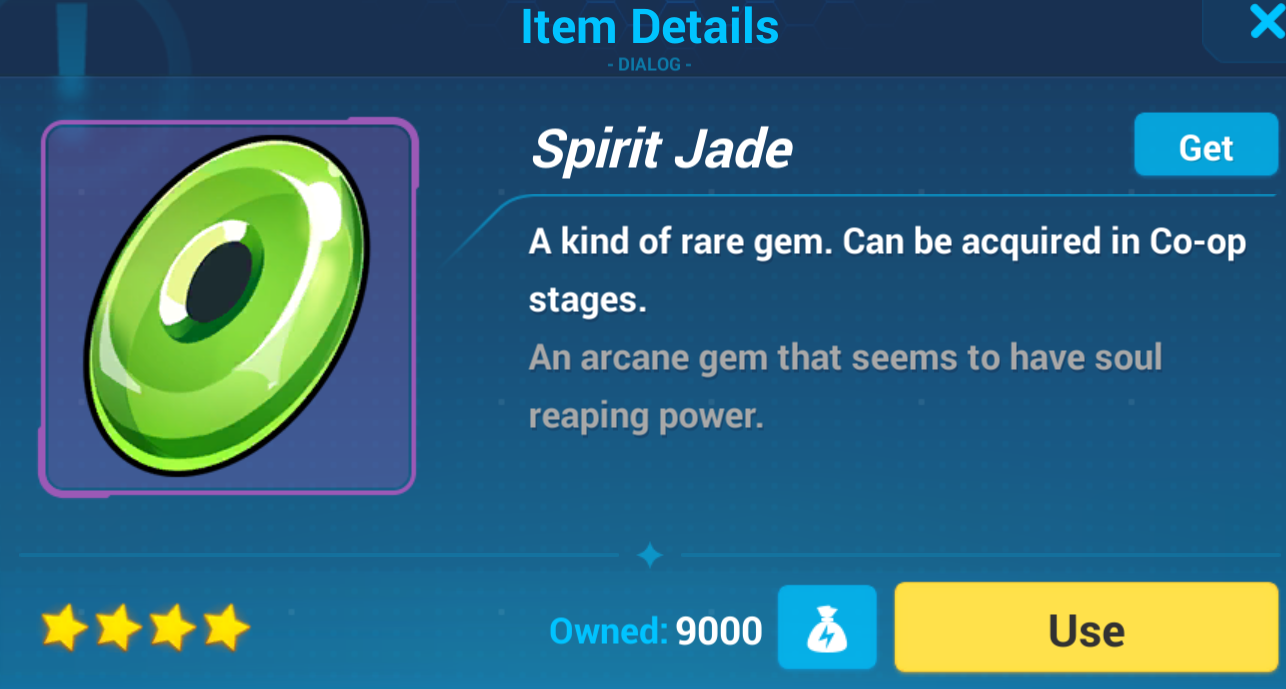 Current Jades are merged into Spirit Jade and will drop in raid alongside United Token
Grue/Thunder/Obsidian Jade will be converted to 4/6/6 Spirit Jades.

Glowing Jade

will be converted to 40 United Token
All special divine key materials will be merged to Soulium
Raid Divine Keys now use Spirit Jade, Soulium, United Token and Phase Shifter
Shrine upgrade will now use Spirit Jade, ADV Skill Mats, Smelted Core, United Token

RAID CHANGES
Difficulty groups changed to Normal (Lv30-60), Hard (Lv61-80) and Supreme (Lv81+)
Free reset every Friday. Can still reset manually.
Raid will now only have 6 stages. Rewards have been adjusted accordingly.
Hard and Supreme Raids have additional drops - Phase Shifter and Mind Stone.

GENE LIMIT UPDATE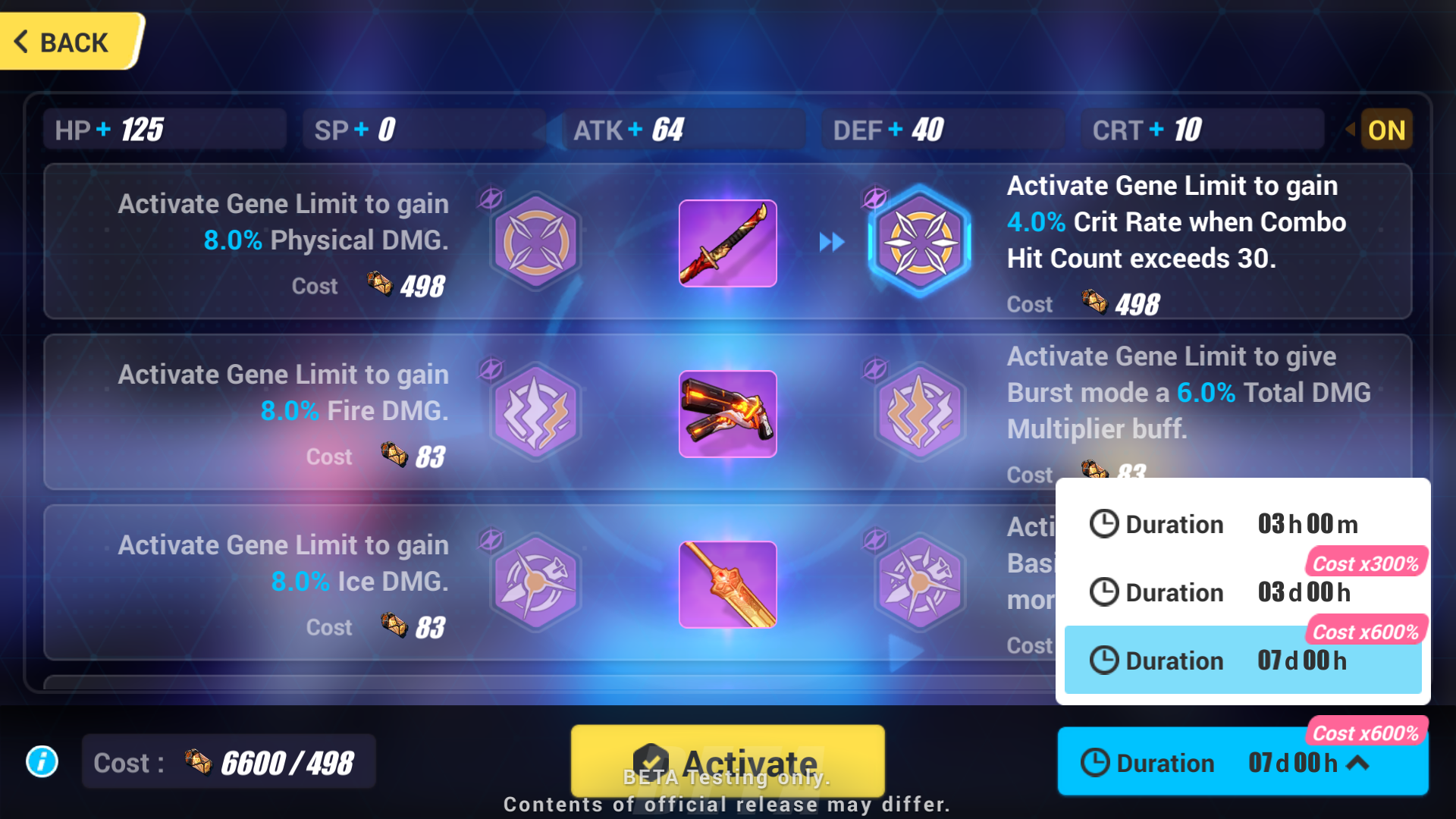 Can increase Gene Limit duration to 3/7 days by consuming 3x/6x Harmony Strands
Gene Limit Skill can be activated seperately.
Can switch active skill of a buff at any time.
Gene Limit indicator will be added for Abyss and Arena Modes.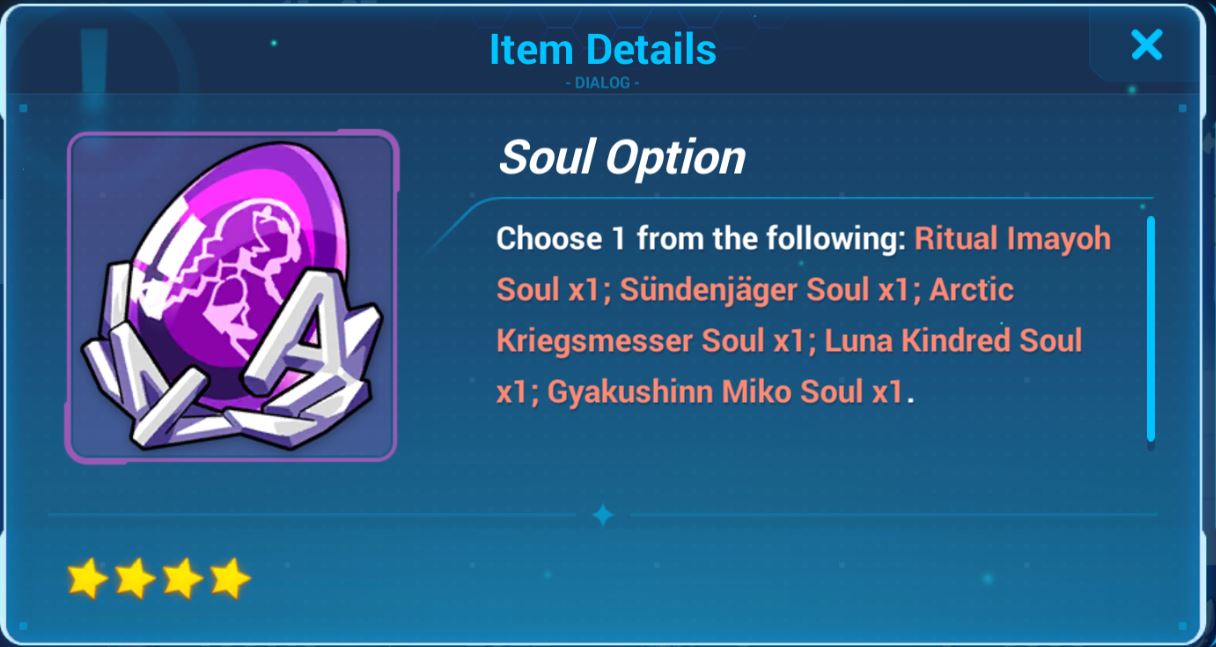 Open World adventure level merged
Luna Kindred fragment reward at the end of each cycle changed to Soul Option
EXP Materials for companions removed. They will be automatically consumed in v3.8
Red Magatama and Aesir Core were removed. They will be automatically converted to Imaginons in v3.8
LTO event in 3.8 will allow you to use Magatama and Aesir Core to buy Soul Option
Shadow Knight (SK) will also be in War Tresury in v3.7 only. There's still a lot more updates, such as material merge and conversion, improved valk search and filter, etc. If you want to know them all, make sure to play version 3.7 this Thursday!
Thanks for reading this article, captains! And thank you to Ai-chan team for giving me the opportunity to write this guide. If you have any questions, just ask in Global Discord - discord.gg/hi3 or find me in Discord - Marisa#4065.


BYE~