Essentials Guide Vol. 4
Author:Reinbex
Submission Date:2021-04-28
Views:0
Hey, Captains! This is volume 4 of the Essentials guide series! This guide is designed for Captains curious about what they should prioritize for the end game. Please note that at the time of writing this, it is v4.7 and it is written from the perspective of a competitive player.
The purpose of this guide is to answer the questions:
"What should I be focusing on right now?"
"What's good to farm now?"
"Based on what I have, what should I strive for?"
"Is this worth pulling for?"
Volume 4 is dedicated to the stigmatas portion of these questions. There are a lot of different stigs, so I'll be recommending ones that recur frequently. In addition, I'll be updating the F2P list of stigs for those looking for decent substitutes. Hopefully, after reading this, you will have an idea of what you want to get that is worth your time and resources.

And because this is volume 4, you may notice some overlapping and conflicting information from the previous volumes. Any information in this guide supersedes the former, otherwise, they are still relevant.
Volume 1 link
Volume 2 link
TABLE OF CONTENTS
1- BOUNTY SYSTEM CHANGE (v4.8)
2- F2P STIGMATAS TO GET
a- Normal Foundry
b- Bounty
c- Event-only
3- GACHA STIGMATAS TO GET
4- CONCLUSION
BOUNTY SYSTEM CHANGE (v4.8)
Before diving into the guide, know that the Bounty System is getting a fundamental makeover in v4.8. I recommend checking out Wyverein's video for more information.
F2P STIGMATAS TO GET
The following are stigmatas meta-relevant enough that you would want to keep or craft/buy ahead of time. Others are there to help you know which ones are viable in the early game or make for decent F2P substitutes.

The phrase "Usable in the endgame" is used to distinguish those that have some place in the endgame, be it niche, small, or large.
And "universal" means the stigmata works well on many different valkyries, but there exists a better one(s) designed only for specific valkyries.

Normal Foundry
There are plenty of good craftable stigs here, unfortunately they cost a lot to craft, so beware.

Bounty
Because the items on this list are "technically" F2P, it's not recommended for the player to obtain these items through any means other than Bounty crafting. Such means include Exchange Shop and Elite Works.
The only exceptions to this are tier G3 items. In addition, transmute stig-materials of lower tiers will not be mentioned to reduce redundancy.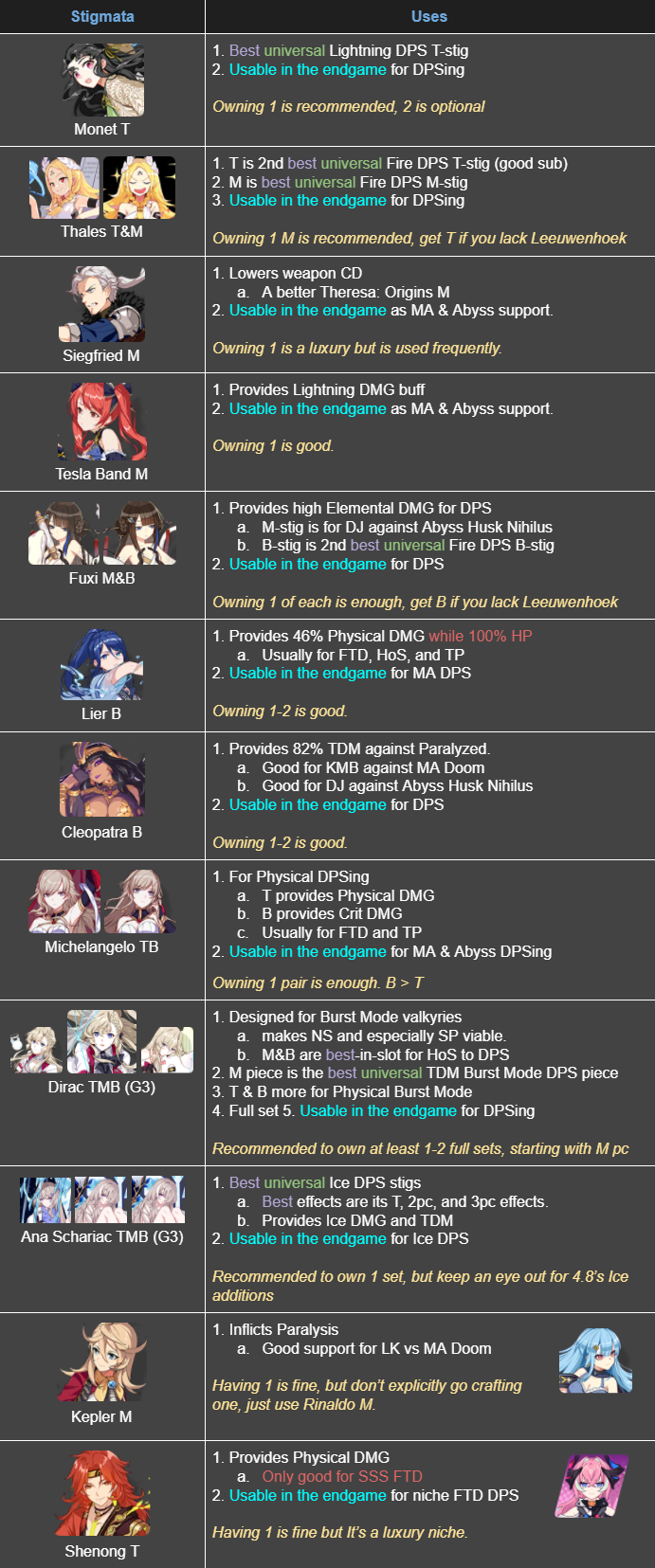 Event-only
If you spot these stigmatas in event-shops or lying around in your inventory, I suggest buying them and locking them to prevent accidental salvaging.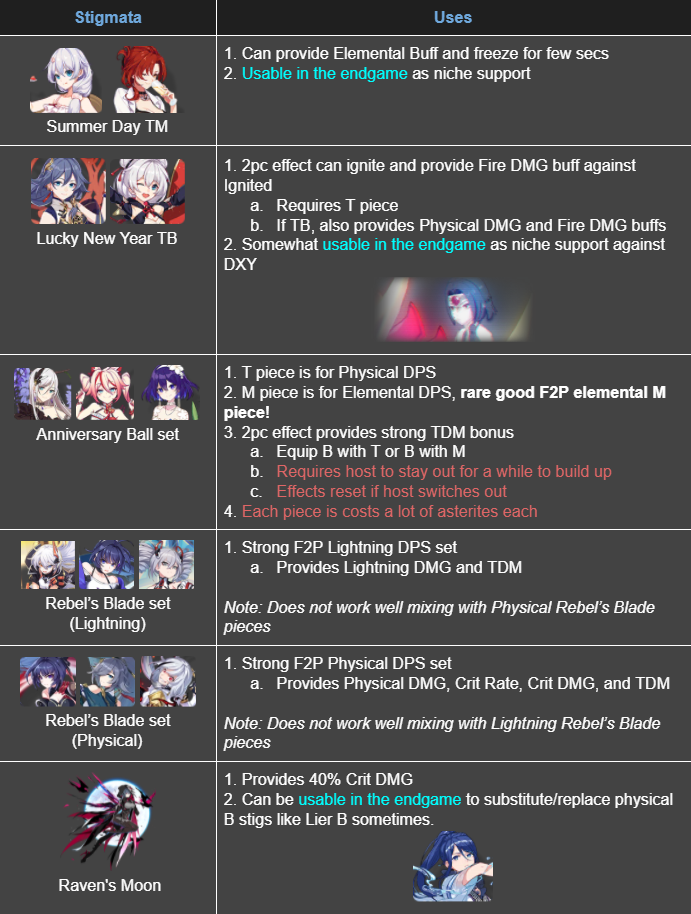 GACHA STIGMATAS TO GET
There are a lot of stigmatas in this game, many of which are very powerful. Stigmatas covered in previous sections of this guide and signature stigs will not be listed. (Check out Vol.3 to see which signature stigs are for you).
Stigmatas that are versatile and/or have an interesting niche use (so you do not accidentally salvage them) in today's common meta are listed here.

Once again, "universal" means the stigmata works well on many different valkyries, but there exists a better one(s) designed only for specific valkyries. Stigmatas with support capability have colored names.

Conclusion
Returning players and/or players looking forward to the meta end game can have a difficult time knowing what is relevant or still relevant now. The Essentials Guide Vol.4 addresses this issue by presenting players with an updated list of stigmatas they may wish to focus on. I recommend players to, at the very least, aim for the best support stigs. Support stigs can last for a long time, especially the highly recommended ones.

You've reached the end of this Essentials guide! I hope you enjoyed reading this guide! If you wish to visit me, my discord ID is Reinbex #1347. My Armada's ID (NA) is 1019 and Discord link is https://discord.gg/bVBRkF4. If you have any questions or just want to visit, don't hesitate to say hi!