Essentials Guide Vol. 3
Author:Reinbex
Submission Date:2021-04-27
Views:0
Hey, Captains! This is the long-awaited volume 3 of the Essentials guide series! This guide is designed for Captains curious about what they should prioritize for the end game. Please note that at the time of writing this, it is v4.7 and it is written from the perspective of a competitive player. The purpose of this guide is to answer the questions:
"What should I be focusing on right now?"
"What's good to farm now?"
"Based on what I have, what should I strive for?"
"Is this worth pulling for?"
Volume 3 is dedicated to the valkyrie portion of these questions. Hopefully, after reading this, you will have an idea of what you want to get that is worth your time and resources.
And because this is volume 3, you may notice some overlapping and conflicting information from the previous volumes. Any information in this guide supersedes the former, otherwise, they are still relevant.
Volume 1 link
Volume 2 link



TABLE OF CO

NTENTS
1- VALKYRIES TO FARM
a- War Treasury
b- Expedition/Asterite Shop/Overworld
2- VALKYRIES TO PULL
3- OTHER VALKYRIES
5- CONCLUSION
VALKYRIES TO FARM
The following are valkyries I recommend farming for. The middle column is the minimum required rank to aim/strive for if you wish to have a shot of at least retaining Red Lotus Abyss and 2% Memorial Arena (MA) consistently. I will not cover niche roles nor niche valkyries in these sections.

Yes, there are other unmentioned good valkyries. However, the following are ones you should focus on the most and still get a lot of value out of them for a long time!
War Treasury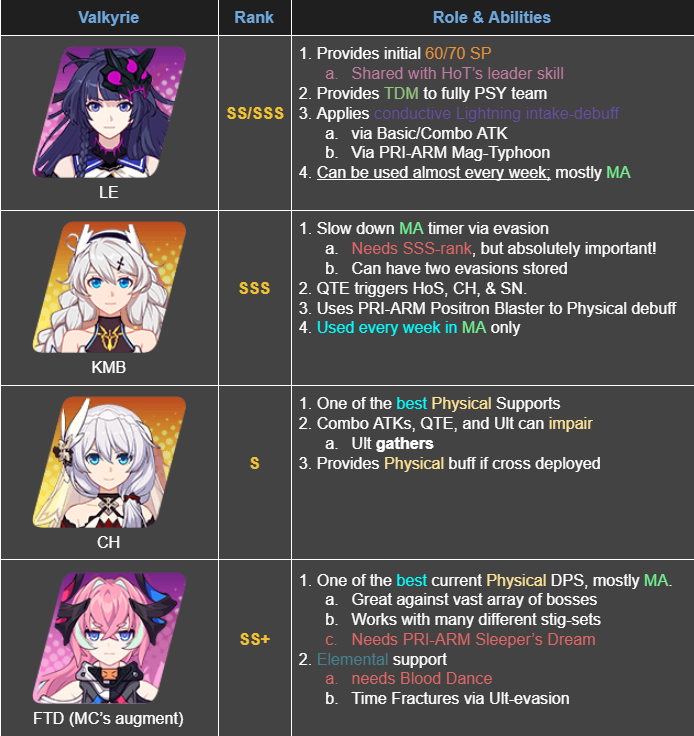 Expedition/Asterite Shop/Overworld

VALKYRIES TO PULL
In v4.7, there are a lot of choices to pick from. I'll be recommending the ones I think are good choices and/or ones that still matter in some significant form (in case you still have these valkyries or accidentally pull them). With this chart, hopefully you can decide on who you wish to pull and/or work on.

"Signature gear" means "both signature stigmata set and signature weapon".

Reminder: Only the most (honkai) impactful valkyries are listed. This doesn't mean the unmentioned valkyries are useless.

A new QUA-Ice S-rank Valkyrie, Starchasm Nyx, has already been announced in CN for v4.8 at the time of writing this guide. Ice meta is likely to come so you should keep all other existing Ice Valkyries in mind as well, especially Haxxor Bunny (HB).
OTHER VALKYRIES
After getting your hands on the more important valkyries, or simply looking for an alternative, you may wonder, "What else can I get that is still a decently good choice?". So I present to you these valkyries. Note that all the following are farmable valkyries.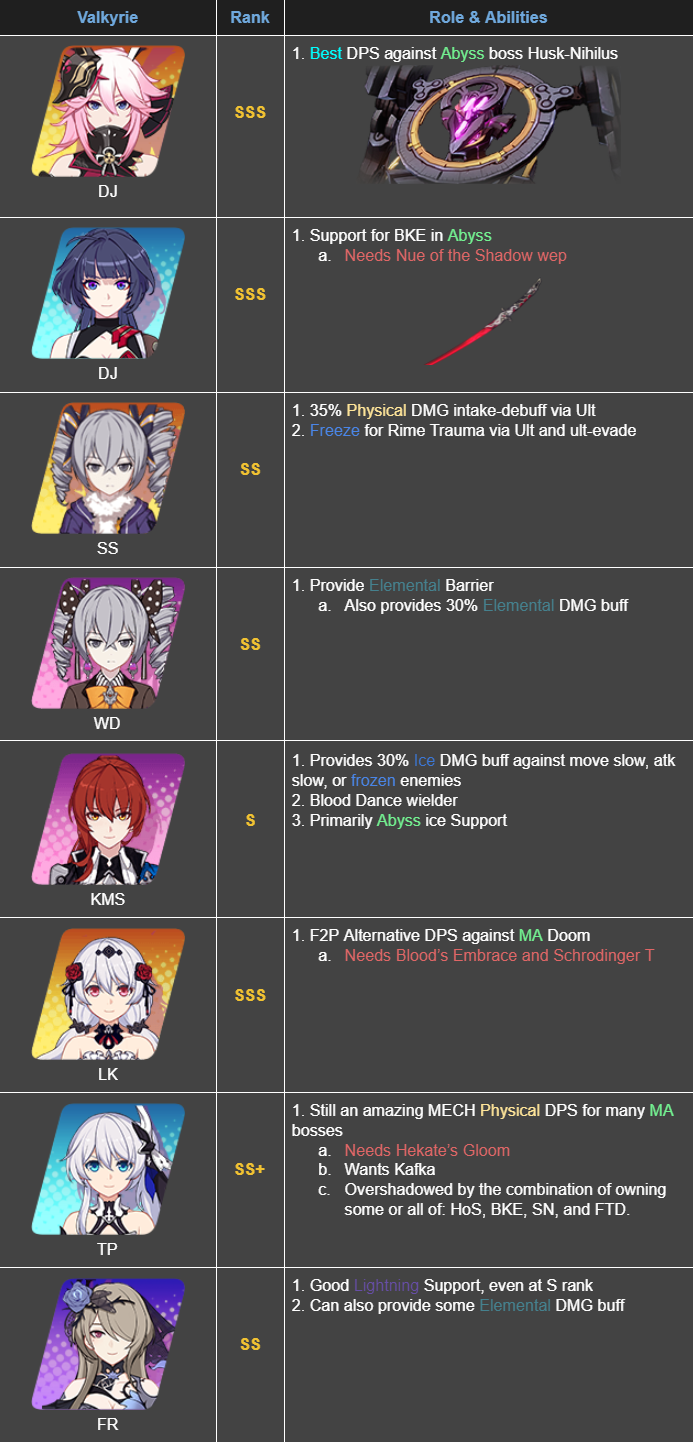 Conclusion
Returning players and/or players looking forward to the meta end game can have a difficult time knowing what is relevant or still relevant now. The Essentials Guide Vol.3 addresses this issue by presenting players with an updated list of valkyries they may wish to focus on. I recommend players to, at the very least, aim for the best Elemental or Physical Supports. DPS valkyries come more often than Support, but Supports are used for more scenarios.

You've reached the end of this Essentials guide! I hope you enjoyed reading this guide! If you wish to visit me, my discord ID is Reinbex #1347. My Armada's ID (NA) is 1019 and Discord link is https://discord.gg/bVBRkF4. If you have any questions or just want to visit, don't hesitate to say hi!