Author:PonPon
Submission Date:2019-09-26
Views:0
Introduction
As of Honkai Impact 3rd version 3.4, Nox Player has been allowed to be an official Android Emulator that supports the game. I have personally tried almost all Android emulators available in the wild, and that is no doubt – Nox is the best one out of those. However, there are some minor problems you might face when using this emulator. And I'm here to share my experience about it with you~!
Take advantage of your PC... and your mouse!
3D PC games have a feature allowing you to see the character's surroundings with just a swipe of a mouse and make use of mouse clicks to perform cool attacks! With the support of Nox Player, Honkai Impact 3rd becomes one of those 3D PC games! Below is how I configured it.
Nox Player settings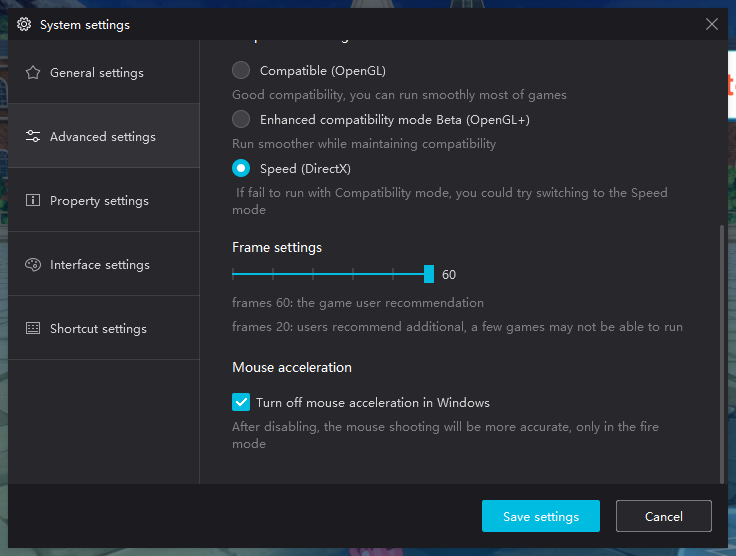 Click the Cog icon -> Advanced Settings -> Mouse Acceleration -> check the Turn off mouse acceleration in Windows option. This will make the mouse swipe respond better and less buggy.
Keyboard control configurations

For the control, open Keyboard control (by command Ctrl + 0 [zero] or click the Keyboard icon on the right side of the emulator). With Keyboard control window, you will need to drag and drop 2 things in order for this to work: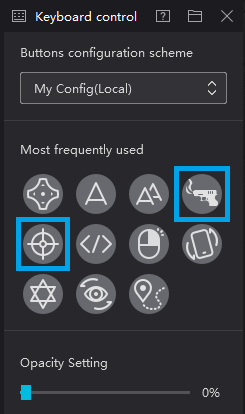 Gun icon option - "Shooting game only: drag a button to fire" to the basic attack button.

This is where you use your left-click to cast your basic attacks!

Crosshair icon option - "Shooting game only: drag a button to the crosshair" to about center of the emulator.

You can click on the mouse icon to the bottom right of the crosshair to change the toggle button for this feature. By default it's right-click. I personally set it to mouse-forward button because I use my right-click as the ultimate attack button.

You can also adjust mouse sensitivity with the slider to the right of this crosshair.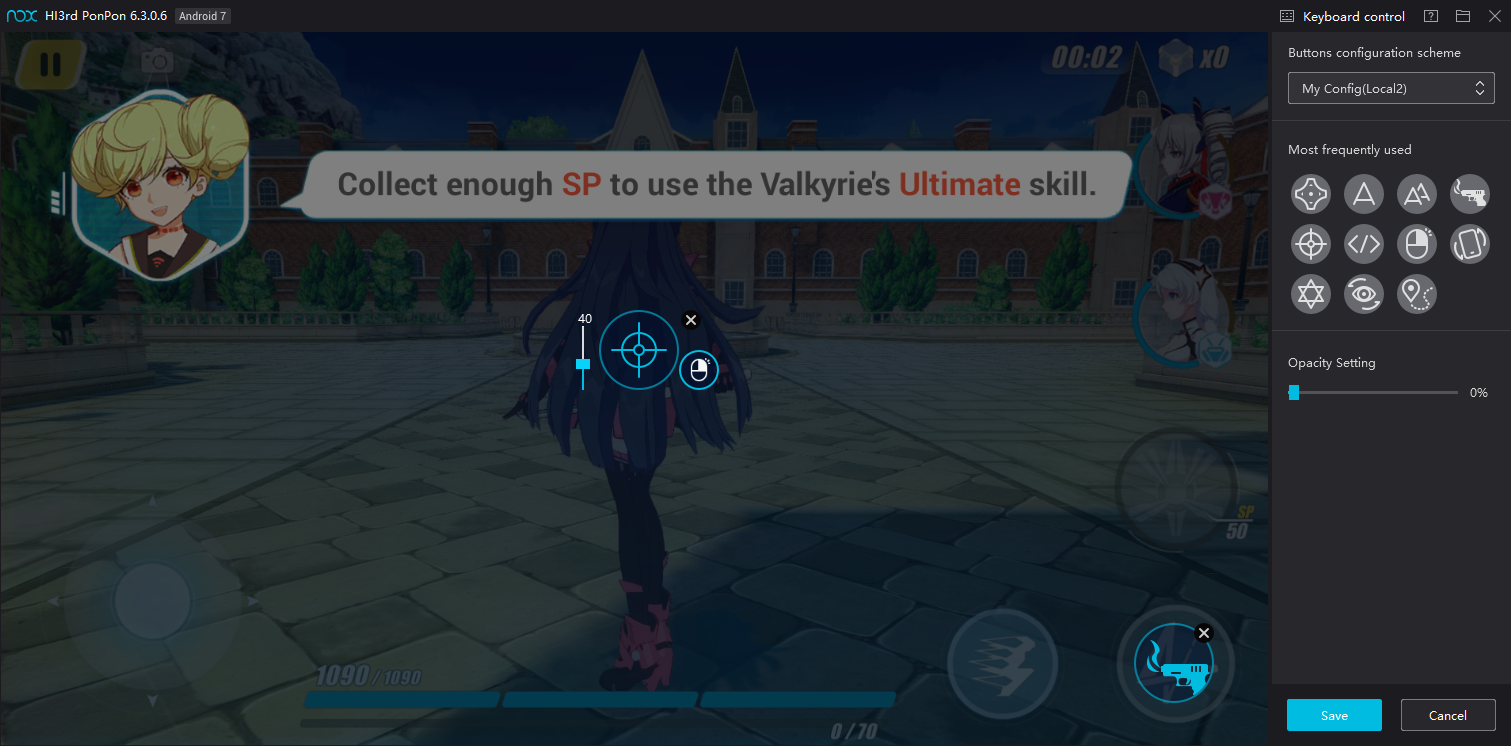 In-game configurations
Because the game supports auto lock-on targets for better experience on mobile devices, we no longer needs this feature on PC with mouse support.
The feature is enabled by default, so here is how we disable it: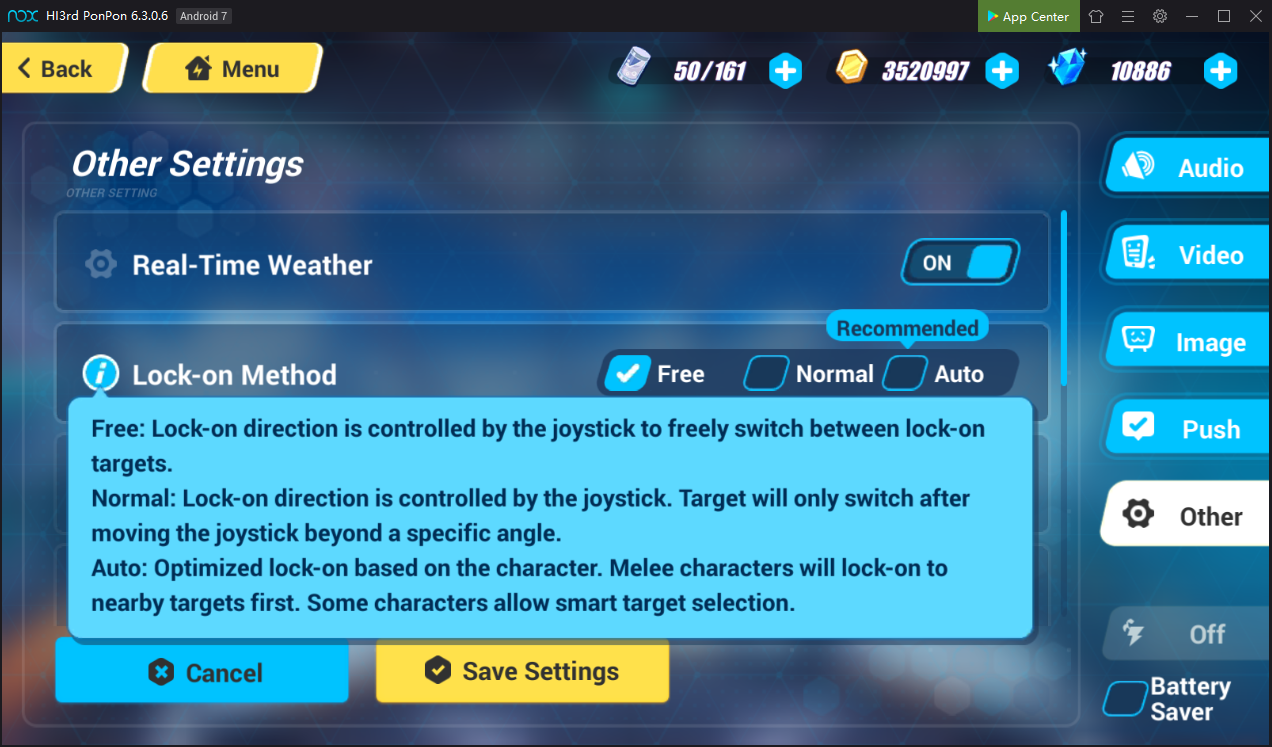 In the main screen (the bridge where you stare at your favorite valkyrie(s)), click on Ai Phone (bottom right of screen) -> Cog icon -> Other tab -> choose Free for Lock-on Method -> Save Settings.
This method will allow you switch targets by using the joystick, and as we are free to swipe with our mouse, this will definitely come in handy!
All set! Ready to use!
That's all about configurations for Nox Player to help Honkai Impact 3rd make use of your awesome little mouse!

To use it, simply toggle on the feature by hitting the toggle button (right-click by default). It will hide your mouse from screen temporarily and a notice appears on Nox's top bar. When the stage is cleared, toggle off to free your mouse.
Side note: When there is sight of enemies, the game will lock-on a target and take control of your screen, stopping screen-swiping from working. It makes this feel like it's stuck...
Note to the cool developers: Please, if you're reading this, please allow the screen to change on swiping while keeping the lock-on target work. Thank you!
Nox settings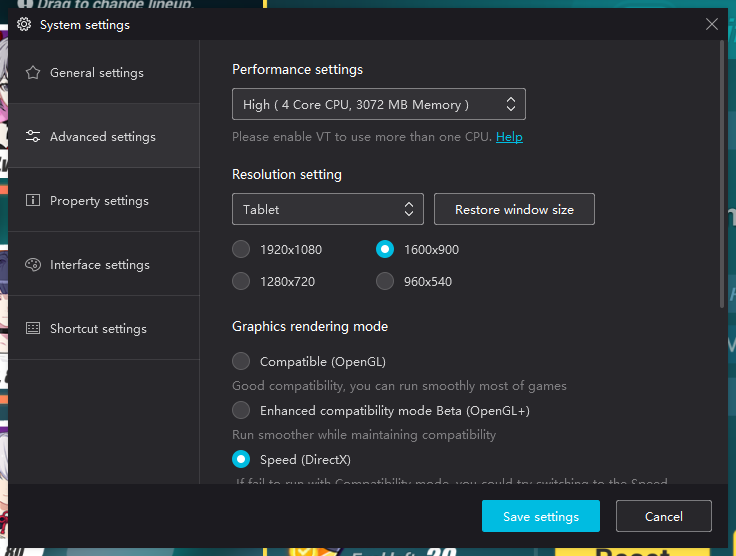 Everything you need to configure is in the Cog icon to the top right -> Advanced settings
Performance settings

Honkai Impact runs well with 2GB-RAM, 2-CPU settings (Middle settings)
For optimized settings, 4GB-RAM, 4-CPU settings (High settings) is the way to go.
You need to enable VT on your machine to use more than 1 CPU. Here's the guide to it: https://www.bignox.com/blog/enable-vt-virtualization-technology-to-get-better-performance/
As the game is quite big, I would recommend installing Nox Player on a SSD so the load time would reduce drastically compared to a HDD.
Graphics settings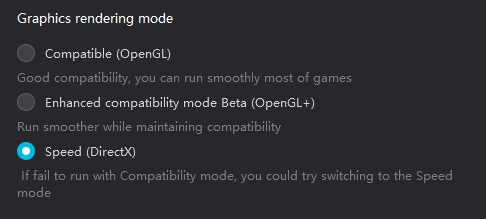 Nox has 3 rendering modes and here is how each of them works with Honkai Impact:
Compatible (OpenGL): This one is the smoothest of all, but the graphics is horrible when you get in the Chibi Dorms, everywhere else is fine.
Enhanced compatibility mode Beta (OpenGL+): I personally experience some stutters (very small frame lost) using this mode (on a i7-9700k with RTX2060 running 4-CPU 8GB-RAM). However, it doesn't have the issue of the two other modes.
Speed (DirectX): This mode is smoother than the second one. But it starts to act weird (frame distortion) when you try to access in-app browser apps like surveys and customer supports.
My recommendation:
Graphics-wise: 3rd -> 2nd -> 1st

Performance-wise: 1st -> 3rd -> 2

nd
Frame settings

Go with either 30 or 60 FPS in both Nox Player and Honkai Impact settings. To be honest, the game is very awesome running in 60 FPS mode. You should try it and see it for yourself, if the game lags or stutters too much, then go back to 30 FPS, you should be fine.
Nox's Frame settings: Cog icon -> Advanced Settings -> Frame settings

HI3rd's Frame settings: Ai Phone -> Cog icon -> Video
Keyboard settings
Aside from other buttons at your taste, I would recommend a joystick controller placed right on the game's joystick.
Below is my configuration of buttons used~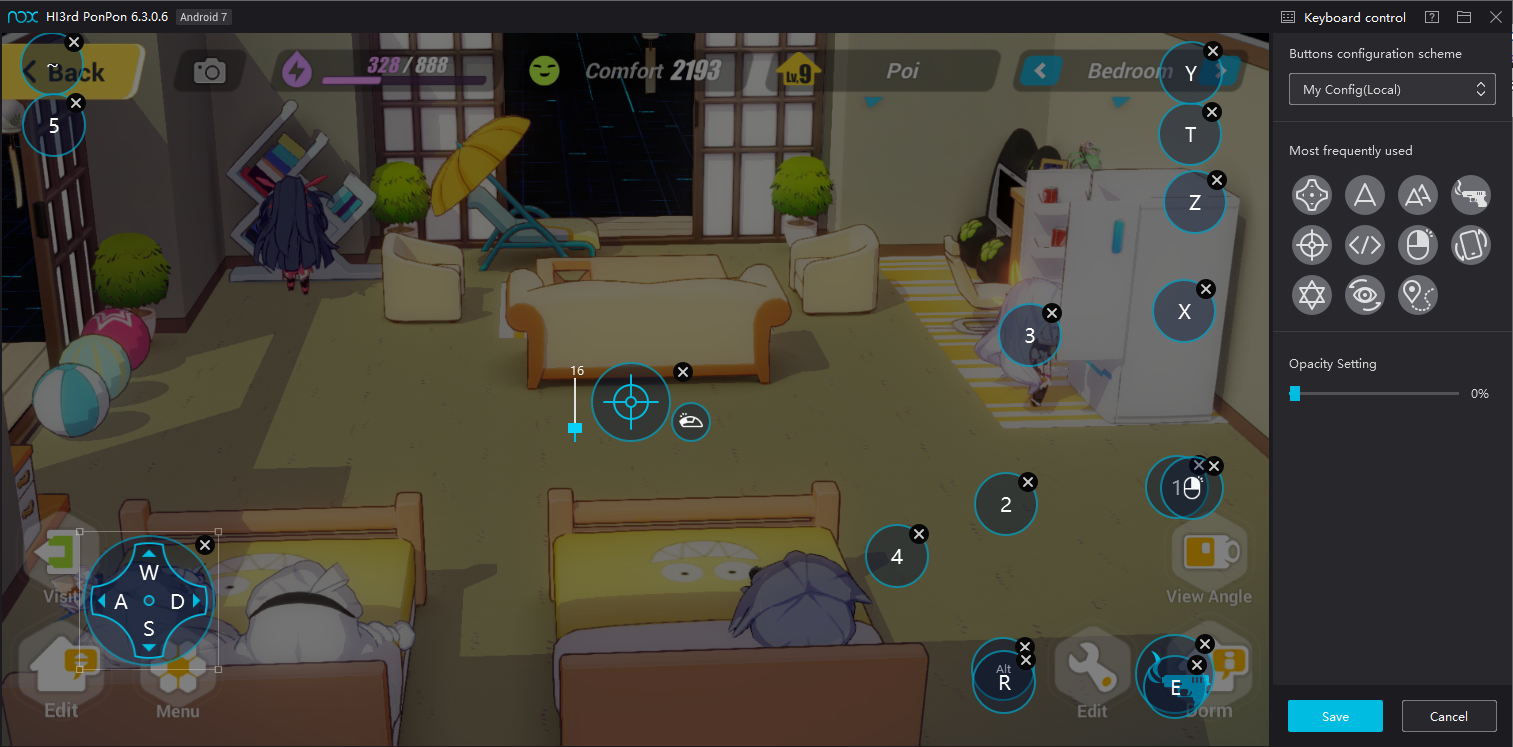 I hope this guide helps you configure the best out of Nox for a better Honkai Impact 3rd gameplay experience~
Swoosh,
PonPon